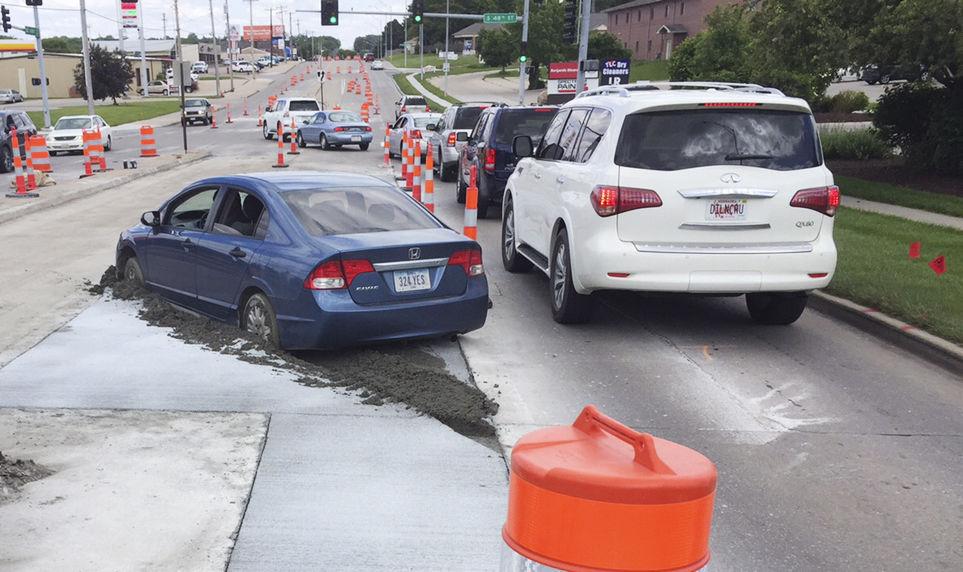 You may have seen the picture on Facebook: a blue Honda Civic sinking in the fresh concrete at 48th and Old Cheney.
The driver was not initially ticketed, but he -- or his insurance company -- is responsible for the damage he caused Wednesday.
The stretch of fresh concrete is part of the Old Cheney pavement repair project from 40th to Nebraska 2 in south Lincoln.
Thomas Shafer, a city engineer, answered the most common questions about that incident, along with a reminder to be careful driving in construction areas.
A driver mistakenly drove behind the traffic control devices and into fresh concrete. Removing the car resulted in traffic being delayed in the area.
Who pays for the repairs to the road work? 
The person who did the damage is responsible for the cost of repairs.
And how much do we expect those repairs to cost? 
The contractor has estimated this may be in excess of $10,000, accounting for crew time, removal operations, new concrete and delays.
Any idea how much this will delay project, if at all? 
All fresh concrete needs to mature, cure and set up before cars and other heavy vehicles can be on it. Because this is adjacent to other concrete that needs to cure, the city will need to let it set up before the removal process can begin. This probably delays the work in this area by three to four days.
The city continues to ask drivers to be especially careful in construction areas to protect workers and to prevent this kind of damage, Shafer said.