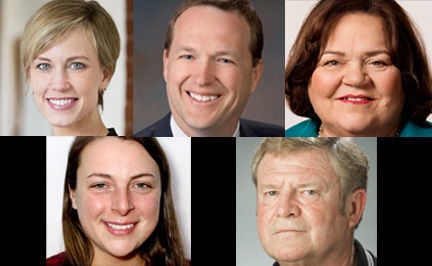 Leirion Gaylor Baird is the leading mayoral candidate on the campaign donation front, but all mainstream candidates have topped the $100,000 mark. 
Gaylor Baird has raised more than twice as much as Jeff Kirkpatrick, the other Democrat in the race, and she has received almost triple the donations raised by Cyndi Lamm, the only Republican.
Gaylor Baird has raised more than $315,200, based on reports from 2018 and the first two months of this year.
Kirkpatrick, second in donations, reported raising about $151,200 by the March 9 reporting date.
And Lamm raised about $117,500.
You have free articles remaining.
Kirkpatrick has provided about half of his campaign funds either through loans or direct donations. Neither of the other two mainstream candidates have loaned money to their campaigns, though Gaylor Baird donated $5,000 to hers. 
In a news release, Gaylor Baird said she is "deeply grateful for the outpouring of support from so many across our community."
Both Gaylor Baird and Lamm are City Council members and Kirkpatrick is the city attorney, on leave to campaign.
The other two candidates, Krystal Gabel and Rene Solc, both independents, have not raised the $5,000 required to begin reporting to the state Accountability and Disclosure Commission.
City elections are nonpartisan, with no party labels attached to names on the ballot. However parties do recruit and support candidates from their own party.
In the April 9 primary, voters will select two candidates to move on to the May general election.