The flu season in Nebraska is winding down.
Fewer people are going to the doctor with fever and flu symptoms or ending up in the hospital.
Every flu season is different. This year the season peaked early and the number of people with flu stayed high for several weeks.
But the state has seen dramatic drops in flu-related illness week by week, said Tom Safranek, state epidemiologist. "Within a couple of weeks we should be not identifying much flu any more," he added.
Just 1.7 percent of Lincoln doctor visits were for flu-like illness for the week ending March 16 (the most-recent reporting week), compared with 7.5 percent at the end of December, during the peak of this year's season.
Last week's report showed 126 people in Lincoln hospitals with flu-related illness, slightly higher than the week before, but much lower than the 246 hospitalized for flu-related illness in early January.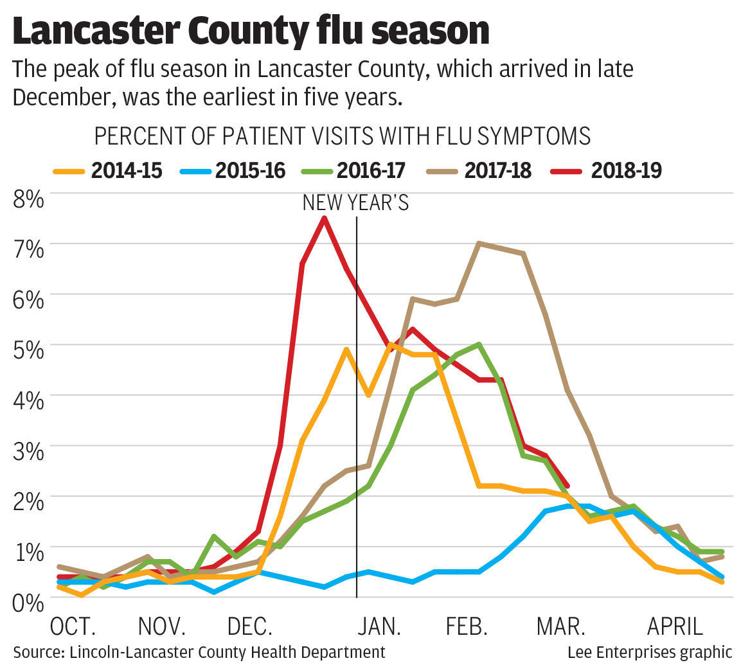 Though the state doesn't have precise metrics, Safranek believes this has been a "pretty serious flu year."
The major strain seen this year across the state, H3N2, generally makes people sicker. It is the strain of flu that is more likely to send people to the emergency room and lead to hospitalization, he said.
However, flu-related deaths have been lower this season — 66 so far — compared with 90 deaths during last year's flu season, Safranek said.
"I don't think we are going to catch up. I'd be surprised if we break 70 deaths," he said.
And that is good news, he said.