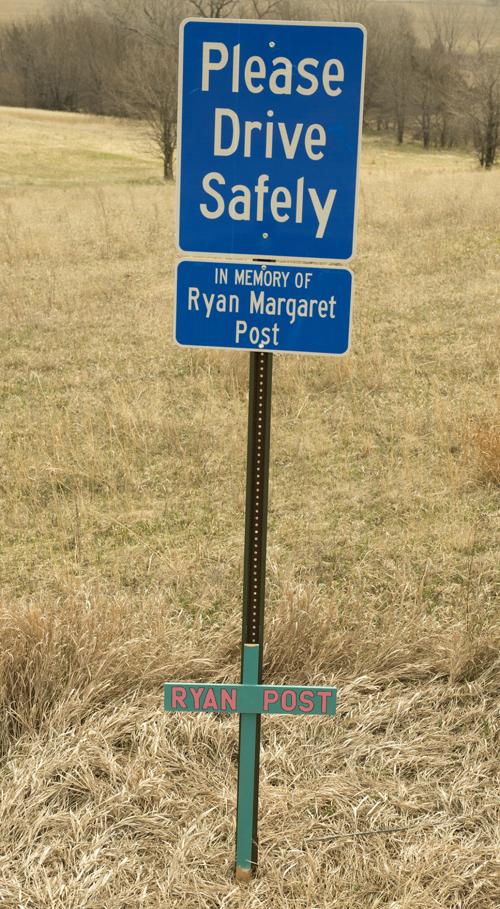 The first of Lancaster County's memorial signs — one memorializing Ryan Margaret Post, who died in a crash in late October — has been erected near the spot where the accident occurred on South 68th Street.
Post, who was 13, was a passenger in a car involved in a chain-reaction crash near Norris High School.
Ryan's mom, Colleen Lovett, said she wants everyone driving past that spot to be reminded of Ryan and the tragic accident that took place.
Because it says "please drive safely," Lovett hopes the message will remind students leaving school to pay attention to the road so there is not a repeat of the tragedy.
"Ryan was the best daughter, student and friend anyone could ask for. Anything I can do to pay tribute to her is an honor. To be her mother was such an honor," her mom wrote in an email about the sign.
The sign honoring Ryan Post is the first official memorial sign in the state. Lancaster County is the first Nebraska county with a policy allowing for roadside memorial signs in lieu of private remembrances.
Someone placed a small handmade cross at the bottom of Post's sign after it was erected. 
The second memorial sign, for Brianna Titterington, will be erected soon on Saltillo Road, where the teenager died in a crash last month.
The signs, which can be requested by a relative, are intended to help avoid potentially hazardous conditions when people stop to put items on a private memorial, according to County Engineer Pam Dingman.
County roads, unlike city streets, do not have shoulders or sidewalks, or nearby cross streets, where people can pull over safely, Dingman said.
Dingman said she wanted to offer a respectful alternative to the private memorials, with stuffed animals, flowers, and other memorabilia.
The signs also help educate and remind drivers to drive safely, she said.
The county's memorial sign program is modeled after programs in Colorado and other states.