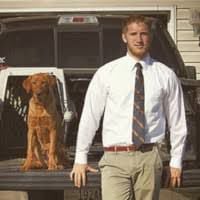 A former staff member for Gov. Pete Ricketts' re-election campaign said he regretted posting thousands of comments to an online chatroom, including many that contained racial and homophobic slurs and anti-Semitic rhetoric.
Bennett Bressman was identified as the person behind the username "bress222" in a chatroom dedicated to fans of YouTube personality Nick Fuentes, who took part in the August 2017 Unite the Right rally in Charlottesville, Virginia, that left a protester dead.
"Yes, that was my profile," said Bressman, 22, in a phone interview Monday morning. "I'm not denying it. I understand how they look really bad and are really bad on their face. I regret what I said."
More than 3,400 posts made by Bressman were collected by Unicorn Riot, a nonprofit media organization that gathers and leaks the chat logs of white nationalist and neo-Nazi groups operating within the U.S.
The messages and the identity of the University of Nebraska-Lincoln political science student from Omaha who published them between January and October 2018 appeared on a Sunday blog post by Nebraska Antifascist Action.
Nebraska Antifa used photos posted by Bressman to the chatroom, including one of the former operative at a Need to Impeach event hosted by Democratic billionaire Tom Steyer in Omaha last June, as well as photos that appeared on Bressman's Instagram account to confirm his identity.
Bressman said he joined the chatroom in order to gain access to a call-in show hosted by Fuentes, and eventually found himself wrapped up in the "tough talk," racist and homophobic jokes and memes shared on the site, which he called a "toxic group chat."
Among his posts, which include the use of explicit slurs referring to African-Americans and Jews and anti-immigrant sentiments:
* "gays are scum of the earth."
* "my whole political ideology revolves around harming journalists."
* "i wanted a crater in israel not israel on a crater."
* "cheap immigrant labor = more wheat fields"
Bressman apologized for the comments Monday, emphasizing he wrote the posts on his own time and without the knowledge of the Nebraska GOP or Ricketts, whose campaign he worked on until December as an "interchangeable" staffer who managed interns performing door-to-door canvassing, calling potential voters and other routine campaign activities.
"When you think you have anonymity, it's easy to become desensitized to what you're saying," the UNL senior said. "I regret what I said. They aren't indicative of who I am as a person."
Bressman said despite posts he wrote describing a desire to run over members of the Black Lives Matter movement with his vehicle and throw grenades at gay pride parades —  comments he described as "tough talk" only — he does not pose a threat to anyone's safety.
As of Monday morning, Bressman said he had not been contacted by law enforcement.
UNL said in a statement it was aware of Bressman's "racist, bigoted and hateful comments."
"Racism and bigotry in any form are repugnant and are absolutely contrary to our UNL values," said Deb Fiddelke, UNL's chief communications officer, adding campus police were evaluating the situation.
"Any concerns about safety are taken seriously, and we will take all appropriate action based on the identification of a potential threat."
Second student outed
Bressman is the second UNL student outed by Nebraska Antifa to have connections to the white nationalist movement.
Kleve is no longer enrolled at UNL, a spokeswoman said.
In February 2018, Bressman told the chat group "i go to same school as kleve" and referred to the tenor at UNL last year, saying the "whole school was freaking out."
He also told chatroom participants that Kleve, who posted videos of himself discussing white nationalist ideas, had been interviewed by several local news outlets and "conducts himself well."
Bressman distanced himself from Kleve on Monday, however, saying unlike the avowed white nationalist, he limited his activities to the chatroom only.
Politically active
Bressman boasted to the chat group on multiple occasions of his involvement with the state's top Republicans.
A few days before writing to say he had brunch with Ricketts on June 12, Bressman encouraged others to join political campaigns: "8 months ago i was unpaid volunteer in state GOP as a student. now i'm state wide field director for governor on a fat salary. it's easy boys get involved in politics. let's take this whole apparatus over."
Bressman used a GovernorRicketts.com email address as part of his duties, helping organize a July 2, 2018, "Crossroads Pro-Life Luncheon" at the Governor's Residence headlined by Lt. Gov. Mike Foley.
While claiming in Monday's interview to have only met Ricketts a few times, and never for longer than a brief visit, Bressman posted a photo to his Instagram account showing himself in Ricketts' suite at Memorial Stadium during a Husker football game last fall, and another posing for a photo with Ricketts and First Lady Susanne Shore.
He was also present at the March 1 Lincoln-Reagan dinner sponsored by the Lancaster County GOP as a representative of the Nebraska affiliate of Smart Approaches to Marijuana, a nonprofit opposed to marijuana legalization and commercialization.
Mary Hilton, a volunteer coalition coordinator with SAM Nebraska, confirmed Bressman's former association with the group, but said the organization is in its early stages and everyone involved has been a volunteer.
"Mr. Bressman is no longer volunteering on this effort, and we hope he gets the education and help that he needs," Hilton said in a statement. "His comments are inexcusable and in no way reflect the views of anyone else engaged in our efforts."
Reaction from leaders
Ricketts on Monday condemned Bressman's statements, saying he was unaware his campaign field director harbored those views and was "shocked and horrified" to learn of them.
"I unequivocally denounce his hate-filled views towards Jewish people, LGBT people, African-Americans, journalists, women, and others," Ricketts said in a statement, adding he was particularly concerned about the anti-Semitic statements Bressman made online.
"Anti-Semitism has no place in society no matter where it hides," he said.
Nebraska's 2nd District congressman, Rep. Don Bacon, echoed the governor's comments in his own statement.
"I have personally read the comments and find them morally vile and absolutely repugnant," Bacon said. "These views have no place in our society, and there should be zero tolerance for this hate."
But the head of the Nebraska Democratic Party said the ideology espoused by Bressman online echoed discriminatory sentiments made by Ricketts' father, billionaire GOP donor Joe Ricketts, in several email exchanges leaked last month.
"A pattern has emerged from Ricketts' campaign staff and family email exchanges," said Jane Kleeb, the state Democratic Party chair.
The Nebraska GOP's Ryan Hamilton said Bressman would not have been allowed to volunteer for the party if his activities online had been known, and would have been terminated immediately if discovered during his time working for the campaign last year.
"Moving forward, we will examine how we can strengthen our pre-employment screening procedures to ensure our interns comport with the highest standards of moral conduct and respect for all people," Hamilton said.
State Sen. Megan Hunt, who on Twitter questioned the vetting process for Ricketts' staff and the state Republican Party, said "nobody with white nationalist or anti-Semitic beliefs should be in government or any political campaign."
"Mr. Bressman's views, while abhorrent, are unfortunately not uncommon and I am concerned about the growing volume of open anti-Semitism and hate in our country," the Omaha senator said.
Hunt added that people of all political backgrounds who reject hate must continue making Nebraska a more welcoming state where young people want to live.
Other apologies
Bressman also said he has apologized to Ari Kohen, who he had as an instructor at UNL, for comments he made about a Jewish professor at the university, and also wrote to explain that his comments were not referring to the political science professor.
Kohen, who described himself as one of the most visibly Jewish members of UNL's faculty, said he received the apology from Bressman on Monday. Kohen said he's concerned with the ease that the student fell into the chatroom populated by those with extremist views.
"If he wants to turn his life around, that's great," Kohen said, "but it's shocking to me we are at a place in 2019 where these are the things people get caught up in."
The UNL professor also said he was concerned that Bressman appeared to hold those views while attending Husker football games in the Ricketts' family box, as well as managing two dozen interns during the campaign.
"I don't think this guy is going to walk into my classroom with a gun," Kohen said, "but I don't know who he is talking to. He doesn't know either."
For his part, Bressman said the white nationalist and neo-Nazi chatroom was "something I stumbled into and stuck around in" before having a change of heart, closing his account several days before his identity was revealed on the Nebraska Antifa blog.
Fuentes, the alt-right media personality Bressman said lured him into the white nationalist group online, announced in a March 9 tweet the chatroom had been suspended due to "incitement to violence," which he said was unfounded and untrue.
Bressman said Monday reviewing his comments "makes me sick to my stomach."
"There's a big disconnect between those words and who I am," he said.