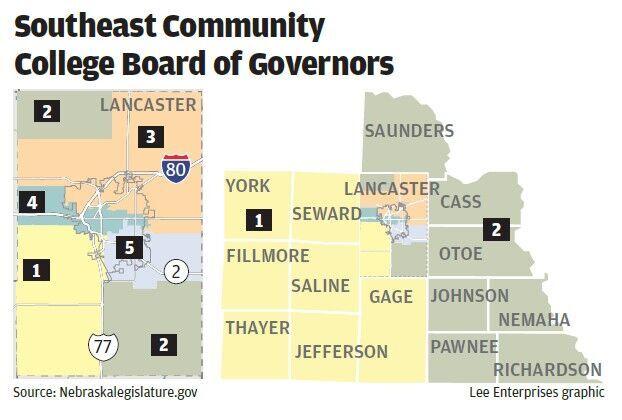 Southeast Community College is led by an 11-member board of governors that meets on the third Tuesday of every month.
Two members are elected from each of the board's five districts, and an 11th is elected at-large. Board members serve four-year terms and are not compensated beyond reimbursement for SCC-related expenses.
SCC has three campuses — in Lincoln, Beatrice and Milford — and offers courses in Lincoln at two off-campus sites, including its Jack J. Huck Continuing Education Center, and a downtown satellite campus known as Education Square. The college also serves a 15-county area with learning centers in Falls City, Hebron, Nebraska City, Plattsmouth, Wahoo and York.
Approximately 9,500 students enroll at SCC annually, in vocational training, academic transfer programs or dual credit courses.
The races are nonpartisan.
Lincoln incumbent Nancy Seim is running unopposed this year in District 3.
District 4 board member James Garver was also unopposed, but died on March 30. His name can't be removed from the ballot. Following the primary, a vacancy for the position will be declared, allowing candidates to petition to appear on the November general election ballot. The deadline for submitting petitions with a required number of signatures will be Sept. 1.
In District 1, Sandra Hoffman of Beatrice is the only candidate. She wants to replace Dale Kruse of Beatrice, who is not running for reelection. 
Brandon Gunther of Hickman and incumbent Keith Hammons of Weeping Water are seeking the District 2 position. Both will advance.
District 5 is the only race where one candidate will be eliminated in the primary. Joann Herrington, Megan Neiles-Brasch and Josie Rodriguez, all of Lincoln, will be on the ballot. Incumbent Ellen Weissinger of Lincoln is not running for reelection.