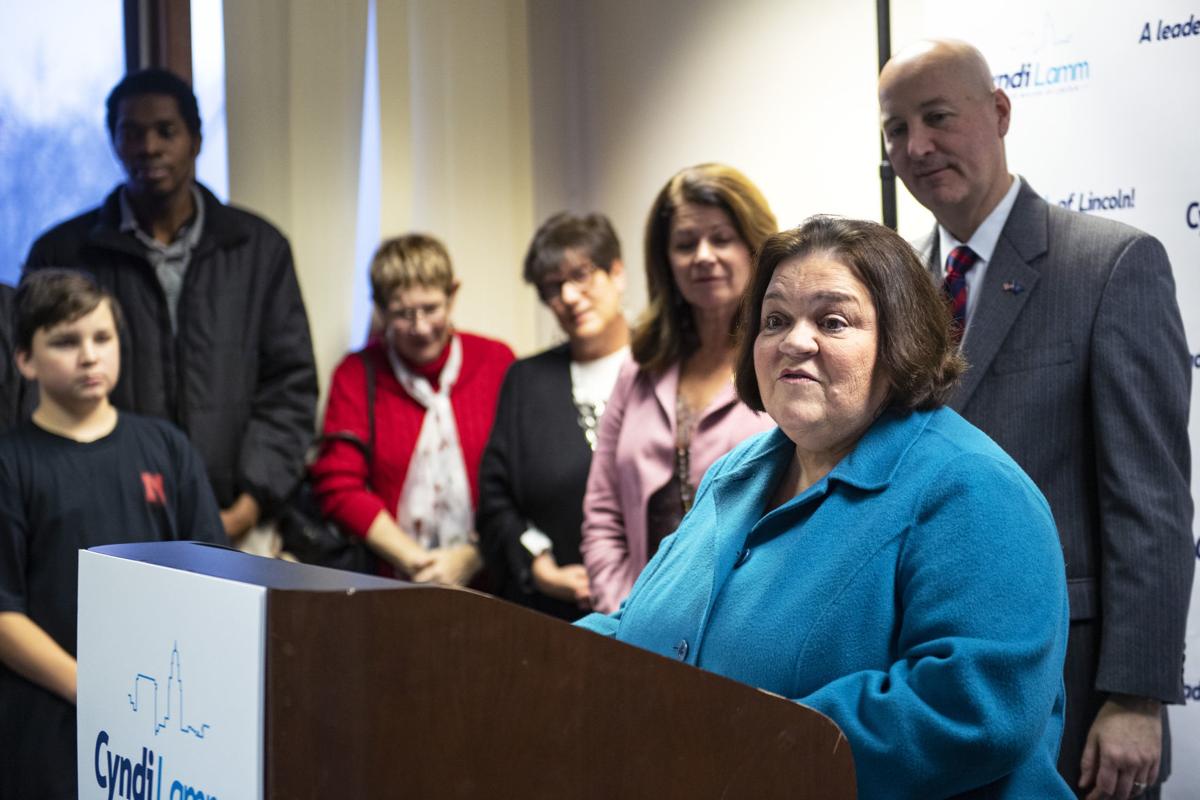 Cyndi Lamm is a servant leader who puts her concern for others into action each and every day, by volunteering for the homeless, advocating for people with disabilities and helping in her church.
"She will be a great mayor for Lincoln," Gov. Pete Ricketts said Wednesday as he endorsed the city councilwoman for the Lincoln mayor's race.
"Lamm will work with the state on the road system, to make sure we've got the right roads here in Lincoln. She will help build neighborhoods. She wants to make sure law enforcement has the tools necessary to make sure we can keep people in Lincoln safe," he said.
Ricketts spoke during a news conference where Lamm was surrounded by Republican supporters, friends and a few of her grandchildren.
Supporters included former Gov. Kay Orr, state senators Suzanne Geist and Mike Hilgers, City Councilman Roy Christensen, County Commissioner Deb Schorr and school board member Matt Schulte.
Ricketts encouraged those who support Lamm to connect with others and encourage them to vote.
"We have a lot of work to do to make sure Cyndi is the next mayor," he said.
Lamm, who said she was both grateful and humbled by the endorsements of the governor and others, said the news conferences was a "little bit surreal."
"There was certainly a time in my life where I thought there was no way something like this would happen," said Lamm, who was homeless as a teenager and often lived paycheck to paycheck as a young mother.
Lamm finished high school as an adult and went on to college, earning a law degree. Today, she's an attorney in Lincoln.
You have free articles remaining.
"Today is about the possibilities we have. Through hard work and commitment, we can get anything done," she said.
And Lamm said she believes in the possibility and future of the city of Lincoln, where every individual and business has an opportunity for success.
Lamm said she's committed to restoring transparency and trust in government.
Citizens should be able to see where and how their taxes are being spent and to see that there is a proper priority of placing needs over wants.
Lamm also said she would provide government that wasn't "hampered by gamesmanship."
Lamm said she is committed to dynamic growth and economic development in the city and to expanding the tax base so the city can reduce its property tax burden.
"To accomplish any of this means we have to abandon the status quo,'' to offer new ideas and a new vision, she said.
"It's time for a change," she said.
The mayor's race is an open race with no incumbent after voters approved a three-term limit that keeps Mayor Chris Beutler from running for re-election.
Lamm is one of five people who have announced they are running for mayor. The candidates include Leirion Gaylor Baird, current city council member, and Jeff Kirkpatrick, city attorney. Both are Democrats. Andy Ringsmuth and Krystal Gabel, both registered as nonpartisan, are also candidates.
City offices are officially nonpartisan, meaning there are no party labels on the ballot, but the two major parties recruit and support candidates for both mayor and city council.
The two candidates with the most votes will advance from the primary.