Nebraska's marquee races for governor and U.S. Senate shook out as expected Tuesday after polls closed for the state's primary election.
Republican Gov. Pete Ricketts easily won his party's nomination, and Democratic voters chose Sen. Bob Krist of Omaha to oppose him in November's general election.
In the race for U.S. Senate, Lincoln City Councilwoman Jane Raybould secured the Democratic nomination and will challenge Republican Sen. Deb Fischer this fall.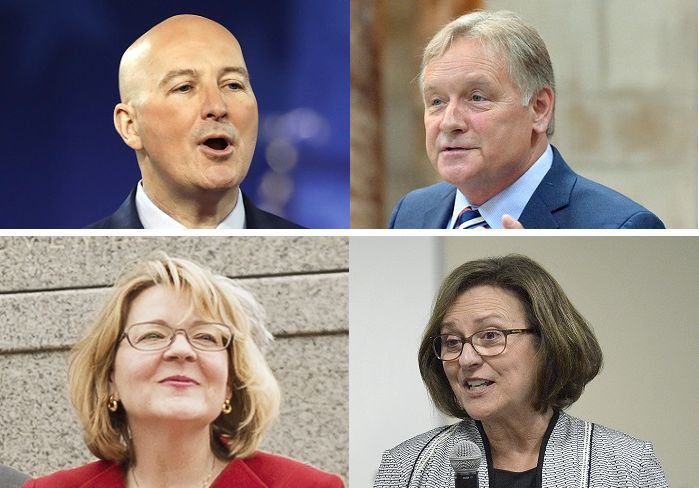 And here's what happened in other state and local races (click on the race for more info):
CONGRESS: Kara Eastman edged out former Congressman Brad Ashford to claim the Democratic nomination in the Omaha-area's competitive 2nd Congressional District. Eastman will move on to challenge Republican Rep. Don Bacon.
Jessica McClure defeated Dennis Crawford to claim the Democratic nomination in the Lincoln-centric 1st Congressional District. McClure will face Republican Rep. Jeff Fortenberry in the general election.
In the 3rd District, Rep. Adrian Smith secured the Republican nomination and will be challenged by Democrat Paul Theobald in the fall.
STATE TREASURER: State Sen. John Murante of Gretna topped fellow Republican Taylor Royal in a primary race that effectively decided the next state treasurer. No other candidates are running for the office.
LANCASTER COUNTY TREASURER: Incumbent county Treasurer Andy Stebbing came in third place behind Republican challengers Matt Schulte, who will advance to the general election, and Allen Simpson, who will not. Schulte will face Democrat Rachel Garver, who defeated Andrew Stock in that party's primary.
LEGISLATURE: State Sen. Laura Ebke of Crete, the Legislature's only registered Libertarian, advanced to the general election with a second-place finish in District 32. But Jefferson County farmer Tom Brandt, a Republican, led the pack of three candidates and will face Ebke again in November. Gov. Pete Ricketts' pick, Republican Al Riskowski, finished last and will not advance. 
In the District 30 race, Myron Dorn of Adams and Don Schuller of Wymore will advance. 
PUBLIC SERVICE COMMISSION: State Sen. Dan Watermeier won the Republican nomination and Christa Yoakum won the Democratic nomination for District 1 on the PSC. The pair will face off in November.
In District 3, Republican Tim Schram and Democrat Mike Forsythe, both of whom ran unopposed, will advance to the general election.
TURNOUT: Predictions of low voter turnout were mostly accurate across Nebraska on Tuesday night in a primary election with few competitive races.
In Lancaster County, Election Commissioner Dave Shively correctly predicted 25 percent of voters would cast ballots. 
The 46,557 votes cast Tuesday signal a midterm election drop. More than 52,000 votes were cast in 2014. About 71,000 voters cast ballots in 2010, when voters considered approving Pinnacle Bank Arena, and 61,000 voters went to the polls in 2006.
In those years, voter turnout was 28.8 percent, 40 percent, and 35.5 percent, respectively.
Statewide, Nebraska Secretary of State John Gale predicted turnout would top out at 28 percent, which is on par with official turnout for the 2014 primary, the last midterm election year.
Despite a few hiccups, like construction near one polling place which confused some voters, no major problems were reported in Lancaster County, Shively said.
There were also some complaints about campaign signs placed within 200 feet of polling locations in Lancaster County. Shively said poll workers were instructed to remove signs unless they were on private property.