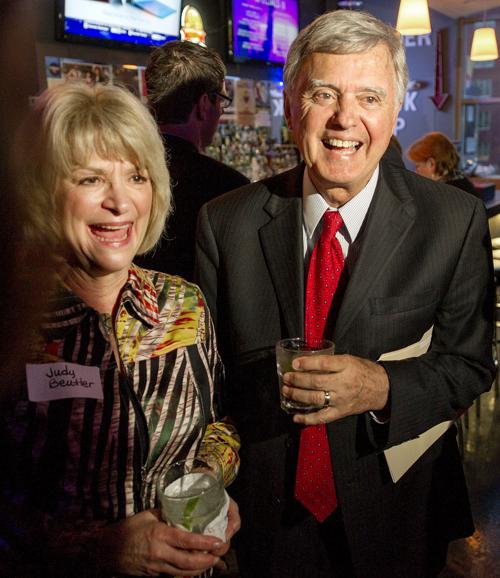 In every case, the candidate who won last Tuesday's election had raised the most money, based on pre-May election campaign reports to the state.
Incumbent Mayor Chris Beutler outspent Lancaster County Treasurer Andy Stebbing 2 to 1.
In District 1 (northeast Lincoln), where Councilman Doug Emery was retiring after eight years, neither Meg Mikolajczyk nor Cyndi Lamm had the incumbent advantage. Mikolajczyk did have some name recognition from an unsuccessful council race two years ago.
But $20,000 in donations from a conservative business PAC with ties to the Lincoln Independent Business Association gave Lamm money to advertise her name. She had almost twice as much to spend -- $52,000 compared to about $27,000 -- based on the pre-election reports.
In District 2 (southeast Lincoln), where households received enough nasty mailers to wallpaper a kitchen, incumbent Jon Camp had four times more campaign money, around $61,000, than challenger Patte Newman, $15,000.
But there is no accounting yet of what the Democratic Party spent on mailers trying unsuccessfully to put Camp out to pasture with accusations of trying to hide his personal interests in a Haymarket warehouse and unfairly negotiating with the city for a big discount on a water bill. In return, Camp charged Newman with hating Republicans and loving taxes.
In District 3 (southwest Lincoln), challenger Mairead Safranek got little financial help from the Republicans and business community, based on campaign reports. So incumbent Carl Eskridge didn't have to raise a bucketload of money to protect his seat. He had around $30,000 to Safranek's $10,000 as they headed into the general election.
Democrats can no longer claim District 1
District 1 can no longer be called a Democratic stronghold. For the first time since the city was divided into four council districts about 35 years ago, a Republican won the northeast district.
In addition to healthy campaign donations, Republican Cyndi Lamm also worked hard at going door-to-door, something considered to be a successful strategy for district races.
The district has changed since the old days when many people who lived in the northeast district worked at a private business with strong unions, like Goodyear and the railroad.
The newer housing areas, at the northern and eastern edges of the city, are also higher income families more likely to register and vote Republican.
District 1 is not just about Havelock and the railroads anymore.
You have free articles remaining.
And it is no longer Democrat-dominated, based on voter registration numbers. Republicans registered to vote outnumbered Democrats by 15 on April 24.
Independents make up about 23 percent of registered voters in the district.
Some Democrat insiders also surmise that the primary, when two Democrats and Lamm were on the ballot, wasn't healthy for Democrats.
It split the Democrat vote, and the month between the primary and general election didn't give enough time to bring Democrats who voted for Mitch Paine, who was eliminated in the primary, over to Meg Mikolajczyk.
Early voters moving on up
The Republican strategy, encouraging Republican voters to get mail-in ballots and vote early, seems to have worked. For the first time the Republicans had more ballots mailed out and more early voters than Democrats: There were 15,715 people voting early based on unofficial final results, with 15 more registered Republicans than Democrats.
About 34 percent of the votes cast in the general election were early ballots -- either mail-in or people coming to the election office to vote.
Where did all the (District 4) voters go?
If you were really paying attention to Tuesday's City Council election detail, you would have noticed a big difference between the number of votes cast in District 4 (northwest Lincoln) and in any of the other three districts.
The unofficial final results show 5,245 votes cast in District 4, compared to 9,254 in District 3 (southwest Lincoln) and 17,624 in District 2 (southeast Lincoln).
A big part of the disparity is caused by the University of Nebraska-Lincoln City Campus, said Election Commissioner Dave Shively.
The students living there were counted as part of District 4. The division of City Council districts occurs every 10 years. But few of the students register to vote in Lincoln, so that district has far fewer registered voters -- 28,664, as of April 24. That compares to 48,929 registered voters in District 2 (southeast) and 38,062 in District 1 (northeast).
Polling place trivia
The election commissioner pays a small amount -- $35 -- for polling places in private buildings. But the commissioner pays nothing for polling places in public buildings, like a school, park building, county-owned building or public school.