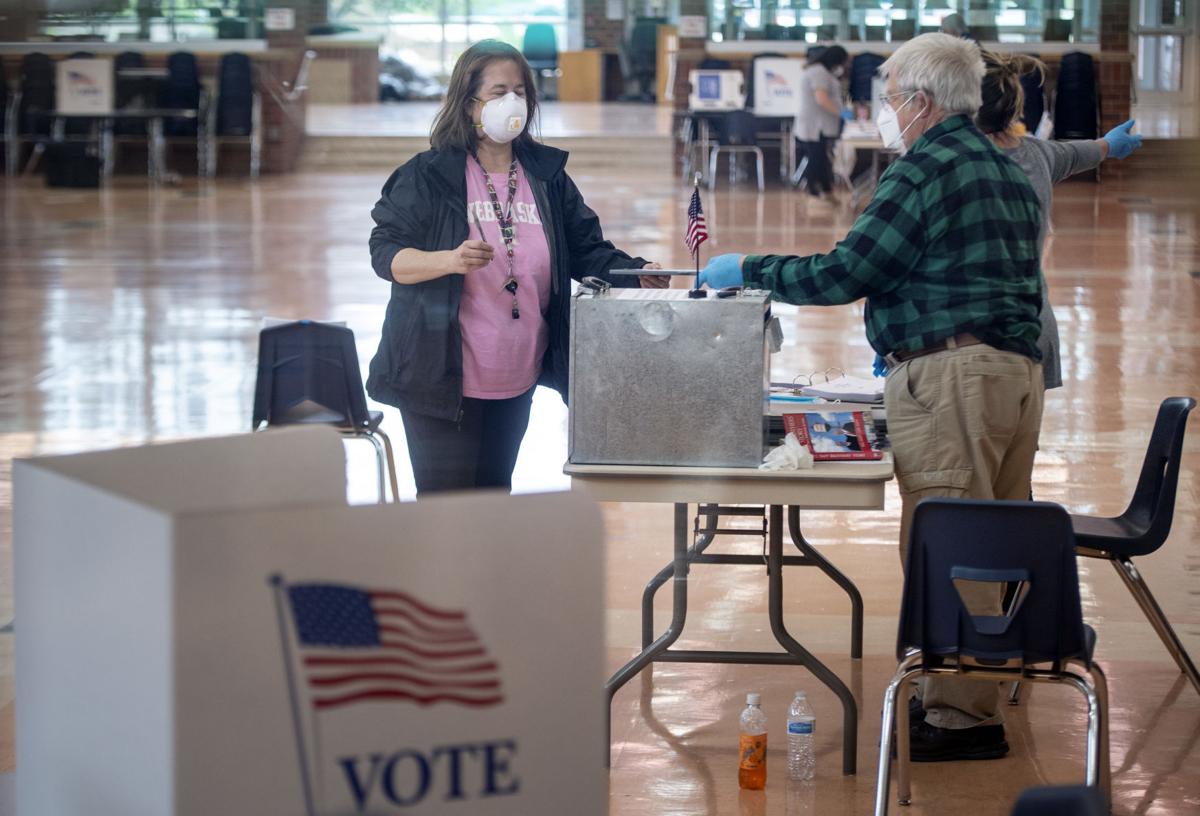 Tuesday's primary election saw 471,000 Nebraska voters cast ballots, easily breaking the 48-year-old record of 413,000 votes cast in the 1972 primary, Secretary of State Bob Evnen said.
Even more impressive, Evnen said at a Wednesday afternoon news conference in the Rotunda at the state Capitol, is the circumstances with which the record-breaking total was achieved.
"What is even more remarkable is that Nebraska voters broke the record in the midst of the coronavirus pandemic and the serious health threat posed by the coronavirus," he said.
While voting booths across the state were opened, run by poll workers donning personal protective equipment and with guidelines to ensure social distancing, the bulk of the turnout was driven by early voting conducted through the mail.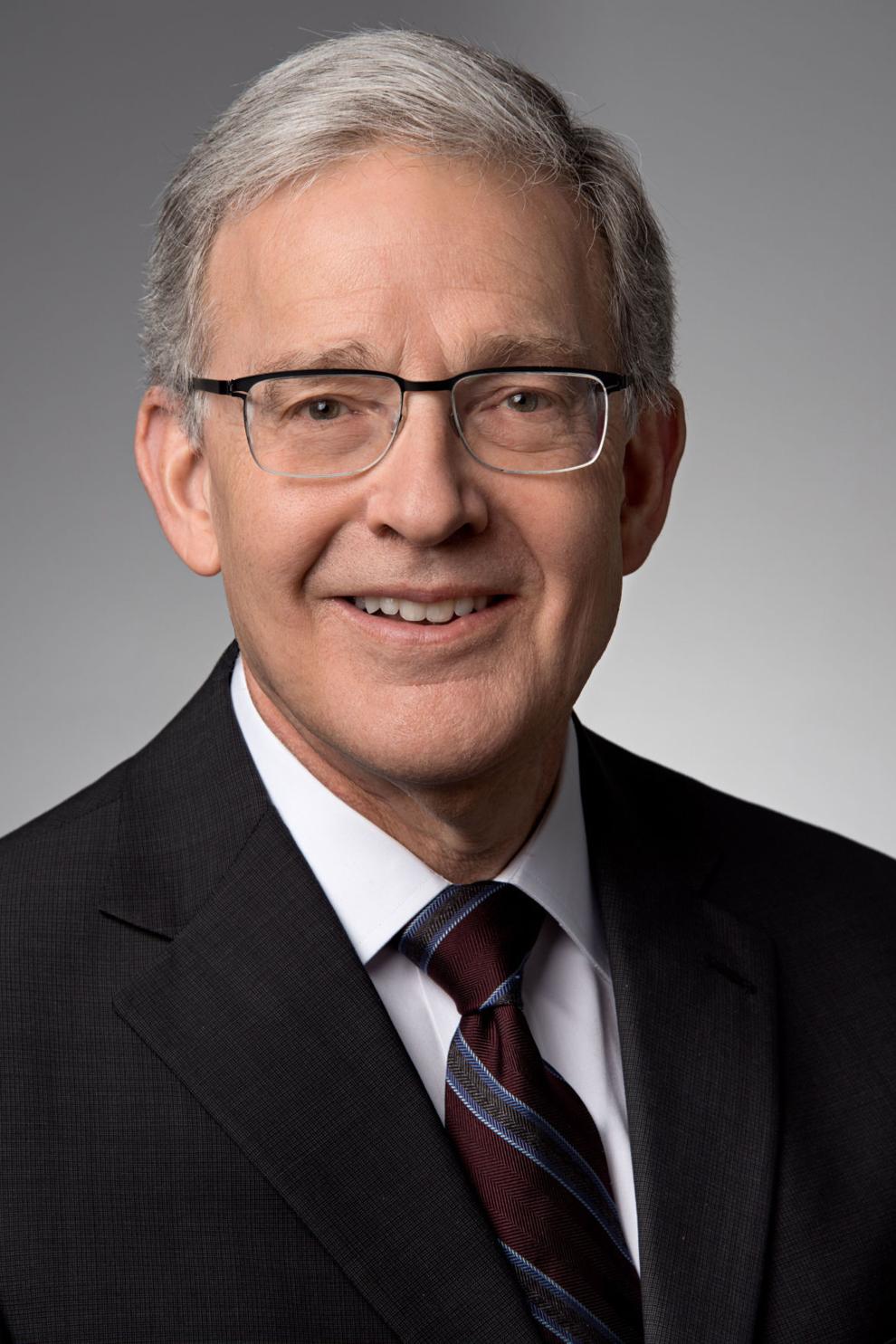 More than 375,000 voters used the early, vote-by-mail option for the primary — six times more than did so in 2018, according to Evnen.
On average, only about a quarter of registered voters cast their ballot by mail in Nebraska. Vote-by-mail accounted for 80% of the total ballots cast in Tuesday's primary.
Media interviews, paid advertisements and a flurry of postcard-sized applications mailed to every voter informing them of the option was key to driving up awareness, Evnen said.
About 30,000 voters in Lancaster County routinely receive their ballots by mail, Election Commissioner Dave Shively said, while the office sent out another 140,000 weeks before the election.
Ballots started coming back through the mail and at the drop box outside the election commission office — there was a line of cars waiting to drop ballots into the box Tuesday evening hours before the polls closed — during what Shively described as a smooth process amid the pandemic.
John Cartier, voting rights director of Civic Nebraska, a nonpartisan organization focused on protecting voting rights, said the primary election highlighted the simplicity, security and convenience of mail-in voting.
"We saw this past month that vote-by-mail is cost-effective, dramatically increases participation and provides voters more time to study their ballots and get answers to their questions," Cartier said in a statement.
The work by county election officials shows it's possible to conduct Nebraska's elections on a large scale, vote-by-mail effort, he added.
But, despite the success, the secretary of state said he doesn't anticipate replicating the public awareness campaign ahead of the November general election, which could take place amid what epidemiologists describe as a potential second wave of the COVID-19 pandemic, or in future elections.
"We aren't going to need to do that," he said. "Voters are now fully apprised of their opportunity. We've certainly publicized it highly, and I don't think it's going to be necessary again."
Evnen said Nebraskans like to go to the polls on Election Day, and praised the efforts of 4,000 poll workers — including 138 volunteers from the Nebraska National Guard — to provide that option to voters.
Gov. Pete Ricketts declared Wednesday to be "Poll Worker Appreciation Day" to honor their efforts.
Evnen also said he expects to return with legislation enacting voter ID requirements in Nebraska next year.
A bill introduced by Sen. Andrew La Grone of Gretna and backed by Evnen earlier this year would have put a constitutional amendment requiring voters to show identification before they can vote on the November ballot, but it failed to advance out of committee.
The secretary of state said 98% of Nebraskans who are eligible to vote have some form of government-issued identification already. Providing the remaining 2% with an ID is "a manageable number," he added.
Election results
Results for statewide and Lincoln-area races
Statewide contests
| Party | Candidate | Vote total |
| --- | --- | --- |
| President | Joseph Biden, D | 359,757 |
| | Jo Jorgensen, L | 19,292 |
| | Donald Trump, R | 536,229 |
| U.S. Senate | Chris Janicek, D | 216,887 |
| | Ben Sasse, R | 562,224 |
| | Gene Siadek, L | 52,878 |
| Gambling, Initiative 429 | For | 566,886 |
| | Against | 305,883 |
| Gambling, Initiative 430 | For | 569,201 |
| | Against | 307,728 |
| Gambling, Initiative 431 | For | 598,546 |
| | Against | 273,243 |
| Payday lending | For | 698,704 |
| | Against | 144,346 |
| Remove slavery wording | For | 581,058 |
| | Against | 271,443 |
| Extend TIF 20 years | For | 500,903 |
| | Against | 319,675 |
| | | |
Congressional races
| Race | Candidates | Vote totals |
| --- | --- | --- |
| District 1 | Kate Bolz | 116,120 |
| | Jeff Fortenberry, R | 179,557 |
| | Dennis Grace, L | 8,452 |
| District 2 | Donald Bacon, R | 162,087 |
| | Kara Eastman, D | 146,992 |
| | Tyler Schaeffer, L | 9,423 |
| District 3 | Mark Elworth Jr., D | 49,771 |
| | Dustin Hobbs, L | 10,723 |
| | Adrian Smith, R | 222,363 |
| | | |
Legislature
| District | Candidate | Vote totals |
| --- | --- | --- |
| 1 | Janet Palmtag | 5,577 |
| | Julie Slama | 11,899 |
| 3 | Rick Holdcroft | 8,582 |
| | Carol Blood | 8,779 |
| 5 | Mike McDonnell | 6,559 |
| | Gilbert Ayala | 3,777 |
| 7 | Tony Vargas | 6,819 |
| | Jorge Sotolongo | 1,919 |
| 9 | John Cavanaugh | 8,003 |
| | Marque Snow | 6,690 |
| 11 | Fred Conley | 3,330 |
| | Terrell McKinney | 5,820 |
| 13 | Justin T. Wayne | 11,010 |
| 15 | David Rogers | 6,210 |
| | Lynne Walz | 9,157 |
| 17 | Joni Albrecht | 7,343 |
| | Sheryl Lindau | 3,576 |
| 19 | Mike Flood | 15,200 |
| 21 | Mike Hilgers | 9,895 |
| | Brodey Weber | 8,132 |
| 23 | Bruce Bostelman | 11,287 |
| | Helen Raikes | 6,868 |
| 25 | Suzanne Geist | 16,147 |
| | Stephany Pleasant | 8,104 |
| 27 | Brenda Bickford | 5,448 |
| | Anna Wishart | 9,923 |
| 29 | Eliot Bostar | 10,927 |
| | Jacob Campbell | 9,622 |
| 31 | Rich Pahls | 10,197 |
| | Tim Royers | 9,093 |
| 33 | Steve Halloran | 12,756 |
| 35 | Raymond M. Aguilar | 6,570 |
| | Dan Quick | 5,688 |
| 37 | Mercadies Damratowski | 4,098 |
| | John Lowe Sr. | 12,774 |
| 39 | Allison Heimes | 11,457 |
| | Lou Ann Linehan | 14,554 |
| 41 | Tom Briese | 15,804 |
| 43 | Tom Brewer | 10,628 |
| | Tanya Storer | 7,691 |
| 45 | Susan Hester | 7,671 |
| | Rita Sanders | 8,835 |
| 47 | Steve Erdman | 14,901 |
| 49 | Jen Day | 12,125 |
| | Andrew La Grone | 11,873 |
Public Service Commission
| Race | Candidate | Vote total |
| --- | --- | --- |
| District 2 | Tim Davis, R | 53,466 |
| | Crystal Rhoades, D | 88,891 |
State Board of Education
| District | Candidate | Vote total |
| --- | --- | --- |
| 1 | Patsy Koch Johns | 90,917 |
| 2 | Robert Anthony | 37,612 |
| | Lisa Fricke | 68,950 |
| 3 | Patti S. Gubbels | 51,079 |
| | Mike Goos | 24,082 |
| 4 | Jacquelyn Morrison | 50,569 |
| | Adrian Petrescu | 17,653 |
| | | |
NU Board of Regents
| District | Candidate | Vote totals |
| --- | --- | --- |
| 1 | Tim Clare | 92,526 |
| 2 | Jack A. Stark | 96,770 |
SCC Board of Governors
| District | Candidate | Vote totals |
| --- | --- | --- |
| At-large | Timothy R. Cerveny | 81,405 |
| | Neal Stenberg | 82,575 |
| 1 | Chuck Byers | 17,329 |
| | Jeanne H. Stec | 15,268 |
| 2 | Kathy Boellstorff | 20,349 |
| | Chad Aldrich | 15,415 |
| 3 | Edward C. Price | 32,588 |
| 4 | Kristin E. Yates | 25,167 |
| 5 | Arlyn Uhrmacher | 41,327 |
| | | |
Lower Platte South Natural Resources District board
| Subdistrict | Candidate | Vote totals |
| --- | --- | --- |
| 1 | Don Jacobson | 11,941 |
| 2 | Ron Nolte | 12,778 |
| 3 | Mike DeKalb | 6,243 |
| | Kenneth Vogel | 6,177 |
| 4 | Gary R. Aldridge | 9,201 |
| | LeRoy W. Sievers | 9,199 |
| 5 | John Yoakum | 4,402 |
| | Greg Osborn | 2,618 |
| 6 | Anthony Schutz | 10,257 |
| 7 | Chelsea Johnson | 8,933 |
| 8 | Christine Lamberty | 7,807 |
| | Christy Eichorn | 4,505 |
| 9 | Milt Schmidt | 4,712 |
| | Lisa Lewis | 7,518 |
| 10 | Ray A. Stevens Jr. | 6,528 |
| | Bastienne Salners | 5,268 |
| | | |
Charter amendment questions
| Ballot question | For | Against |
| --- | --- | --- |
| Gender-neutral language | 50,325 | 15,449 |
| Raising city bid threshold | 43,488 | 18,442 |
Area ballot questions; unofficial final results
| Ballot question | For | Against |
| --- | --- | --- |
| Hickman pool bonds | 491 | 815 |
| Hickman sales tax | 484 | 808 |
| Hallam sales tax | 60 | 71 |