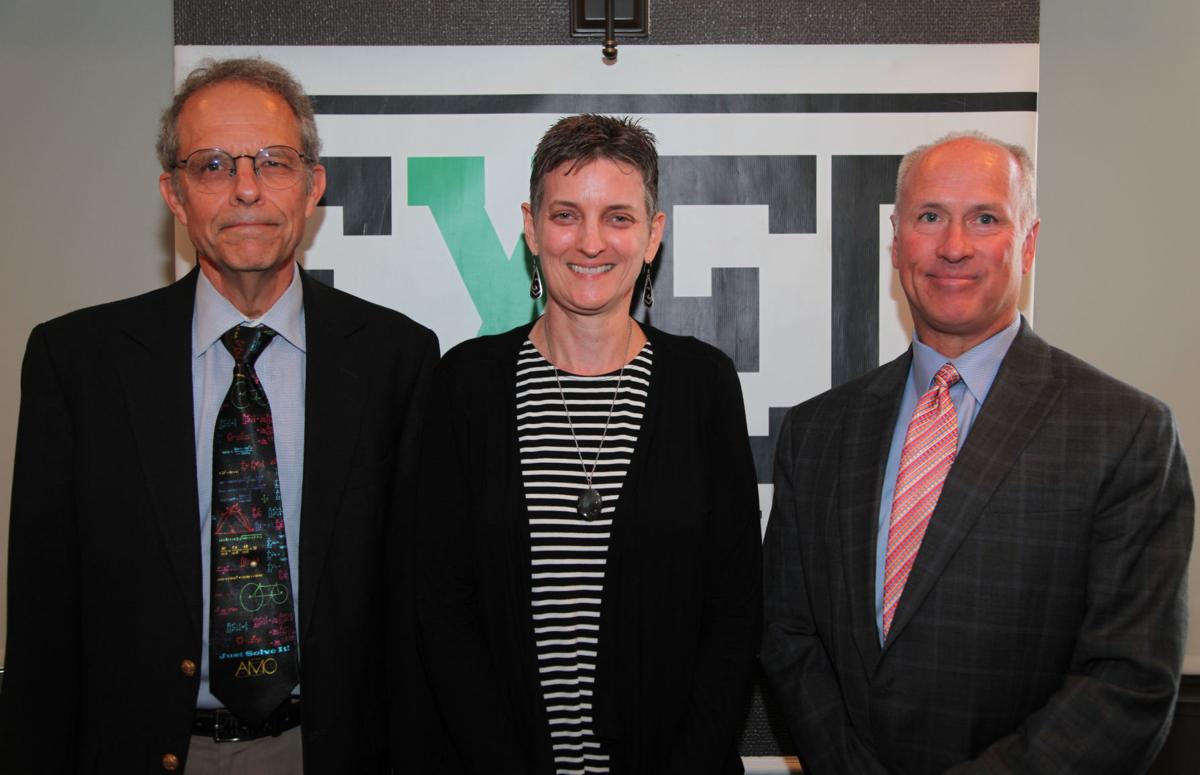 The act of gerrymandering has been around as long as the Star Spangled Banner. But not all parties fancy the tune played these days …
So, some trained scholars are researching ways to make the process more neutral and fair for both the Democratic and Republican parties. The Metric Geometry and Gerrymandering Group (MGGG) is a non-partisan research organization based in Boston, Massachusetts that aims to protect the fundamental right to voting and U.S. redistricting.
Two of those scholars emanate right out of Lincoln. They are mathematicians that most recently attended the MGGG conference in April. Steve Dunbar is an emeritus professor of mathematics at the University of Nebraska-Lincoln. Kristin Pfabe has been a professor of mathematics at Nebraska Wesleyan University for the past 19 years.
Both Dunbar and Pfabe presented their research and findings from the conference to Lincoln Executive Club members on a recent Monday in downtown Lincoln at the Nebraska Club.
"Through scientific measures of neutrality and fairness, what we want to do is make sure that every vote counts the same," said Pfabe about the MGGG conference. "We don't want to manipulate voter boundaries so as to favor one party over the other."
Pfabe explained that the word "gerrymandering" was coined in 1812 when a Massachusetts governor named Elbridge Gerry drew up a voting district that favored his party, and which looked remarkably similar to the shape of a salamander. Hence, "Gerry-salamandering" …
You have free articles remaining.
Pfabe defined gerrymandering as manipulating the boundaries of an electoral constituency to favor one party or class. She further said that some consequences could include stealing votes before they can be cast and allowing legislators to choose their voters.
She pointed out the importance of the Voting Rights Act of 1965.
"The goal of the act was to ensure our representatives reflect America's racial and ethnic diversity by mandating, in certain cases, majority-minority districts," Pfabe said.
Dunbar illustrated a statistical test for gerrymandering. He said it should randomly generate a large collection of neutral and fair maps using actual precinct-level votes from past elections to determine the election outcome for each map.
"Then line up those maps on a continuum with the most favorable to the Republicans on one end and the most favorable to the Democrats on the other. The farther out on the tail, the more extreme the partisan distortion," Dunbar said. "You'll find the outcome in the center for a world with no partisan manipulation."
He said what they are trying to accomplish in the years moving forward is "multiple numerical measures of neutrality and fairness based on mathematical principles and statistical sampling."
Dunbar said the U.S. Supreme Court declared in June that "partisan gerrymandering is non-justiciable at the federal level."