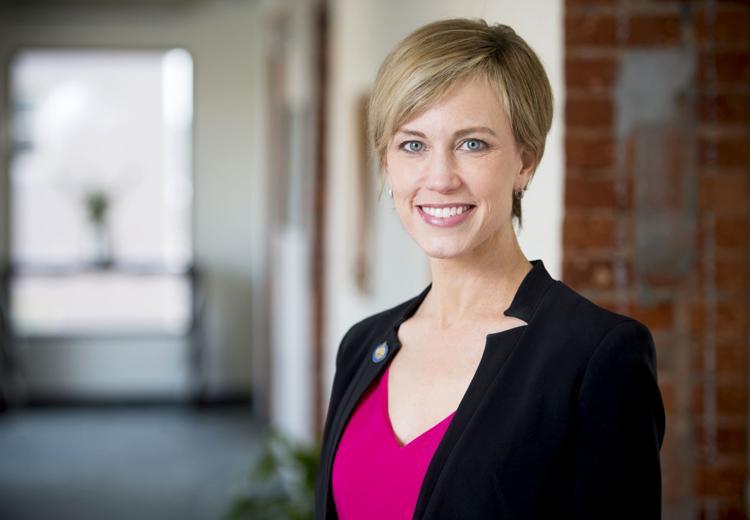 Address: 1932 S. 24th St.
Occupation: City Councilwoman
Political party: Democrat
Education: Bachelor of Arts in History, Yale College (1993); master's in Comparative Social Policy, University of Oxford (1997)
Experience: Gaylor Baird has served six years on the City Council and was a member of the Lincoln-Lancaster County Planning Commission and the LPlan Advisory Committee that produced the 2040 Comprehensive Plan, the strategic road map for Lincoln's growth and development. She's also been an active community volunteer.
Organization endorsements: Lincoln Firefighters Union IAFF Local 644, Lincoln police union, Nebraska Conservation Voters
Why are you running and what do you want to accomplish in office?
For me, this is about family. My parents were public school teachers, and they taught me that a career can be dedicated to improving the lives of others. As a mom, I've spent a lot of time focused on how to keep my three children safe, provide for their basic needs, give them a great quality of life, and ensure they have the same opportunities as anyone else for a bright future. As a former planning commissioner and your city councilwoman, I have a 12-year track record of delivering on these same priorities for all of our children and families in Lincoln. As mayor, I will continue to work to ensure our public safety; to invest in the basics, like streets and sidewalks; to maintain our neighborhood parks, trails, pools, playgrounds, and libraries so essential to our quality of life; and to address affordable housing.
Every candidate includes public safety and streets as their top priorities. In lean financial times how would you budget for parks, libraries and other city services?
Parks, libraries, programs for children and seniors, and other city services are investments we make in keeping our community strong and vibrant. Modern cities compete for talented workers, and a high quality of life is critical to attracting them. Innovative partnerships and thorough budget analysis are key to funding these services. In 2018, I created the Parks Community Challenge grant to incentivize private gifts for our park system and identified additional keno proceeds to restore Bennett-Martin Library's evening hours.
Should voters approve a quarter-cent hike in the city sales tax with proceeds earmarked for streets? Why or why not?
I am glad that Lincoln residents will have the opportunity to decide whether they want to invest in improving our roads. A coalition of neighborhood and business groups, including the Lincoln Chamber of Commerce, supports this plan. Nearly a third of the revenue collected from this sales tax will come from people outside of Lincoln who use our streets. While this compromise package is not perfect, it deserves support, as it will inject needed funds into vital infrastructure.
Ensuring that everyone has access to decent housing that they can afford has become a national topic. What is your definition of affordable housing? What should the city do to encourage or provide for more affordable housing?
I'm the only mayoral candidate who took action in last year's budget to address the issue of affordable housing. For a challenge this complex, the city needs a variety of strategies focused on those who make 30-80 percent of median income. We must improve the quality of our existing housing stock, increase the supply of new housing, partner with nonprofits like the Lincoln Housing Authority and NeighborWorks, and support the creation of community land trusts to establish permanently affordable housing.
With the rise in home values, the city and other local governments could bring in more revenue by not reducing the property tax rate. The additional tax revenue coming from the increase in appraised value has been called a windfall. How should the city respond?
In 2017, when the county assessor greatly increased home valuations, I led the effort to lower the property tax rate and shield homeowners from the full impact of the valuation increase because I understand the importance of acting with both the best interests of homeowners and responsible budgeting in mind. This year, we are experiencing a projected shortfall in sales tax receipts, so we should wait to see the full revenue picture before finalizing the tax rate.
In 2012 the City Council passed an ordinance protecting people from discrimination based on gender identity and sexual orientation in housing, employment and public accommodations. A referendum petition stopped the ordinance from going into effect. The council has not rescinded the ordinance nor put the issue on the ballot. If the state does not pass discrimination protection based on sexual orientation and gender identity this session, should the City Council put the proposed fairness ordinance on the ballot for a citywide vote? Why or why not?
If we want to be on the right side of history, attract and retain a talented workforce and simply be good people to our neighbors, then we must end discrimination against our LGBTQ friends and family. No one should have to endure a vote on their civil rights; however, if efforts to pass statewide legislation fall short, then — with the LGBTQ community's leadership and support — Lincoln should work to ensure success at the ballot box.
Some Lincoln residents, including members of Nebraskans Against Gun Violence, believe the City Council should pass a safe gun storage ordinance. Do you think the city should require gun owners to lock up guns in their homes?
I support responsible gun ownership, and I am pleased that a task force that includes mental health providers, law enforcement, gun owners, parents and community members of diverse viewpoints on this issue is examining how to prevent child access to firearms and to promote responsible storage of firearms. This is an important process to undertake before making any decisions on a safe storage ordinance, and I look forward to having a community conversation about their recommendations.
The city has banned cardboard from the city landfill and required local haulers to provide curbside recycling service. Should the city go further, by banning other recyclable products (paper, plastic) from the landfill? What changes, if any, would you propose for the recycling program?
Recycling diverts waste and extends the life of our public landfills, reducing pressure on taxpayer dollars. Every year that we can put off the expense of a new landfill, we have more money available in our city budget for other important infrastructure. Recycling is not only good for our environment, it's also good for our city's bottom line. Should we recycle more? Yes.
What role should the city take in planning and paying for bike paths (on streets or wider sidewalks) and bike trails (separate paths for bikes and walkers)?
While cars are our primary means of transportation, Lincoln should plan for bike paths and trails – alternatives that relieve pressure on parking, reduce traffic and air pollution, and make our city a more attractive place to live. Bike facilities comprise the smallest portion of our city's transportation budget, and Lincoln should continue to secure grants to help pay for them. By combining implementation of the bike network with other street projects, we can create efficiencies that reduce costs.
Is climate change real and what are its likely causes? Does the city have any role in trying to help curb climate change?
Our accelerated rate of climate change is real and man-made, and we must do our part to mitigate the risks posed to our economy, environment and quality of life. I voted for Lincoln's partnership with UNL to create renewable energy systems at Innovation Campus; Greenlight Lincoln to reduce traffic congestion and air pollution; biogas to fuel city buses; community solar projects; and an Environmental Action Plan that's currently moving us toward citywide LED streetlights — saving energy and taxpayer dollars.
Winter weather has created an abundance of potholes. Do you think the city does enough to address the problem? Is there anything it should change?
The Citizens' Transportation Coalition determined Lincoln has a $21 million gap in funds needed to adequately maintain our streets, including pothole repair work. I have voted for increases in road maintenance funding every year I have been in office. In 2017, I supported buying equipment that sped up pothole repair by 50 percent with increased effectiveness. As long as Nebraska has freezing winters and cold temperatures, we'll be fighting against potholes. It is an ongoing responsibility that I take seriously.