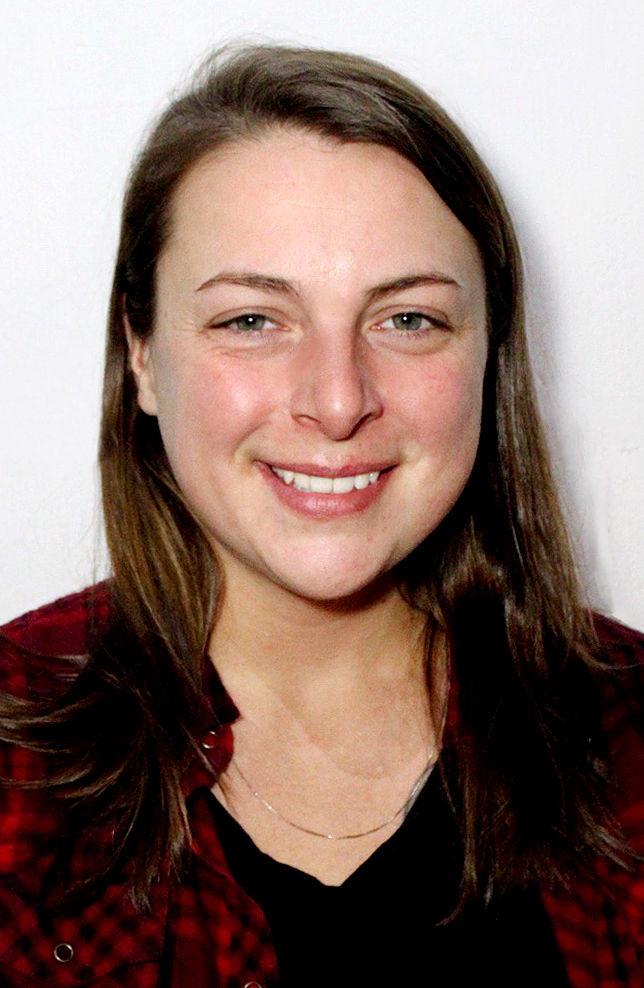 Occupation: Freelance editor and writer who is building an urban farm business
Political party: Nonpartisan
Education: Bachelor of Arts in writing, Briar Cliff University, Sioux City, Iowa
Organization endorsements: Legal Marijuana Now Party of Nebraska
Experience: Gabel is co-owner of the South Omaha Peace Garden, a free community garden. She also co-chairs the Legal Marijuana NOW Party of Nebraska, a third party seeking ballot access in the state. She's run for several political offices, including Omaha city council, school board and utilities district board, as well as the Republican nomination for governor.
Why are you running and what do you want to accomplish in office?
I'm running because regular people need to have a voice in office, not just those who align strongly with a party platform or make major donations. My campaign and platform challenge establishment politics and push issues like a green economy that are important to Lincoln residents. I want the government of Lincoln to work for the people and by the people.
Every candidate includes public safety and streets as their top priorities. In lean financial times how would you budget for parks, libraries and other city services?
Many residents are experiencing financial hardships because of rising costs of living and stagnant wages. It's the job of lawmakers to end bloated government, stop wasting money on self-interests and use taxpayer dollars appropriately so there's real money to spend on streets and other public services. I will stop spending taxpayer money on low-level crimes by fully decriminalizing cannabis possession and allowing residents who need substance abuse or mental health treatment to approach law enforcement without penalty or arrest.
Should voters approve a quarter-cent hike in the city sales tax with proceeds earmarked for streets? Why or why not?
No, we should not approve this tax hike. The city already collects more than enough tax revenue. Lincoln taxpayer dollars have been misused and mismanaged for years. This sales tax increase hurts our workers and families and will never go away. It's unreal that we can't even trust our elected officials to do their jobs. As mayor, I would never use tax dollars to advertise and advocate for a tax increase. I also refuse to enforce this tax if passed.
Ensuring that everyone has access to decent housing that they can afford has become a national topic. What is your definition of affordable housing? What should the city do to encourage or provide for more affordable housing?
Affordable housing is a safe home that any household can live in long-term without financial struggle, including those earning minimum wage. Last year, however, 2,500 Lincoln residents were homeless and 78 percent of U.S. workers lived paycheck to paycheck. I will implement safe parking options for those living in vehicles; build more manufactured home parks and apartment buildings; adopt simple standards for tiny house construction; and implement smart grids to help residents create, use and sell their own energy.
With the rise in home values, the city and other local governments could bring in more revenue by not reducing the property tax rate. The additional tax revenue coming from the increase in appraised value has been called a windfall. How should the city respond?
For some Lincoln property owners, the rise in market values could mean a sharp spike in property tax bills. Residents and business owners alike understandably will have sticker shock, especially if future voter-approved taxes and bonds are approved that will further increase our mill levy. I will respond by lowering the city's mill levy so it reflects municipality needs, reduces the tax burden for property owners and adjusts for any increase in home valuations.
In 2012 the City Council passed an ordinance protecting people from discrimination based on gender identity and sexual orientation in housing, employment and public accommodations. A referendum petition stopped the ordinance from going into effect. The council has not rescinded the ordinance nor put the issue on the ballot. If the state does not pass discrimination protection based on sexual orientation and gender identity this session, should the City Council put the proposed fairness ordinance on the ballot for a citywide vote? Why or why not?
Come on, Lincoln, it's 2019! I believe in the fundamental freedom for all without distinction as to race, sex, language, religion, socioeconomic status or sexual orientation. There's no need for a ballot issue. As mayor, I will immediately add a comprehensive, citywide nondiscrimination ordinance that protects our LGBTQ residents from discrimination based on gender identity and sexual orientation in housing, employment and public accommodations. No more wasted tax dollars on this issue.
Some Lincoln residents, including members of Nebraskans Against Gun Violence, believe the City Council should pass a safe gun storage ordinance. Do you think the city should require gun owners to lock up guns in their homes?
No, I don't think Lincoln gun owners should be required to lock up guns in their homes. Ordinances like this will allow government encroachment onto our personal properties. Plus it directly contradicts the Nebraska Constitution, which prioritizes and protects the rights of those who choose to lawfully bear arms for security and common defense. What we need is more education on gun safety and firearm awareness and harsher penalties for those who commit violent gun crimes in our community.
The city has banned cardboard from the city landfill and required local haulers to provide curbside recycling service. Should the city go further, by banning other recyclable products (paper, plastic) from the landfill? What changes, if any, would you propose for the recycling program?
I am committed to expanding our recycling capabilities, stopping landfill use and moving Lincoln toward zero waste. Ninety-five percent of what we throw away can be used to create energy to fuel our homes, compost to grow food, and materials to make new products. Other countries have stopped buying our waste. It's up to us to build a new economy and infrastructure in Lincoln that can process our leftovers and create local, resource-based jobs.
What role should the city take in planning and paying for bike paths (on streets or wider sidewalks) and bike trails (separate paths for bikes and walkers)?
I support finding alternatives to cars to improve the health of the city, and it makes financial sense for many residents, too. A typical family can save $6,000 a year in transportation costs by living with one less vehicle. The city should take a lead role in planning and finding money for bike paths and trails. I will work to find grants and public funding to make sure we have adequate travelways for all of Lincoln's residents.
Is climate change real and what are its likely causes? Does the city have any role in trying to help curb climate change?
Lincoln should be the leader in adapting new industry and technology that reduces our carbon footprint. The city has the ability to use revenue more wisely and reduce costs for citizens. As mayor, I will start a free citywide bus service and improve public transit, build electric vehicle infrastructure, invest in renewable and sustainable energy options like smart grid technology, and work toward being a zero-waste community with new infrastructure and local, resource-based jobs to process our recyclables.
Winter weather has created an abundance of potholes. Do you think the city does enough to address the problem? Is there anything it should change?
I want to prevent potholes altogether and install a snowmelt system that heats our roads, bike paths and sidewalks. Our power plant's waste water can be diverted through a network of pipes installed under all our city's travelways. This heated water will melt snow and ice as it falls, making our streets safer and replacing the plow that makes potholes. Heated streets also means no more chemicals that cause rust and thousands saved in tax dollars every winter.