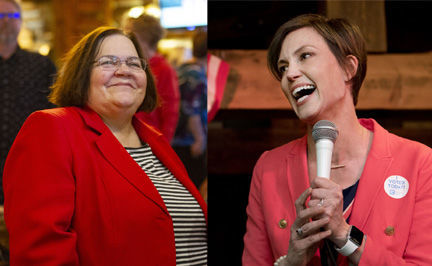 Mayoral candidate Leirion Gaylor Baird raked in more than $172,000 in campaign donations leading up to and after the April 9 primary and held a war chest seven times larger than Cyndi Lamm ahead of next week's general election, according to the latest campaign filings.
Big donations from the Lincoln Police Union, Nebraska Conservation Voters and Public Association of Government Employees following their endorsements accounted for more than half of the funds Gaylor Baird raised, according to the Nebraska Accountability and Disclosure Commission reports.
By comparison, Lamm raised nearly $58,000 between March 26 and April 22, the latest reporting period.
Lamm spent more than $80,000 in that span, more than $12,000 of which came from television advertising, according to the state campaign finance records and her campaign manager, Rod Edwards. 
The Republican candidate hasn't aired any television ads since the primary, Edwards said. But he said late Wednesday night that the Lamm campaign would run TV ads this weekend.
Meanwhile, Gaylor Baird's campaign, which has received nearly 1,800 donations, continues to run television ads and reported spending almost $151,000 in that reporting period. 
With more than $151,000 cash on-hand, the Democrat's campaign spending will close in on $500,000.
You have free articles remaining.
Since she launched her mayoral campaign, Gaylor Baird's campaign has reported nearly $390,000 in donations, more than three times the funds raised by Lamm, which totaled $116,000.
"Campaigns aren't free," Gaylor Baird said. "We have to raise money to get things done like the biggest mailers on the planet, radio and television commercials, yard signs, and we're investing as much as possible back in the community."
Her campaign manager, Kevin Cass, said 97 percent of her donors are individuals, with the vast majority hailing from Lincoln.
Gaylor Baird received 3,000 more votes than Lamm in the April 9 primary.
Lamm's campaign staff recognizes the fundraising disadvantage, Edwards said, but Lamm has made her mayoral bid "a campaign of ideas" by putting forth specific proposals on city issues including tax policies.
"Cyndi's been very effective and efficient with the money she's received to campaign with, getting a lot more bang for the buck," Edwards said.
Lamm has had more than 200 individual contributions to her campaign, many on the smaller end, Edwards said.
"I have appreciated the $10 donations, the $20 donations and all the way up to the larger donations," Lamm said. "I think they show just how behind me the hard-working folks of Lincoln are."