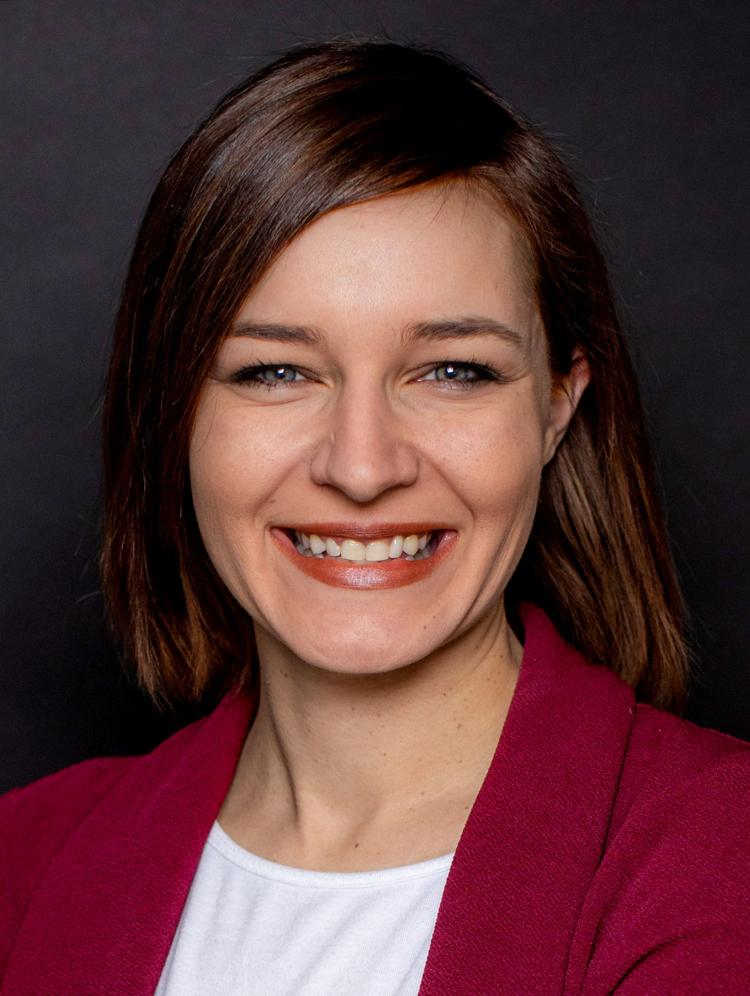 Address: 6201 Sunrise Road
Occupation: Public school teacher
Political party: Democrat
Education: Bachelor's degree in Education and Human Sciences, University of Nebraska-Lincoln (2011); Master's degree in Education Administration, University of Nebraska at Kearney (2017)
Organization endorsements: Lincoln Fire Fighters Association, Lincoln Education Association PAC
Stock has served as the president of a teachers' union and is co-chair of the School Improvement Committee at McPhee Elementary, where she teaches art and computer science. She wants more investment in early childhood education, parks, public transportation, safety, libraries and fixing streets, rather than "flashy new downtown construction projects."
Why are you running and what do you want to accomplish in office?
I'm running because I think City Council needs to focus more on creating a positive, healthy community for all Lincolnites and less on pleasing special interest groups. Rather than investing funds in flashy new downtown construction projects, I want more investment in early childhood education, parks, public transportation, safety, libraries and, of course, fixing our crumbling roads. And I am confident we can make these changes while being fiscally responsible. As a public school teacher, I am very experienced at elevating our product (education) while sticking to a firm budget.
Are there any special needs in your district that are different from issues in the rest of the city?
Concerns over traffic and commute times are felt even more sharply in District 2. Residents in my district, on average, live farther from hubs of employment, entertainment, government and farther from Interstate 80. Addressing traffic congestion and commute times will be a top priority. And I will also do everything I can to facilitate a speedy commencement of the Lincoln South Beltway project.
Every candidate includes public safety and streets as their top priorities. In lean financial times how would you budget for parks, libraries and other city services?
I would support those priorities by scaling back in other areas. For example, I would decrease our investments in new downtown and Haymarket tax-increment financing construction projects. Moreover, there is room to raise additional funds by bringing real estate developers' impact fees closer to the actual costs of their impacts. As it stands, residents make up the difference through higher property taxes, sales taxes, wheel taxes and by sacrificing services.
Should voters approve a quarter-cent hike in the city sales tax with proceeds earmarked for streets? Why or why not?
No. I realize Lincoln needs more money for roads, but I strongly disagree with raising taxes on citizens while simultaneously giving a five-year fee freeze to wealthy real estate developers. The City Council needs to go back and redo its proposal, but this time without the gift to special interests.
Ensuring that everyone has access to decent housing that they can afford has become a national topic. What is your definition of affordable housing? What should the city do to encourage or provide for more affordable housing?
Affordable housing is housing that working people earning less than average can afford without sacrificing necessities. To help make it "decent," the City Council should ensure that health and safety ordinances already on the books are enforced. Also, we need to find ways to encourage new construction without relying on tax-increment financing handouts. TIF is supposed to help blighted neighborhoods, yet it keeps getting used to finance projects on some of the most expensive real estate in town.
With the rise in home values, the city and other local governments could bring in more revenue by not reducing the property tax rate. The additional tax revenue coming from the increase in appraised value has been called a windfall. How should the city respond?
Last year LPS — the biggest user of property tax funds — announced a drop in its levy. What did the property tax relief mean to average Lincoln homeowners? Less than $3 per month. It wasn't nothing, but it certainly wasn't the relief homeowners had hoped for. Let's be honest; meaningful property tax relief will only come from the state. Any politician who tells you otherwise is exaggerating. As councilwoman, I will use the windfall to fix our roads.
In 2012 the City Council passed an ordinance protecting people from discrimination based on gender identity and sexual orientation in housing, employment and public accommodations. A referendum petition stopped the ordinance from going into effect. The council has not rescinded the ordinance nor put the issue on the ballot. If the state does not pass discrimination protection based on sexual orientation and gender identity this session, should the City Council put the proposed fairness ordinance on the ballot for a citywide vote? Why or why not?
I support LGBTQ protections. This issue with the fairness ordinance has been lingering since 2012. If elected, I will push to get it out of limbo and bring it to a vote of the people, most likely on the November 2020 ballot. And, for what it's worth, I believe Lincoln voters will support the fairness ordinance.
Some Lincoln residents, including members of Nebraskans Against Gun Violence, believe the City Council should pass a safe gun storage ordinance. Do you think the city should require gun owners to lock up guns in their homes?
I support a safe storage ordinance. Rights come with limits. We have a right to free speech, but we don't have the right to falsely yell "fire!" in a crowded theater. If licensed, we have the right to drive, but we don't have the right to drive 100 mph through neighborhoods. Likewise, we have gun rights, but we shouldn't have the right to store them where children (and adults) can just pick them up and create a tragedy.
The city has banned cardboard from the city landfill and required local haulers to provide curbside recycling service. Should the city go further, by banning other recyclable products (paper, plastic) from the landfill? What changes, if any, would you propose for the recycling program?
The Bluffs Road Landfill is estimated to reach full capacity by 2032. And once it does, it will cost Lincoln a lot of money to expand it. Our cheapest (and best) option is to act now to extend its lifespan by adding paper and plastics to the list of the landfill's banned products. And not only is recycling paper and plastics our most economical option, it's simply the right thing to do.
What role should the city take in planning and  paying for bike paths (on streets or wider sidewalks) and bike trails (separate paths for bikes and walkers)?
Lincoln should fully support more bike (and walking) paths and trails. For those of us who use the paths and trails, they make life in Lincoln all the better. For those of us who don't, we still benefit from fewer cars on the roads and less pollution in our air.
Winter weather has created an abundance of potholes. Do you think the city does enough to address the problem? Is there anything it should change?
We need to get on top of the pothole problem immediately. The potholes are only going to get bigger and more expensive to repair if we delay. There are times when an issue needs further study, but this is not one of those times. This is a time for action. Let's figure out what resources we can divert to the problem and let's get started.