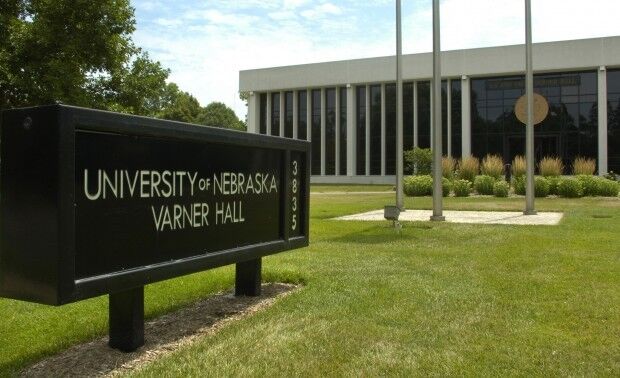 A Millard Public Schools board member and a former psychologist for the Husker football team advanced to the general election for the District 2 seat of the University of Nebraska Board of Regents.
Mike Kennedy of Omaha was the top vote-getter in Tuesday's primary election, earning 34.8% of the vote from the district representing portions of Douglas and Sarpy counties.
He barely edged out Jack Stark, also of Omaha, who was second with 34.1% of the vote as of 11 p.m.
Kennedy and Stark will square off once more in November to replace Regent Howard Hawks of Omaha, a businessman and philanthropist who announced in January he would not seek a fourth term on the university's governing board.
Viv Ewing, a nonprofit manager, came in third with 31.1% and will not advance.
Regent Tim Clare of Lincoln, who is running for a third term on the board representing the Capital City and portions of Lancaster County, was unopposed.
Election results
Statewide contests
| Party | Candidate | Vote total |
| --- | --- | --- |
| President | Joseph Biden, D | 359,757 |
| | Jo Jorgensen, L | 19,292 |
| | Donald Trump, R | 536,229 |
| U.S. Senate | Chris Janicek, D | 216,887 |
| | Ben Sasse, R | 562,224 |
| | Gene Siadek, L | 52,878 |
| Gambling, Initiative 429 | For | 566,886 |
| | Against | 305,883 |
| Gambling, Initiative 430 | For | 569,201 |
| | Against | 307,728 |
| Gambling, Initiative 431 | For | 598,546 |
| | Against | 273,243 |
| Payday lending | For | 698,704 |
| | Against | 144,346 |
| Remove slavery wording | For | 581,058 |
| | Against | 271,443 |
| Extend TIF 20 years | For | 500,903 |
| | Against | 319,675 |
| | | |
Congressional races
| Race | Candidates | Vote totals |
| --- | --- | --- |
| District 1 | Kate Bolz | 116,120 |
| | Jeff Fortenberry, R | 179,557 |
| | Dennis Grace, L | 8,452 |
| District 2 | Donald Bacon, R | 162,087 |
| | Kara Eastman, D | 146,992 |
| | Tyler Schaeffer, L | 9,423 |
| District 3 | Mark Elworth Jr., D | 49,771 |
| | Dustin Hobbs, L | 10,723 |
| | Adrian Smith, R | 222,363 |
| | | |
Legislature
| District | Candidate | Vote totals |
| --- | --- | --- |
| 1 | Janet Palmtag | 5,577 |
| | Julie Slama | 11,899 |
| 3 | Rick Holdcroft | 8,582 |
| | Carol Blood | 8,779 |
| 5 | Mike McDonnell | 6,559 |
| | Gilbert Ayala | 3,777 |
| 7 | Tony Vargas | 6,819 |
| | Jorge Sotolongo | 1,919 |
| 9 | John Cavanaugh | 8,003 |
| | Marque Snow | 6,690 |
| 11 | Fred Conley | 3,330 |
| | Terrell McKinney | 5,820 |
| 13 | Justin T. Wayne | 11,010 |
| 15 | David Rogers | 6,210 |
| | Lynne Walz | 9,157 |
| 17 | Joni Albrecht | 7,343 |
| | Sheryl Lindau | 3,576 |
| 19 | Mike Flood | 15,200 |
| 21 | Mike Hilgers | 9,895 |
| | Brodey Weber | 8,132 |
| 23 | Bruce Bostelman | 11,287 |
| | Helen Raikes | 6,868 |
| 25 | Suzanne Geist | 16,147 |
| | Stephany Pleasant | 8,104 |
| 27 | Brenda Bickford | 5,448 |
| | Anna Wishart | 9,923 |
| 29 | Eliot Bostar | 10,927 |
| | Jacob Campbell | 9,622 |
| 31 | Rich Pahls | 10,197 |
| | Tim Royers | 9,093 |
| 33 | Steve Halloran | 12,756 |
| 35 | Raymond M. Aguilar | 6,570 |
| | Dan Quick | 5,688 |
| 37 | Mercadies Damratowski | 4,098 |
| | John Lowe Sr. | 12,774 |
| 39 | Allison Heimes | 11,457 |
| | Lou Ann Linehan | 14,554 |
| 41 | Tom Briese | 15,804 |
| 43 | Tom Brewer | 10,628 |
| | Tanya Storer | 7,691 |
| 45 | Susan Hester | 7,671 |
| | Rita Sanders | 8,835 |
| 47 | Steve Erdman | 14,901 |
| 49 | Jen Day | 12,125 |
| | Andrew La Grone | 11,873 |
Public Service Commission
| Race | Candidate | Vote total |
| --- | --- | --- |
| District 2 | Tim Davis, R | 53,466 |
| | Crystal Rhoades, D | 88,891 |
State Board of Education
| District | Candidate | Vote total |
| --- | --- | --- |
| 1 | Patsy Koch Johns | 90,917 |
| 2 | Robert Anthony | 37,612 |
| | Lisa Fricke | 68,950 |
| 3 | Patti S. Gubbels | 51,079 |
| | Mike Goos | 24,082 |
| 4 | Jacquelyn Morrison | 50,569 |
| | Adrian Petrescu | 17,653 |
| | | |
NU Board of Regents
| District | Candidate | Vote totals |
| --- | --- | --- |
| 1 | Tim Clare | 92,526 |
| 2 | Jack A. Stark | 96,770 |
SCC Board of Governors
| District | Candidate | Vote totals |
| --- | --- | --- |
| At-large | Timothy R. Cerveny | 81,405 |
| | Neal Stenberg | 82,575 |
| 1 | Chuck Byers | 17,329 |
| | Jeanne H. Stec | 15,268 |
| 2 | Kathy Boellstorff | 20,349 |
| | Chad Aldrich | 15,415 |
| 3 | Edward C. Price | 32,588 |
| 4 | Kristin E. Yates | 25,167 |
| 5 | Arlyn Uhrmacher | 41,327 |
| | | |
Lower Platte South Natural Resources District board
| Subdistrict | Candidate | Vote totals |
| --- | --- | --- |
| 1 | Don Jacobson | 11,941 |
| 2 | Ron Nolte | 12,778 |
| 3 | Mike DeKalb | 6,243 |
| | Kenneth Vogel | 6,177 |
| 4 | Gary R. Aldridge | 9,201 |
| | LeRoy W. Sievers | 9,199 |
| 5 | John Yoakum | 4,402 |
| | Greg Osborn | 2,618 |
| 6 | Anthony Schutz | 10,257 |
| 7 | Chelsea Johnson | 8,933 |
| 8 | Christine Lamberty | 7,807 |
| | Christy Eichorn | 4,505 |
| 9 | Milt Schmidt | 4,712 |
| | Lisa Lewis | 7,518 |
| 10 | Ray A. Stevens Jr. | 6,528 |
| | Bastienne Salners | 5,268 |
| | | |
Charter amendment questions
| Ballot question | For | Against |
| --- | --- | --- |
| Gender-neutral language | 50,325 | 15,449 |
| Raising city bid threshold | 43,488 | 18,442 |
Area ballot questions; unofficial final results
| Ballot question | For | Against |
| --- | --- | --- |
| Hickman pool bonds | 491 | 815 |
| Hickman sales tax | 484 | 808 |
| Hallam sales tax | 60 | 71 |