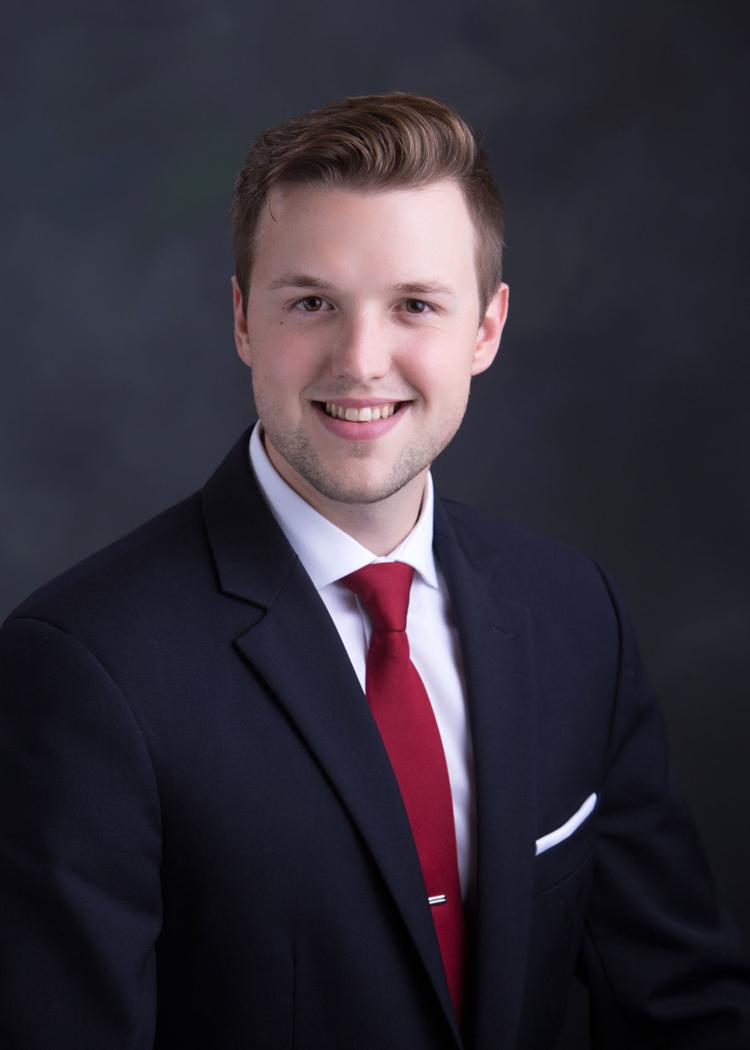 Occupation: Commercial insurance agent with Copple Insurance Agency, Inc.
Political party: Republican
Education: Southeast Community College; bachelor's degree in Finance, University of Nebraska-Lincoln
Organization endorsements: Lincoln Independent Business Association PAC, Nebraska Federation of Young Republicans, Cornhusker Republican Women's Club
Zamrzla, a newcomer to politics, has been a member of the Legislative Advisory Council with his professional association, the Independent Insurance Agents of Nebraska. He's also been involved with Gateway Sertoma Club, CASA for Lancaster County, the Lincoln Independent Business Association and Chamber of Commerce. He says his top three priorities are fixing roads, adding police officers and working on tax relief.
Why are you running and what do you want to accomplish in office?
I came to Lincoln for college, but I stayed for the community and opportunity Lincoln presents. I chose Lincoln as my home, and Lincoln is where I'll build my business and raise a family. However, I see issues holding back our city, and with many more years ahead of me as a Lincolnite, I'm especially concerned about fixing these issues and making Lincoln the best it can be. My top three priorities once elected will be: 1. Fixing the roads and keeping them fixed, 2. Adding police officers, and 3. Working toward tax relief by prioritizing "needs" before "wants."
Are there any special needs in your district that are different from issues in the rest of the city?
District 3 contains the majority of the South of Downtown Neighborhood, and I applaud the efforts currently underway in revitalizing this neighborhood. Shawn Ryba and his team are working toward building a sense of community and changing the perception of this neighborhood, spurring growth and boosting safety. While the South of Downtown Neighborhood is the best example, similar areas exist within the district and similar approaches need to be taken to alleviate these issues.
Every candidate includes public safety and streets as their top priorities. In lean financial times how would you budget for parks, libraries and other city services?
A reprioritization of spending needs to happen now to safeguard our city's future. Roads and public safety are indisputable needs and must be our first priority when budgeting. Libraries, parks and other city services should be carefully examined and reprioritized behind them. Government-wide, a close examination of personnel costs, which account for the majority of the city's budget, is the first step to creating fiscal efficiency, which can potentially free up money for all aspects discussed here.
Should voters approve a quarter-cent hike in the city sales tax with proceeds earmarked for streets? Why or why not?
This is for Lincolnites to decide, and I won't try to persuade on how to vote. However, the better discussion to be having is: why do we need an additional sales tax for streets when we already have wheel taxes, registration fees and motor vehicle taxes? The core issue here is not a lack of funding, but rather a lack of prioritization of funding. The taxpayers deserve accountability from their elected officials and transparency for their tax dollars.
Ensuring that everyone has access to decent housing that they can afford has become a national topic. What is your definition of affordable housing? What should the city do to encourage or provide for more affordable housing?
The Housing and Urban Development's definition for Lincoln roughly calculates to $1,200 per month or less, but true affordability starts below $900 per month. Increasing access is directly correlated to supply, but to increase supply, relaxed restrictions and rezoning efforts need to be made. Further, reducing government "red tape" for builders will aid in this effort, especially since 35 percent of the cost of a new Lincoln home is government-related expenses which get passed down to buyers.
With the rise in home values, the city and other local governments could bring in more revenue by not reducing the property tax rate. The additional tax revenue coming from the increase in appraised value has been called a windfall. How should the city respond?
The city should not extract more of our money because of the revaluations. The city has already set its budget for 2018-2020, and that budget did not include this revaluation increase — the property tax levy should be decreased to match the unpredicted "windfall," making it net neutral. Further, citizens should demand that their school board members do the same.
In 2012 the City Council passed an ordinance protecting people from discrimination based on gender identity and sexual orientation in housing, employment and public accommodations. A referendum petition stopped the ordinance from going into effect. The council has not rescinded the ordinance nor put the issue on the ballot. If the state does not pass discrimination protection based on sexual orientation and gender identity this session, should the City Council put the proposed fairness ordinance on the ballot for a citywide vote? Why or why not?
Discrimination is wrong. I think we can all agree on that. I support the idea of putting in protections for folks in the LGBTQ+ community to ensure fair access to gainful employment, housing and public accommodations. While the LGBTQ+ community would prefer a statewide solution, if that does not pass this year, a suitable Band-aid would be to bring back the Fairness Ordinance for a vote to protect LGBTQ+ Lincolnites while the state works on legislation.
Some Lincoln residents, including members of Nebraskans Against Gun Violence, believe the City Council should pass a safe gun storage ordinance. Do you think the city should require gun owners to lock up guns in their homes?
This proposal seems to infringe on Second Amendment rights, and, to certify safe storage, home inspections would be required which could infringe on Fourth Amendment rights. Further, fines for unsafe storage may incentivize citizens to forego reporting lost or stolen firearms to avoid penalty. Most importantly, this ordinance is largely reactive and would simply create more unnecessary, rights-infringing regulation. A better avenue would be public education on safe storage and a focus on mental health, especially with our youth.
The city has banned cardboard from the city landfill and required local haulers to provide curbside recycling service. Should the city go further, by banning other recyclable products (paper, plastic) from the landfill? What changes, if any, would you propose for the recycling program?
Due to changes in quality standards from prominent buyers of recyclables like China, many items we think are recyclable end up in a landfill. The only viable recyclables, at least for the foreseeable future, are corrugated cardboard, plastic milk jugs, newspapers, and aluminum/tin cans; all of which must be thoroughly cleaned before recyclable. If we add further bans, it would need to be on these items, and the process would need to be better communicated with the community.
What role should the city take in planning and  paying for bike paths (on streets or wider sidewalks) and bike trails (separate paths for bikes and walkers)?
I love our bike trails and use them regularly. I'm happy to maintain and expand them. However, the problem is when bike lanes reduce vehicle lanes. Bikes are a good alternative form of travel, but bike lanes are a want, and not a need. Further, bike lanes can cost 62 percent more than simply repairing streets. If we add bike lanes, they should never be on arterials, only side streets, and they should connect to our existing trails.
Winter weather has created an abundance of potholes. Do you think the city does enough to address the problem? Is there anything it should change?
Potholes will always happen, but there's no excuse for the quantity or the severity we currently have — it all goes back to poor planning and a lack of prioritization by the current administration. Pothole filling shouldn't be a full-time job for our city maintenance staff like it currently is, and executing a comprehensive plan to fully replace or rehabilitate our roads should be the No. 1 priority.