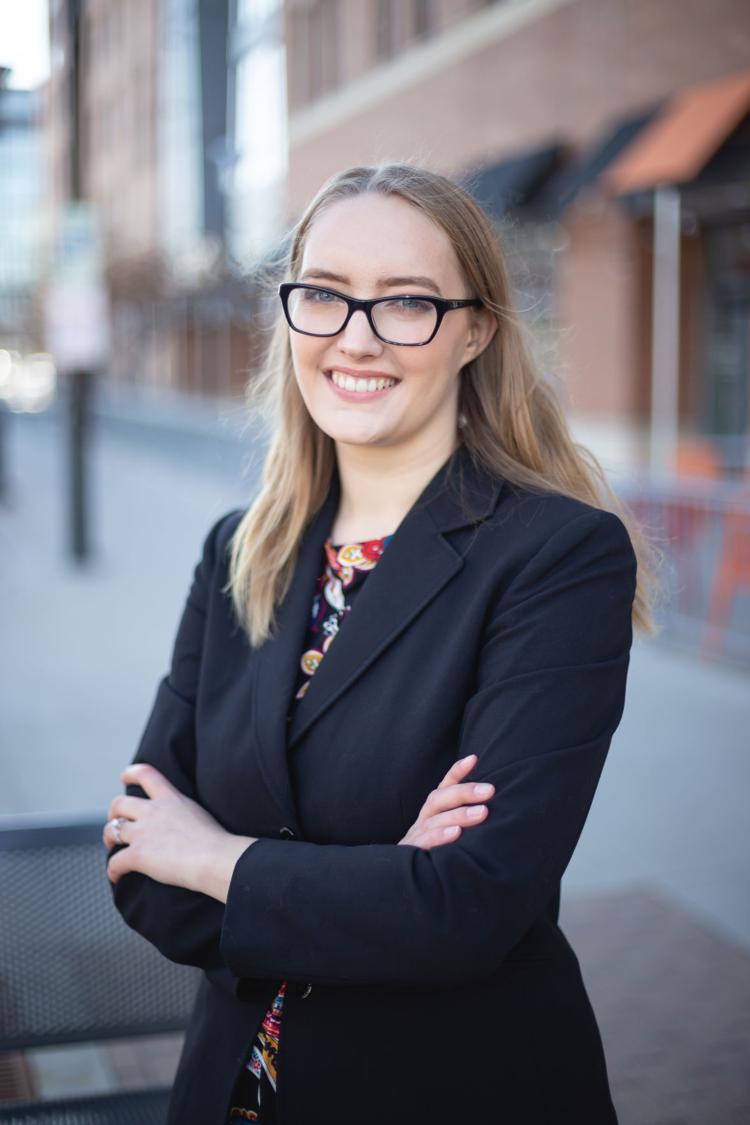 Occupation: Software developer
Political party: Democrat
Education: Bachelor of Science in Computer Science, University of Nebraska-Lincoln
Lottman is active in groups focused on local issues such as Renters Together and the South of Downtown Community Development Organization's Steering Committee. She says her experience with government has always been grassroots and she's helped organize people to testify and visited elected officials for different issues, notably the 13th Street improvement project.
Why are you running and what do you want to accomplish in office?
I'm running to be an advocate for neighborhoods and residents who have been ignored for too long. In my advocacy for the 13th Street project, I saw how powerful it can be when neighbors stand up together and demand to be recognized. I want to fight to shift the priorities of the city, especially around housing, towards the priorities of the average resident instead of entrenched interests.
Are there any special needs in your district that are different from issues in the rest of the city?
The biggest issue I've heard over and over is housing affordability and housing quality. Right now, people are struggling to make the transition from renting to owning a home. Those who find an affordable place to rent often end up stuck in unsafe buildings with no way to demand improvements without facing retaliation. We need to strengthen protection for renters while ensuring that everyone in Lincoln has a place to live within their means.
Every candidate includes public safety and streets as their top priorities. In lean financial times how would you budget for parks, libraries and other city services?
In tough economic times, we will have to make compromises. I think public engagement is really important here -- what services do Lincoln taxpayers see as the most important? I would listen carefully to public input to determine where cuts are possible.
Should voters approve a quarter-cent hike in the city sales tax with proceeds earmarked for streets? Why or why not?
This has been a tough issue for me to decide on. Sales taxes tend to place the biggest burden on consumers at lower incomes, because we all unavoidably spend money on certain basic goods. However, I know that maintaining our streets is a major priority and we have a backlog of work to do. I reluctantly support the temporary sales tax increase and hope to provide strong oversight to make sure all neighborhoods benefit equitably.
Ensuring that everyone has access to decent housing that they can afford has become a national topic. What is your definition of affordable housing? What should the city do to encourage or provide for more affordable housing?
The federal Department of Housing and Urban Development says affordable means a household spends no more than 30 percent of its gross income on housing costs. Affordable housing has to mean housing is available for residents at all income levels, not just those in the middle and upper income tiers. I'd like to see the city use more of its federally provided housing dollars to support those who rent as well as those who are ready to purchase a home.
With the rise in home values, the city and other local governments could bring in more revenue by not reducing the property tax rate. The additional tax revenue coming from the increase in appraised value has been called a windfall. How should the city respond?
I believe that it is important to capitalize on the current success of our city. The windfall exists because Lincoln's housing market is so limited in supply right now, leading to higher prices. Therefore, the revenue should be used to assist those who are currently struggling to find quality affordable housing and to further build the supply of housing.
In 2012 the City Council passed an ordinance protecting people from discrimination based on gender identity and sexual orientation in housing, employment and public accommodations. A referendum petition stopped the ordinance from going into effect. The council has not rescinded the ordinance nor put the issue on the ballot. If the state does not pass discrimination protection based on sexual orientation and gender identity this session, should the City Council put the proposed fairness ordinance on the ballot for a citywide vote? Why or why not?
Several friends have left or will leave Lincoln in search of LGBT workplace protections, so I know this is a real issue. If we want to attract and retain workers, we need to improve our protections for LGBT rights. That being said, civil rights are too important to be left to the whims of the majority. I will follow the lead of local activists and would be open to placing the issue on the ballot when the community is ready.
Some Lincoln residents, including members of Nebraskans Against Gun Violence, believe the City Council should pass a safe gun storage ordinance. Do you think the city should require gun owners to lock up guns in their homes?
A safe gun storage ordinance is absolutely needed in Lincoln. Finding a gun is still far too easy for young children, which has led to way too many tragic accidents nationwide. I've also long been frustrated by the number of guns that are stolen from unlocked vehicles. Owning a gun is a right that comes with a heavy responsibility. No truly responsible gun owner should have anything to fear from a safe storage ordinance.
The city has banned cardboard from the city landfill and required local haulers to provide curbside recycling service. Should the city go further, by banning other recyclable products (paper, plastic) from the landfill? What changes, if any, would you propose for the recycling program?
Right now, the city needs time to adjust to the most recent recycling ordinance. But in the future, we should be looking to ways to increase recycling and that may include adding other materials to the landfill ban. It's both fiscally and environmentally responsible to extend the life of our landfill as long as we can, and we can all contribute to make it happen.
What role should the city take in planning and  paying for bike paths (on streets or wider sidewalks) and bike trails (separate paths for bikes and walkers)?
Lincoln can and should be leading the way in addressing climate change. To face that challenge, we'll all need to make some changes in our transportation habits. That means that walking, biking, and taking public transportation need to be very convenient and accessible to all, and our local government has the power to make that happen.
Winter weather has created an abundance of potholes. Do you think the city does enough to address the problem? Is there anything it should change?
This year has seen a near record-breaking amount of snow, and that makes planning and responding to snow and potholes challenging. I believe that the city staff are capable of rising to the challenge. At the same time, our leaders should constantly be working together to ensure that staff have the resources they need and are seeking performance optimizations in responding to weather-related challenges.