Democratic congressional nominee Kate Bolz called Friday for swift enactment of a new COVID-19 relief package that would increase the capacity for rapid testing and contact tracing while providing a new round of economic and food assistance.
"Congress needs to prioritize a COVID relief package," the Lincoln state senator said. "Urgent action is needed. Partisanship should not stand in the way."
New leadership is needed in Washington now to "bridge the partisan divide," Bolz said.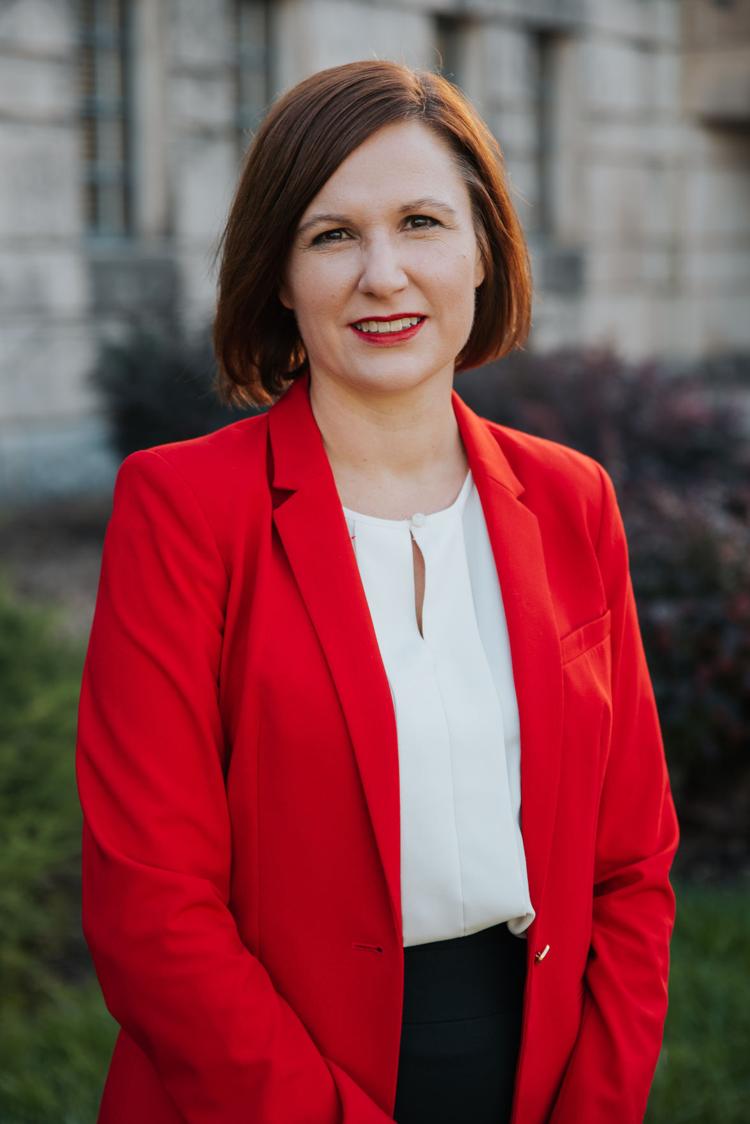 Bolz, who is seeking the 1st District House seat now held by Republican Rep. Jeff Fortenberry, pointed to the soaring number of coronavirus cases both nationally and in Nebraska in calling for immediate action as the pandemic surges.
"It will knock you down," she said, offering personal testimony on her current experience with the virus.
Bolz and her fiancé, Lancaster County Commissioner Sean Flowerday, contracted the virus this week. Bolz said she has been experiencing headaches, congestion and fatigue.
During a virtual news conference on Zoom, Bolz said she faults Fortenberry for "his lack of engagement" with the bipartisan Problem Solvers Caucus in the House and its efforts to enact a new COVID-19 aid package.
"This is not a partisan issue," she said. "Everyone needs to roll up their sleeves and come to the table."
Joining Bolz at Friday's event were a number of supporters of additional COVID-19 action, including Adam Schrunk, president of the Lincoln Firefighters Association, who said first responders need more testing and accelerated contact tracing now.
"We're exposed on the front lines every day," he said, "and exposed multiple times every day." 
But "it's a struggle for us to get testing" compared to athletes who are receiving rapid and multiple testing, Schrunk said.
"Help us do our job and protect our fellow citizens," he said, with adequate testing and contact tracing.
Dr. Joe Miller said "no one is listening to our health experts now" and he knows doctors at the University of Nebraska Medical Center "who are frustrated that our leaders won't pay attention to them."
Miller said there is "not sufficient testing" and noted that "you can't do contact tracing if we don't know where the virus is."
Earlier in the day, Bolz reported that her campaign has raised more than $1 million, a groundbreaking figure for a Democratic candidate in the 1st Congressional District. 
"We believe the ongoing outpouring of support illustrates that momentum is on our side," she said.   
"We are proud that 95% of our contributions come from Nebraska donors — not special-interest groups."
Journal Star Voter's Guide
The 2020 Journal Star general election Voter's Guide
Your guide to Lincoln-area and statewide races and ballot questions that will appear on the Nov. 3 general election ballot. Click on a race name to see the candidates and learn about their views on the issues.
Concerned about COVID-19?
Sign up now to get the most recent coronavirus headlines and other important local and national news sent to your email inbox daily.