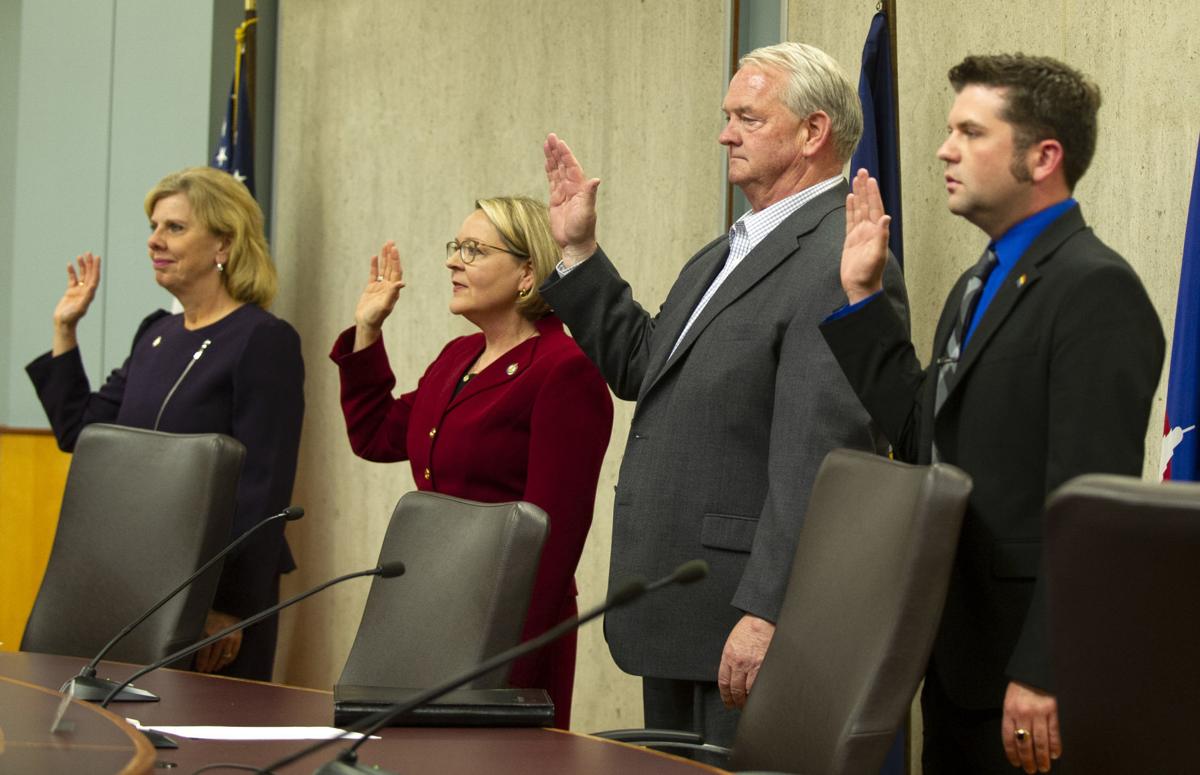 The Lincoln City Council is taking applications for the open at-large council seat through Tuesday, with a vote on the appointment set for June 3.
Applicants should be a registered voter and have lived in the city for at least the last three months to be eligible, Council Chair Jane Raybould said in a news release. 
The seat had been held by Leirion Gaylor Baird, but she vacated it when she was sworn in as mayor Monday.
The council is nonpartisan, but members have said they intend to replace Gaylor Baird with another Democrat in keeping with past tradition.
Several Democrats who recently lost elections for city seats have expressed interest. Because the opening is an at-large seat, candidates can live anywhere in the city.
Among them is Megan Stock, who was beat out by Richard Meginnis in the District 2 council race. 
Stock, a Democrat and public school teacher, received more than 11,000 votes in a district that had elected Republican Jon Camp to five terms. 
Stock lost her race by 540 votes. 
Also expressing interest is Lincoln Airport Authority candidate Aurang Zeb, who owns a painting company and lost his race this spring to incumbent Nick Cusick.
You have free articles remaining.
Former two-time City Council candidate Meg Mikolajczyk has expressed interest, along with Lincoln Board of Education member Don Mayhew and City-County Planning Commissioner Tom Beckius. 
Christa Yoakum, who narrowly lost a bid for the Nebraska Public Service Commission last fall, said she's interested in both the council opening and the seat on the Lancaster County Board of Commissioners that opened when Jennifer Brinkman resigned to become Gaylor Baird's chief of staff.
Yoakum said she is still considering which board would be a better fit. 
Also seeking consideration for the council seat is Lincoln attorney Ken Winston, who has lobbied for environmental groups, and Genelle Moore, a retired police captain who was the first black female officer in the Lincoln Police Department.
The seven council members earn $24,000 a year for what is considered a part-time job.
Any resident interested in the seat should submit a resume and cover letter outlining why they want to serve on the council. 
Applications are due by 5 p.m. Tuesday and can be emailed to councilpacket@lincoln.ne.gov, mailed to Lincoln City Council, 555 S. 10th St., Suite 111, Lincoln, NE, 68508, or delivered in person to the council offices at the County-City Building.
Names of the applicants will be made public.
Finalists will be interviewed after the application deadline, and if none of the nominees receives four yes votes at the initial council meeting, voting will be rescheduled.
Election results
Lincoln mayor
| Candidate | Vote totals |
| --- | --- |
| Cyndi Lamm | 27,722 |
| Leirion Gaylor Baird | 33,211 |
City Council District 1
| Candidate | Vote total |
| --- | --- |
| James Michael Bowers | 7,232 |
| Taylor Wyatt | 6,469 |
City Council District 2
| Candidate | Vote total |
| --- | --- |
| Megan Stock | 11,028 |
| Richard Meginnis | 11,564 |
City Council District 3
| Candidate | Vote total |
| --- | --- |
| Jane Raybould | 10,261 |
| Colten Zamrzla | 4,832 |
City Council District 4
| Candidate | Vote total |
| --- | --- |
| James Herrold | 2,229 |
| Tammy Ward | 4,767 |
Stormwater bond vote
| Position | Vote totals |
| --- | --- |
| For bond | 31,795 |
| Against bond | 25,492 |
Lincoln Board of Education District 4
| Candidate | Vote total |
| --- | --- |
| Annie Mumgaard | 2,627 |
| Paul Claus | 1,252 |
Airport Authority
| Candidate | Vote total |
| --- | --- |
| Nick Cusick | 30,906 |
| Aurang Zeb | 15,479 |