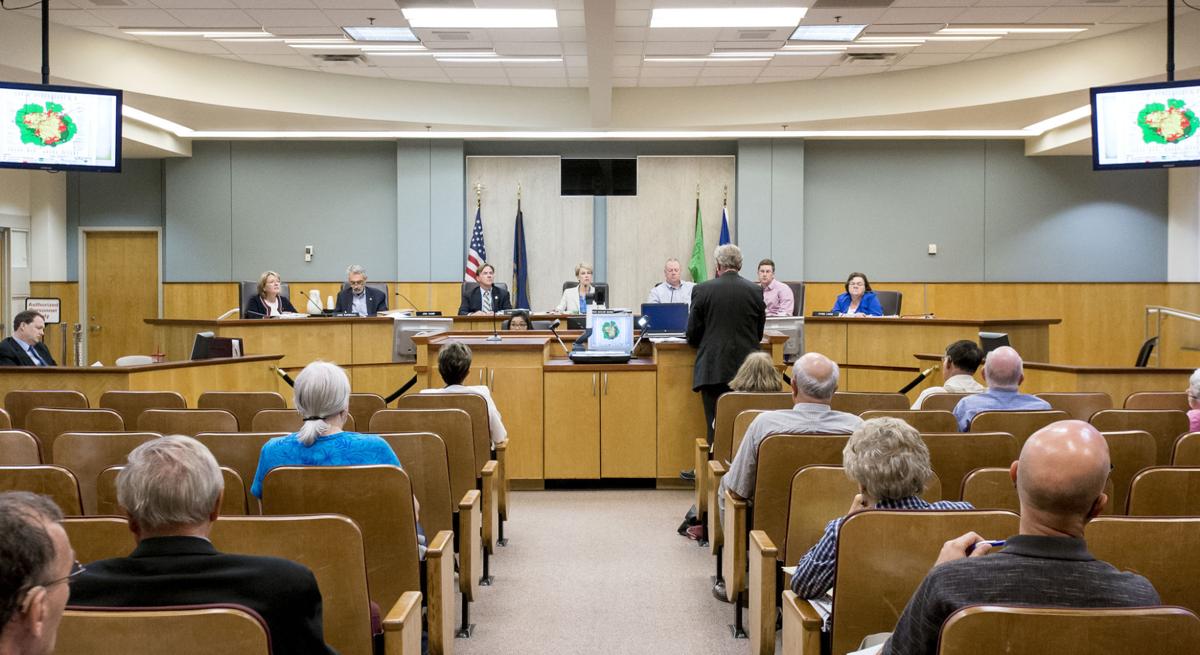 Members of the newly elected Lincoln City Council agree that the appointee to fill Mayor-Elect Leirion Gaylor Baird's seat should be a Democrat, but whether they should just serve out her term or seek election is up for debate.
The last two people who filled City Council vacancies didn't put their names on the ballot. 
And Councilman Roy Christensen, a Republican, believes there's a benefit to requiring the eventual appointee to just serve out the term, which in this case ends in 2021.
"It helps maintain the nonpartisan nature of the City Council, so we don't have an appointee establishing incumbency," Christensen said.
But the Democrats, who will hold a 4-2 majority, disagree. 
Service on the City Council requires a time commitment to do the job well, said incoming District 4 Councilwoman Tammy Ward and District 3 incumbent Councilwoman Jane Raybould. 
"I don't want someone who just wants to fulfill a term," Raybould said.
When she was appointed to fill the seat of late City Councilwoman Jayne Snyder in September 2011, DiAnna Schimek said she planned to seek election in 2013. But she decided not to when the term was up so she could spend more time with family.
The next year, Republican Adam Hornung resigned his council seat because of job obligations six months before the city's 2013 election for three at-large seats. 
Ultimately, Lloyd Hinkley was chosen to fill his seat, and the 83-year-old who had served two terms in the 1960s said he wouldn't seek election.
Mayor Chris Beutler helped pick the appointees in both of those vacancies, but subsequent changes to the city charter put the decision entirely in the hands of the City Council.
In a statement, Gaylor Baird, who will resign her seat and then be sworn in as mayor, acknowledged how appointees have differed on this issue.
"If someone appointed to the council wants to continue to serve our community, then ultimately it's up to the voters to decide," she said.
You have free articles remaining.
Council Chair Bennie Shobe, a Democrat, believes the need for this appointee to succeed in both the primary and general elections in 2021 equalizes any advantage they'd have as the incumbent, he said. 
Gaylor Baird beat out fellow Councilwoman Cyndi Lamm in the mayor's race earlier this week. James Michael Bowers won the election for Lamm's open seat on the council. 
Bowers, a Democrat, was still considering where he stands on the election question. 
Newly elected Councilman Richard Meginnis, a Republican, couldn't be reached for comment. 
Shobe has heard from some constituents who believe the council should replace Gaylor Baird with another woman, he said. 
He and Raybould said they'll strongly consider diversity when mulling their choices, but their decisions will come down to the qualifications and capability of the candidate.
City charter mandates only that the candidate have lived in Lincoln for three months and be a registered voter, said City Attorney Jeff Kirkpatrick. Gaylor Baird's seat is one of the at-large positions on the council, representing all of Lincoln.
Nothing in the city charter binds the replacement to only finishing the term, he said. 
City-County Planning Commissioner Tom Beckius, Lincoln Board of Education member Don Mayhew and former District 1 City Council candidate Meg Mikolajczyk have surfaced as possible nominees. All are Democrats.
Beckius, who has also served on the Community Health Endowment of Lincoln's board of trustees, the Lincoln Commission on Human Rights and Lincoln City Libraries board of trustees, said he'd be open to serving on the City Council. 
Mayhew said he'd look to increase bipartisanship to help accomplish the city's work, and he'd plan to seek election unless asked to commit to only fulfilling the term.
Mikolajczyk, who lost her election bid in 2015 to Lamm,  said she'd be honored to be appointed to that vacancy because she's been interested in serving the city for the last 7 years.
Council members implored any residents who want to be considered for the appointment to contact the council at 402-441-7515.
Election results
Lincoln mayor
| Candidate | Vote totals |
| --- | --- |
| Cyndi Lamm | 27,722 |
| Leirion Gaylor Baird | 33,211 |
City Council District 1
| Candidate | Vote total |
| --- | --- |
| James Michael Bowers | 7,232 |
| Taylor Wyatt | 6,469 |
City Council District 2
| Candidate | Vote total |
| --- | --- |
| Megan Stock | 11,028 |
| Richard Meginnis | 11,564 |
City Council District 3
| Candidate | Vote total |
| --- | --- |
| Jane Raybould | 10,261 |
| Colten Zamrzla | 4,832 |
City Council District 4
| Candidate | Vote total |
| --- | --- |
| James Herrold | 2,229 |
| Tammy Ward | 4,767 |
Stormwater bond vote
| Position | Vote totals |
| --- | --- |
| For bond | 31,795 |
| Against bond | 25,492 |
Lincoln Board of Education District 4
| Candidate | Vote total |
| --- | --- |
| Annie Mumgaard | 2,627 |
| Paul Claus | 1,252 |
Airport Authority
| Candidate | Vote total |
| --- | --- |
| Nick Cusick | 30,906 |
| Aurang Zeb | 15,479 |