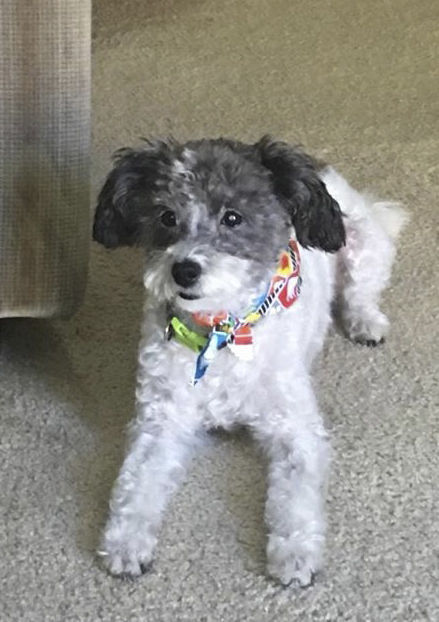 Their little Buddy didn't stand a chance against the bull mastiff.
By the time they heard the bark and the squeal, the bigger dog was chomping down on their bichon terrier.
Deana Kumpf followed her husband, Gary, into the backyard, where he separated the dogs and chased the 155-pound attacker away with a stick.
But Buddy wouldn't live long. "I don't know how he ran to me, but he did," Deana Kumpf said. "He was in shock, he was scared, I saw so much of his insides on the outside."
She mourned the gray-faced 7-year-old that they'd inherited from a neighbor more than a year ago. "He was the most affectionate dog I've ever had."
And then, as the facts fell into focus, she got angry. Dozer, the dog that leapt over their chain-link fence — "like a horse" — already had a rap sheet. He had been declared potentially dangerous by Lincoln Animal Control in February 2016 after biting another dog. He was declared dangerous a few months later, after another attack on a dog.
"There's no reason why that dog should have had three chances," she said. "Knowing my dog was not the first victim is so frustrating."
The dangerous dog declaration carries several requirements for a pet owner: The dog has to be current on its rabies vaccination, it must be licensed and micro-chipped, spayed or neutered, and registered with Animal Control. The owner needs to put up signs to warn the public.
But most importantly, the dog must be confined to a kennel or pen — with four walls, roof and a locked gate — when it's outside.
The bull mastiff that killed Buddy wasn't.
"What I can't believe is a dog that was already dangerous was able to be kept like that," Kumpf said. "I'd never dreamt my dog wasn't safe in his own backyard."
She asked: Why doesn't the city check up on dangerous dogs to make sure they're confined properly?
The short answer: Animal Control doesn't have the time or money for its staff to serve as canine parole officers.
You have free articles remaining.
But its officers do respond to complaints on a case-by-case basis, and they follow up if they believe animal owners aren't following the rules, said director Steve Beal.
"If I live next door to somebody and I know they have a dangerous dog and I see it running around in the backyard and I call Animal Control, an officer will come out," he said.
In Kumpf's case, she had no idea the dog in a neighboring yard had been declared dangerous. It didn't live there, and was staying only temporarily, she said.
"It was simply let free in the backyard with a chain-link fence," she said.
With the Oct. 4 attack, Dozer had climbed all the way up the ladder of labels and consequences, from potentially dangerous to dangerous and, now, vicious.
That doesn't happen often. Of the city's 40,000 licensed dogs, 274 were deemed dangerous as of last week. And only a small percentage of the total are added to the list every year — in fiscal year 2015, Animal Control declared 26 dogs dangerous; in fiscal year 2016, 43; and last fiscal year, 24.
Most of those manage to stay out of further trouble. Ten dangerous dogs reoffended in fiscal year 2015, 18 the year after that and just two last year, Beal said.
If a dangerous dog reoffends three times in a 12-month period, or if it makes a particularly violent attack — such as killing a neighboring dog — the city-county health director can declare it vicious. After a mandatory 10-day quarantine to make sure it doesn't have rabies, and if the owner can't successfully appeal the decision, the dog is euthanized.
The dog that killed Buddy finished his quarantine and was put down. His owner had been ticketed in the previous attacks — for allowing an animal to run at large, allowing him to bite and not keeping him on a leash — and the person caring for Dozer during this month's attack will face criminal citations, Beal said.
None of that will bring back Buddy, Kumpf said.
The dog joined their home after the Kumpfs found him running in the neighborhood. They traced Buddy to a woman who lived down the street, but she didn't want the dog anymore.
"He came here and was in heaven, because he got more attention and had a fenced-in yard," she said. "He was very, very happy for that year and a half. And I got way too attached."
His death should have been preventable, she said, but Dozer's dangerous dog designation didn't stop him from coming over the fence.
She knows his owner has now lost her dog, too. But he lived longer.
"I wish I could have had 10 more days with my dog."