Over the next year, the Lancaster County Treasurer's Office will be working to convince folks to pay their property taxes and their car and truck registrations online, not with a check.
Paying by check is a very expensive method for the treasurer's office, though it is still preferred by residents paying taxes or car registrations.
And paying by a check in the mail is the most expensive. It costs the county more than $3 per transaction to open the mail, record the payment and process the check for property taxes. Labor costs and postage can add up to almost $6 for vehicle registration payments made by mail.
The treasurer's office is partnering with the National Association of County Officials and VISA Inc. to look for ways to convince the public to stop writing checks to government agencies, Candace Meredith, chief deputy treasurer, told county commissioners recently.
Lancaster County was selected from 700 counties nationwide that expressed interest in the pilot project, in part because of its size and because of interest from local staff members, Meredith said.
Sixty percent of Lancaster County property tax payments are made by check, and checks are used to pay 41 percent of the motor vehicle registration collections, she noted.    
But it is much less expensive for the county to receive payments online.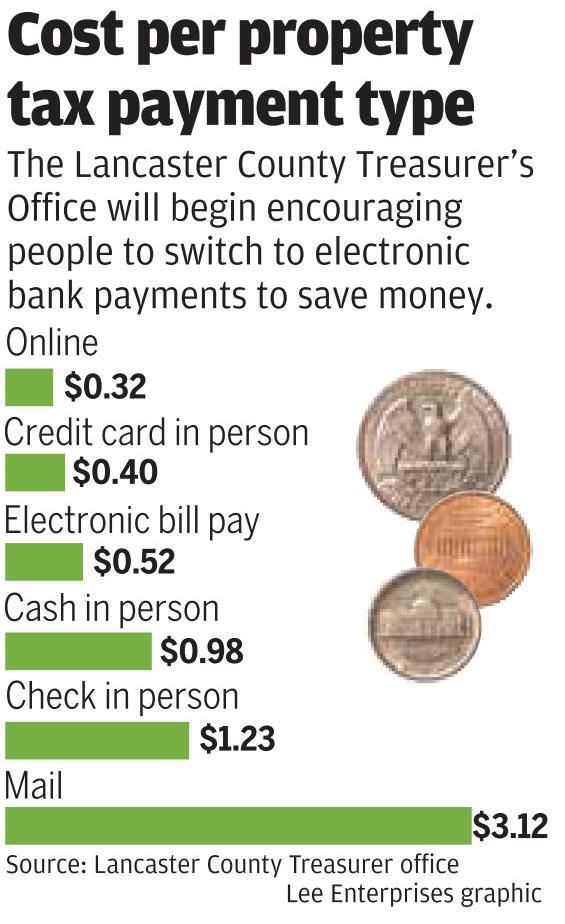 The county will begin encouraging people to switch to online payments in December, when property tax statements are mailed, as part of that pilot project, Meredith said.
That mailing will include information about electronic bank payments, which cost individuals $1, not much more than the price of a stamp, she said.
The county will also be conducting online and in-person surveys next year to determine what people like or don't like about the online payment process.
They will be asking people why they don't use a credit card, which is also an inexpensive payment method for the treasurer's office. It costs the county about 52 cents a transaction when someone uses a credit card at the counter for a motor vehicle registration and about 40 cents for a property tax payment.
But Meredith said she already knows what the survey answer will be. It's the 2.35 percent fee people must pay for those credit card transactions.
The county passes on credit card and online transaction fees to the person making the payment because the county has no way to raise its prices to cover those costs, like retail stores do.
People don't want to pay those upfront fees. That is why they write a check, Meredith said.  
The treasurer's office, which is funded through property taxes, would have to pay those credit card, debit card and e-check charges if they aren't passed on to the individuals making the payments. And the credit card costs would be exorbitant for property taxes in particular, she said.
As part of the project, Meredith said the county will be looking for ways to reduce those fees, which are 2.35 percent for credit cards, $2 for debit cards and $1 for e-checks.
County officials have less control over the motor vehicle online system because it is run by the state, but they will be talking to state officials to see what they might be able to do to help with the project, Meredith said.
The treasurer's office will also look at countywide payment processes, the fees paid to the register of deeds, county engineer, corrections and other departments, looking for ways to encourage online payment, Meredith said.
And they'll look at how the county pays its bills, to move more transactions to electronic payments rather than checks.
"We are finding on both sides — making payments and receiving payments — that check writing is very expensive," Meredith said.   
What works well in Lancaster County will then be passed on to counties across the country.
"We want to help citizens and create cost-effective solutions for the county," Meredith said.