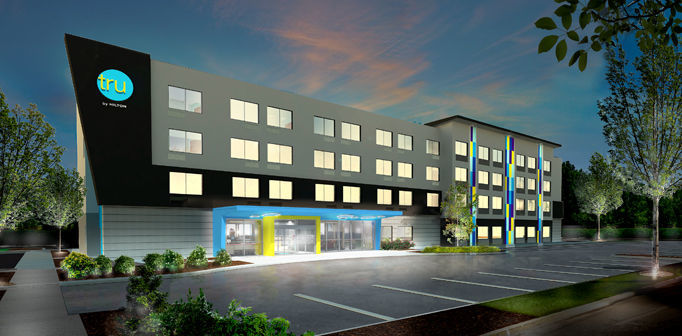 A new four-story motel and a smaller retail building that will replace Skate Zone near 48th and O streets are expected to cost about $10.04 million in private funds and another $960,000 in Tax Increment Financing.
The TIF bond would be used for site preparation including demolition of existing buildings; intersection improvements; façade enhancements beyond what the city requires; and help with the site purchase, based on the redevelopment agreement before the City Council.
The 84-bed motel would be would be a Tru by Hilton, a newer brand that is billed as "vibrant, affordable and young at heart."
Tru is geared toward tech-savvy travelers, and it offers mobile check-in, a social media wall and charging stations throughout the hotel.
The occupants of the 5,600-square-foot retail building that would face 48th Street are still unknown, the council was told at a public hearing on the redevelopment agreement Monday.
The council is expected to approve the redevelopment agreement and TIF bond at its Oct. 16 meeting. 
The B2 zone is pretty broad, and would allow a fast food restaurant, said Tom Huston, attorney for the developer, in response to questions from council member Leirion Gaylor Baird, who was apparently concerned that a drive-through, fast food restaurant might be the occupant, and the building exterior might change.
You have free articles remaining.
Under the redevelopment agreement, changes to the building's exterior would have to be approved by the city administration, Huston said.
The developer already added more windows to the front of the building that will be seen from 48th Street, a suggestion of members of the Urban Design Committee, which reviews TIF projects.
TIF can be used by a developer for items that have some public benefit. 
The TIF bond for this project is based on the current property value of $943,900 and the expected assessed value for the new buildings of $5.675 million, which is about $4.61 million for the motel and $1.065 million for the retail building. The developer as agreed not to protest that tax value in the future under the redevelopment agreement.
Property taxes paid on the increase in value will be used to pay off the TIF bond over 15 years. 
TIF can be used when the developer says he would not be able to afford the redevelopment "but for" the help from TIF.
Site work would begin this fall, with construction next spring, if the council approves the redevelopment agreement in two weeks, Huston told the council.
Officials from the Omaha-based real estate company Access Commercial are developing the property.