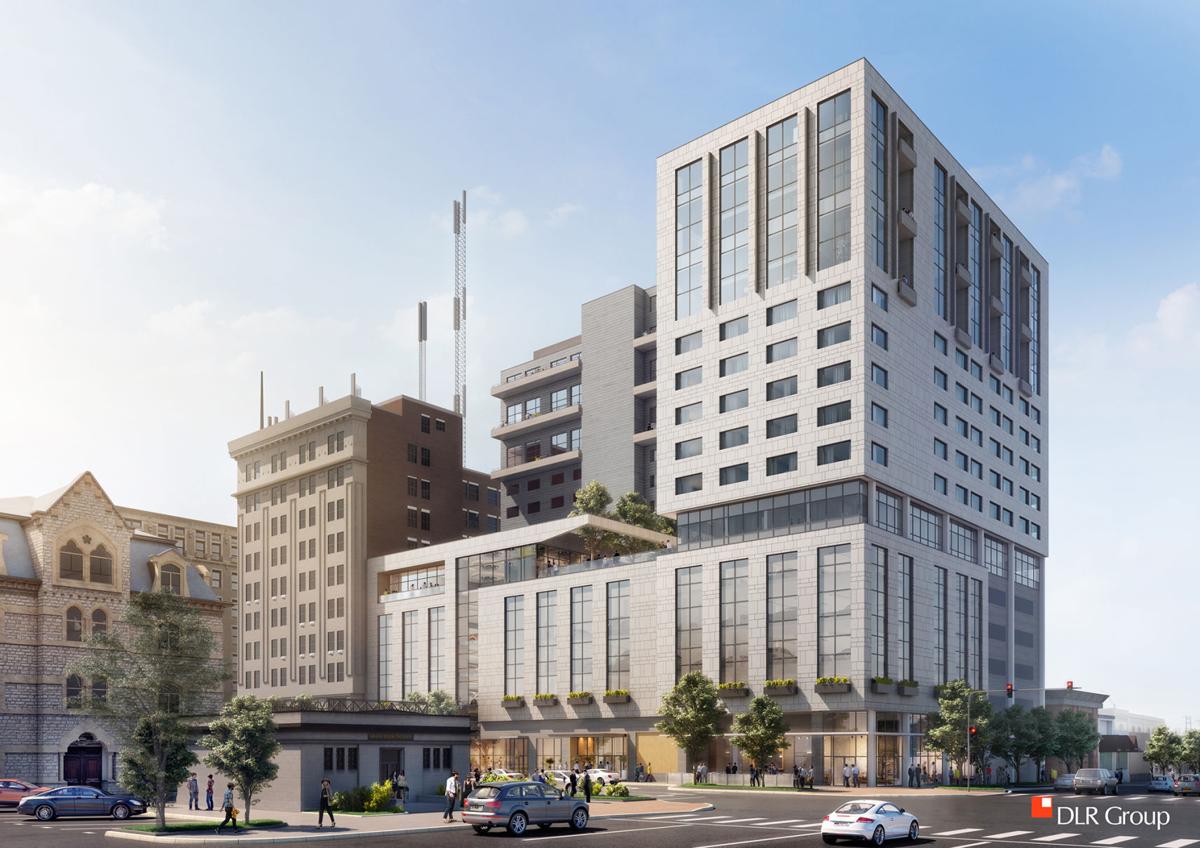 The 15- to 17-story hotel-condominium complex expected to turn the corner of Ninth and O streets into an exciting entryway to the city got the blessing of the Lincoln City Council Monday afternoon, but support wasn't unanimous.
Two council members, Trent Fellers and Cyndi Lamm, rejected the special 2 percent occupation tax developers have said is necessary to make the project financially feasible.
Fellers said he feels strongly the city should not be lending its taxing authority to developers. Fellers voted against a similar 1 percent occupation tax at SouthPointe Pavilions for the same reason. It is being used to build a parking garage as part of the shopping center's expansion.
"This is not a comment on the project," said Fellers, adding he hopes the project moves forward.
But he doesn't think the tax, which will be added onto hotel bills and food and service in the banquet space, "is something the government should be getting into."
Lamm also praised the project, as a "wonderful entryway into the city," but said she doesn't like the city picking and choosing which areas will have this limited tax.
But Councilman Roy Christensen said it is his understanding that without the money from this special tax, "I don't think (the project) flies."
So he and the other three council members at the meeting approved the use of the tax, called an enhanced employment area tax, on a 4-2 vote. Councilman Jon Camp was out of town.
The tax will apply only to the hotel rooms in the new building and to the cost of banquet hall food and service in the building. It will not apply to any other retailers in the building, including expected restaurants. And it will not apply to any businesses outside the new building.
Developers sought assistance for the $72 million redevelopment project through two economic development tools -- an $11.66 million tax increment financing bond and the 2 percent employment tax expected to fund a $2.35 million bond.
The six council members at the meeting voted unanimously for the TIF financing.
The city should use everything it has in its arsenal on important redevelopment projects, said Councilwoman Jane Raybould. Many of the people staying in the two hotel brands planned for the building and paying the special 2 percent tax will be from out of town, she said.
The occupation tax is crafted well and is less onerous to the city's taxpayer base. And the project, "that will transform a corner and enhance an entryway is something we should wildly embrace," she said.
The group developing the project — Hotel Land Investments LLC — includes hotel developer John Klimpel and Lincoln firms Speedway Properties and Nelnet.