Do your laundry. Take a little longer shower. Put away the paper plates.
Lincoln's mandatory water regulations are no longer necessary, Mayor Chris Beutler announced late Wednesday afternoon.
Instead, the city is asking residents and businesses to follow voluntary restrictions, and try to reduce their normal water usage by about 25 percent.
Commercial car washes will open at 8 a.m. Thursday, and restaurants can return to using their regular dishes and utensils. 
But Beutler asked residents to hold off on watering their lawns and restaurants to continue to provide water only on request.
"Challenges remain," the mayor said. "Don't lose that conservation spirit. It may be necessary if the summer turns dry."
For several days the city was getting water from only one Platte River wellfield because of flooding near Ashland.
Power was restored to a second wellfield, the city's north wellfield, on Wednesday, and water production increased from about 32 million gallons a day to 40 million gallons, enough to cover Lincoln's normal water usage.
Lincoln uses between 30 to 35 million gallons of water a day during the winter months. 
The city is also close to restoring power to a large horizontal well on the east side of the river than can produce 20 million to 25 million gallons a day, Beutler said.
"This is definitely a good news day," he said.
The afternoon news conference was delayed for almost an hour while Beutler and Lincoln Transportation and Utility leaders got the latest information from the Ashland water plant and decided they could end the mandatory water restrictions that called for residents to reduce their water usage by 50 percent and businesses by 25 percent.
Beutler, who has been involved in water issues as a state senator and as mayor, said this weekend's emergency will stay with him even long after leaving office this spring. At one point Sunday afternoon, staff feared the city might only have enough water for two days.
You have free articles remaining.
Keep reading for FREE!
Enjoy more articles by signing up or logging in. No credit card required.
"We can never take water for granted," Beutler said.
He said he's been impressed with the way Lincoln residents reacted to the challenge. As mayor for 12 years, Beutler said he has "never been more proud of this city."
City officials hope to have rough estimates of the cost of damage and restoration efforts by the end of the week.
By Wednesday afternoon, floodwaters had receded to a level where staff can see the city's wells, the valves and water mains, said Miki Esposito, Lincoln Transportation and Utilities director.
Staff also made progress Wednesday rebuilding a road to the horizontal well on the east side of the river. That included sandbagging a levee and adding rock to the road.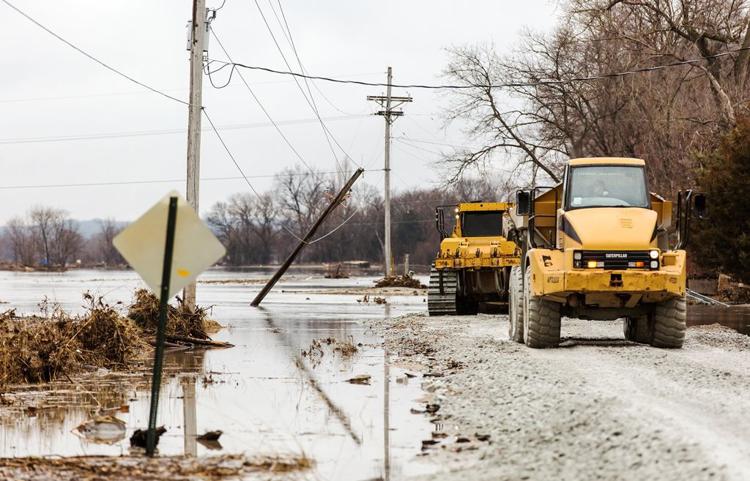 Earlier, Chinook helicopters flying along the Platte dropped sand and aggregate materials at access points to Lincoln's wellfields in the ongoing effort to restore full water production, an emergency official said.
Brad Thavenet of Lincoln Fire and Rescue said engineers and crews on the ground were using the aggregate material to shore up roads damaged by the flooding.
The U.S. 6 bridge over the Platte was closed as helicopters gathered materials from northeast of the span.
"We need to make sure we have power to the field and an accessible road," Thavenet told reporters at the city's Emergency Operations Center in southwest Lincoln.
Some of the flooding eroded ground near wellfields and took out power poles.
Photos, videos from flood-ravaged areas