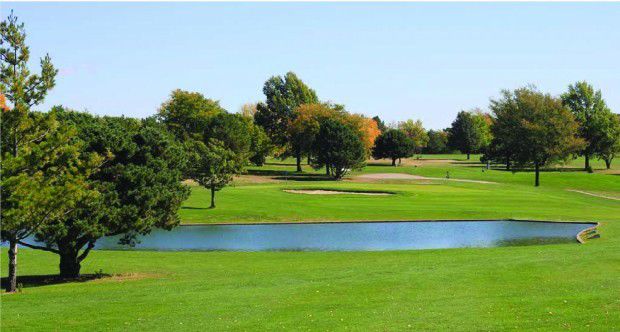 Water slides and diving pools would make better use of land occupied by the Mahoney Golf Course, Councilman Roy Christensen said at a recent City Council luncheon. 
Annual rounds of golf are going down in the United States, and Lincoln is seeing that trend too, Christensen said.
A report last September to the city's golf course advisory committee found city courses had missed their target for rounds played by 3% despite a lower goal than in prior years. 
New City Councilwoman Sändra Washington had a theory: "We're overbuilt in Lincoln on golf courses."
There are five city golf courses in Lincoln, with one 18-hole course in all four quadrants and a par 3, 9-hole course in the center of the city. 
Overall there's 24 golf courses in and around the city, according to GolfLink. 
A presentation by Provo, Utah, officials about that city's recreation center, which features indoor competition swimming and diving pools and indoor and outdoor water parks, impressed Christensen. 
Especially from an operational standpoint, he said.
Five years after it was built, that recreation center produced a $500,000 surplus that was returned to the general fund of the city of 117,000, the Daily Herald newspaper in Provo reported last year.
"I think it would be lovely to have (a water park) in northeast Lincoln," the councilman said. 
Plans for downtown park
Lincoln Parks and Recreation officials want city residents and park users to weigh in on what they should include in South Haymarket Park, the planned park on a 6-acre plot at Seventh and N streets. 
Preliminary plans for the park include a dog run, a plaza and connections to biking/walking trails. 
A survey solicits input on those options and more, including whether the park should feature space for viewing adjacent railroad activities.
Another key question being assessed is whether park-goers would want to know about the Haymarket's history.
You have free articles remaining.
Parks and Recreation Director Lynn Johnson has pegged the construction cost at $9 million, much of which would be paid for via a Lincoln Parks Foundation private fundraising campaign.  
To take the survey, visit lincoln.ne.gov/city/parks/survey.htm. Survey results will figure into the development of a master plan expected to be adopted by the Parks and Recreation Advisory Board later this year.
Raise taxes for roads?
Lancaster County commissioners recalled this wisdom at a budget discussion Tuesday on how to address a $4.2 million request by County Engineer Pam Dingman in new funding to pay for road and bridge repairs in the 2019-2020 budget.
"We're talking about big rocks, and that's the biggest," Commissioner Sean Flowerday said.
Budget Director Dennis Meyer was blunt in his budget forecast.  
"If you want the whole $4.2 million, you're going to have to seriously think about a property tax increase," Meyer told the board. 
Broadly the commissioners are looking at making cuts as total county department budget requests exceed the expected funding available by $14 million.
So far, four of the commissioners have expressed little appetite for raising the county's property tax levy of 26.6576 cents per $100 in valuation. 
An increase in home valuations in the county is projected to add about $6 million in property tax revenue -- and presumably raise individual tax bills -- even if the commissioners do nothing with the levy.
The board will hold budget meetings to help them weigh what to fund in the next few weeks. 
It must submit a proposed budget by July 31. Public hearings and a final vote on the budget will be in August.
Fast takes
* 21st to 25th streets -- The stretch designated as the Randolph Street Bypass that city officials want to rename. The proposal would call it G Street between 21st and 23rd streets and Randolph Street east of 23rd Street. None of the nine addresses along that stretch would be affected by the street name change, Planning Director David Cary said.
* $0 -- The amount of money those on the Advisory Committee on Transportation are paid to oversee and recommend projects paid for with the new quarter-cent sales tax for streets.