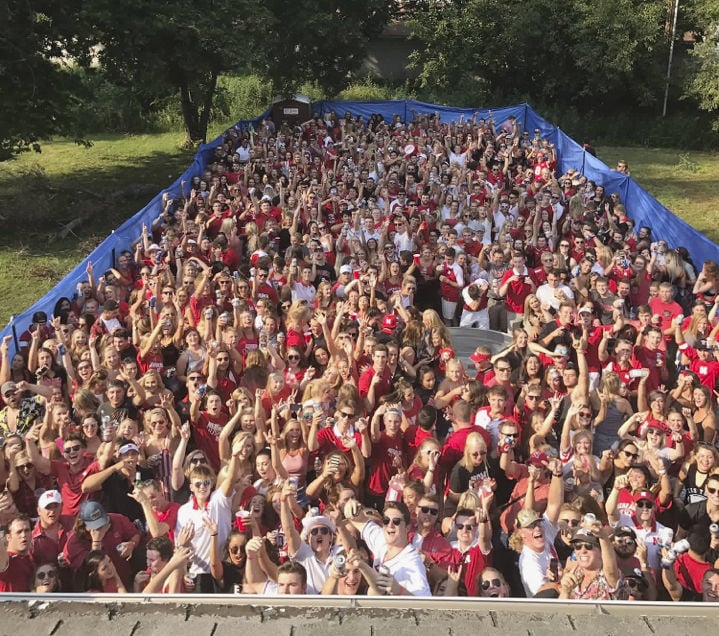 University of Nebraska-Lincoln students have found a new way to tailgate.
They rent the backyard of a house in the North Bottoms for $200 to $800, just for gameday. They put dark plastic up around the backyard as fencing, to keep out the prying eyes of police. Sometimes they rent a port-a-potty.
Then hundreds of students, for a charge, drink away the hours before the game, sometimes staying during the game and the hours after.
And they call it a tailgate party. 
"It's a dangerous situation. There is underage drinking and overconsumption. Basically they are running a bar," said Carl Eskridge, Lincoln city councilman.
Last year, police were clearing out one backyard, where minors were drinking, and found a young man, face down in the mud, drunk and unconscious.
That gives you an insight into how easy it is for something to really go wrong at these parties, said Capt. Anthony Butler, who heads LPD's Northwest Team.
Police aren't sure exactly how the party's payment system works, but it's no longer as simple as $5 at the gate.
At one tailgate party, men bought wristbands for $20 from members of the host fraternity. Women got in free. 
There have been parties in the North Bottoms for years. The new twists in the past few years has been obscuring the backyards, and what those in attendance are drinking, Butler said.
It's no longer just beer and wine. Now it is hard liquor, followed by energy drinks, a new combination that you don't really see in social drinking circles, he said.  
Police and city staff are looking at ways to discourage these parties, which are generally taking place at houses rented by UNL students, then re-rented for the day to other students, often a fraternity, he said.
Police have sent letters to more than 160 landlords in the area, to educate them, hoping they will discourage gameday backyard rentals through their leases, Butler said. 
And they talk to folks at houses where the backyard is being obscured advising them these tailgate parties are probably not a good idea. 
Butterfly invasion continues
The painted lady butterfly invasion that began about a week ago continues. People are still seeing hundreds of these butterflies feeding on their favorite flowers and bushes in Lincoln.
A painted lady butterfly expert from Iowa State University believes these are likely butterflies coming from the north -- North and South Dakota and Alberta, Canada -- where there was apparently a large buildup this summer.
That huge population began migrating south around a week ago. The butterflies started showing up in northern Iowa on Monday, said Royce Bitzer, an entomologist who has a painted lady research page -- vanessa.ent.iastate.edu.
A south wind can cause the painted ladies to stop moving and hang around the flowers and nectar until the next front comes through, he said.
The last big migration was in 2003 and it unfolded similarly to this one, Bitzer said.
He also explained the daily schedule for the butterflies.
In the morning the butterflies will warm up, hang around the flowers, feeding on the nectar. Then around 11 a.m. they start moving on, heading south perhaps, depending on the wind. About 4 p.m. they will begin looking to roost in trees for the night.
University of Nebraska-Lincoln butterfly expert Steve Spomer said he suspects the explosion of painted lady butterflies has lasted so long because the area hasn't had a storm or a significant frontal passage locally.
Every so often there will be an explosion of an insect, and this is apparently the "Year of the Painted Lady," he said in an email.
"I've been interested in butterflies for over 50 years, and I don't ever remember numbers like this."
Parking meters going retro
Innovation Campus, where you pay for parking using your smartphone and the Passport parking app, is going retro.
The city will put in some old-fashioned parking meters, the kind that take quarters, dimes and nickels -- though a nickel is hardly worth the time it takes to insert it.
The city and university have found that not everyone uses their smartphone for commerce. Some of us just use it for taking pictures of grandchildren.
And not everyone has a smartphone.
Wayne Mixdorf, the city's parking manger, said he's heard from two groups of people who want to stick a quarter in a meter.
Some are coming to the campus for the first time and don't understand the mobile app or don't want to establish an account for what might be a single use, he said.
But there are even more people who don't own a smartphone, Mixdorf said. 
The city decided not to use a few single space meters, where people would have to park where the meter is located.  
Instead, the city will be installing three multi-space (pay-by-license plate) meters around Innovation Campus.
You park where you want, then go to the meter, enter your license plate number into the multi-space meter and pay by coin or credit card. That way it doesn't matter where you park.
The parking meters are on order and will eventually be installed on 19th and 21st streets and Transformation Drive, Mixdorf said. 
Get Government & Politics updates in your inbox!
Stay up-to-date on the latest in local and national government and political topics with our newsletter.