City Hall: Residents warming up to city snow removal service
Lincoln residents still don't think the city is doing a great job of clearing snow from streets, but their satisfaction level with snow removal is improving, based on a city survey.
In the most recent Taking Charge mail-in survey, residents said they were somewhat satisfied with the city's snow removal service. Plowing city streets received a 3.32 average satisfaction score, with 1 being very dissatisfied, 5 being very satisfied and 3 being neutral.
But that slightly satisfied level is better than the snow removal scores given by residents in 2012 and 2015, where the scores hovered around 3.
Snow removal satisfaction was among the biggest jumps in the five-year rating trends, based on survey results.
Could the higher satisfaction level be based on the fact the city had less snow last winter, Councilman Roy Christensen wondered aloud, partly in jest.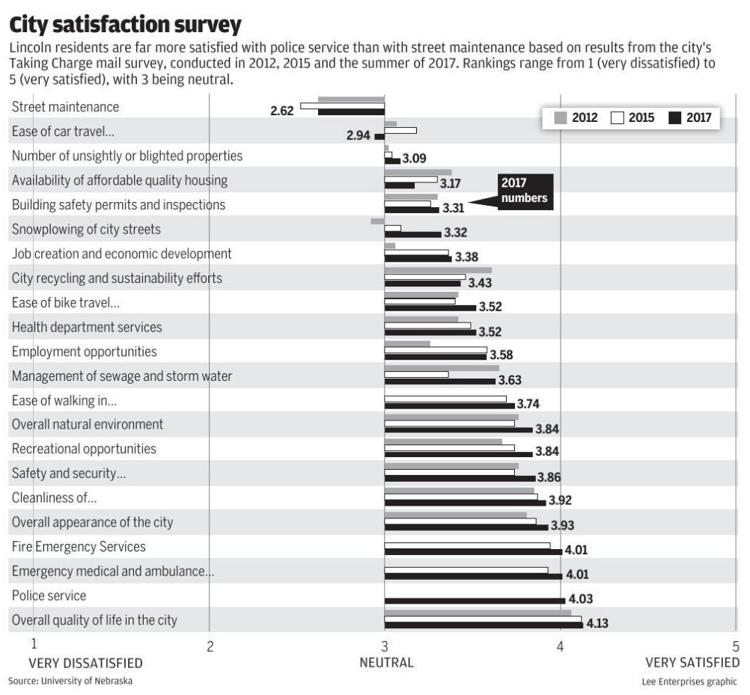 The city also noted "statistically significant" improvement trends in safety and security, recreational opportunities, employment opportunities, ease of bike travel, health department services and job creation/economic development, based on a report to the City Council about the Taking Charge surveys.
Lincoln residents continue to give the city high satisfaction rankings — at least a 4 — for overall quality of life, fire service, ambulance service and police service, based on the 2017 Taking Charge survey.
Street maintenance continued to have the lowest satisfaction score — below 3.
Ease of car travel also rated low, below 3, with residents living in southeast Lincoln (council District 2) offering the lowest rating.
The survey sample was large enough this year to give some breakdown by council district. In general, people taking the survey who live in the southern part of the city are more satisfied than people who live in north Lincoln.
This year, more than 1,200 residents returned mailed forms for the Taking Charge survey. They were, in general, older, better educated, whiter and more female than the demographics of the city.