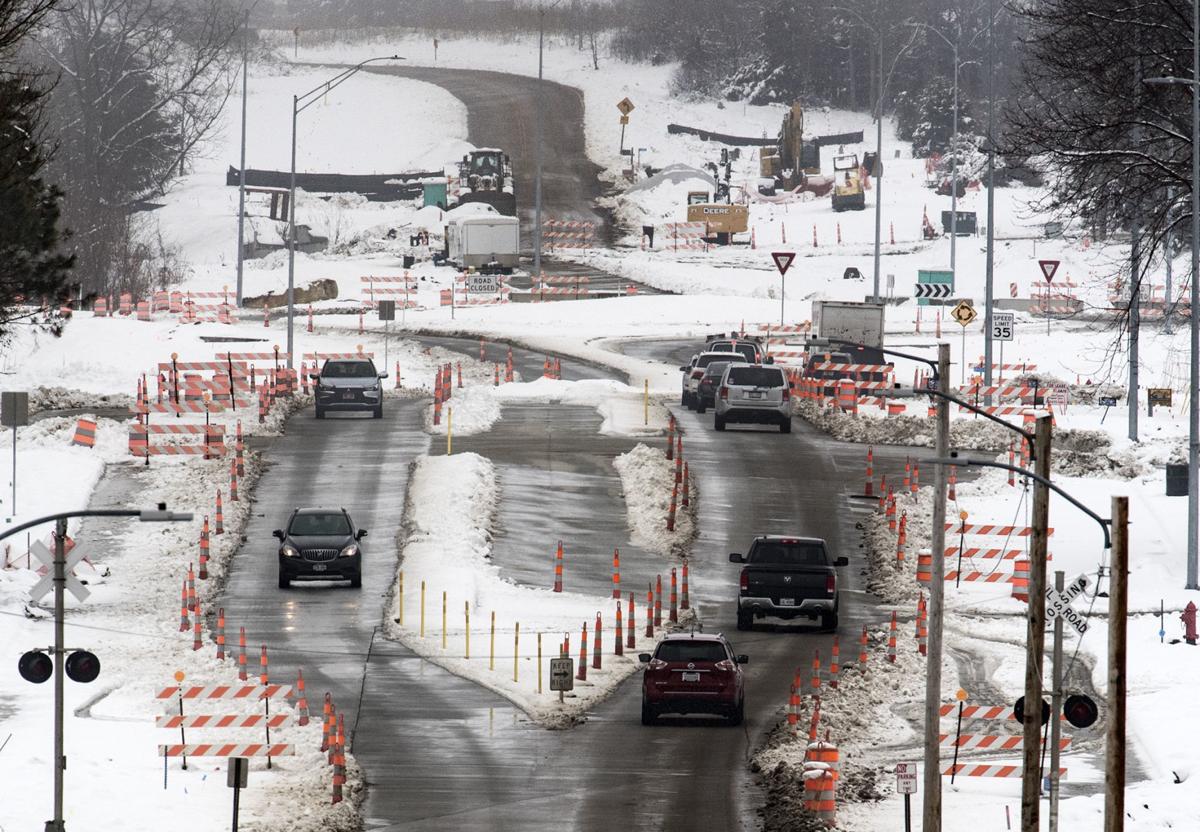 The quarter-cent sales tax proposal that will likely land on the April 9 ballot resulted from nine months of negotiations between the city's business community and Mayor Chris Beutler.
Its different parts, but specifically the quarter-cent rate, six-year timeframe and freezing the city's current impact fee, represent compromises reached in pulling together a proposal to increase funding for street repair and construction.
And the list of supporters — Realtors, home builders, the Lincoln Independent Business Association, the Chamber of Commerce and a representative of neighborhood interests — shows the success of those negotiations.
* Quarter-cent sales tax for six years: Beutler would have preferred a half-cent sales tax increase for 10 years, with few strings attached, that would have raised about $26 million a year in closing the gap identified by a task force that looked at the street system and the city budget in 2017.
At one point, the mayor also discussed using some of this money for additional police and firefighting equipment.
However, the half-cent, 10-year proposal was too steep for the business players at the table, who worked together as the Coalition for Growth.
* Impact fee freeze: The business community wanted relief from impact fees, which are paid on each new home or business and used to help fund wider streets, new parks, and water and sewer lines to new-growth areas of the city.
They wanted an impact fee freeze to last the life of the sales tax increase. Builders, they said, would be paying more in sales tax on construction materials and this should be offset by a freeze on the impact fee.
However, the mayor believes impact fees are a fairness issue, providing money for infrastructure needed for growth at the edges of the city and protecting some city funding for maintenance in older areas.
Beutler expressed this concern during a December interview, saying he didn't want to renew that divide between neighborhood associations and the new-growth interests. 
The impact fee freeze is part of the package, but will extend for five years, not the full six years of the sales tax.
* Guarantee for new construction: The business community wanted a guarantee that some of the quarter-cent revenue would go for new construction. 
* Money for 33rd Street and Cornhusker Highway: State law requires that voter-approved sales tax increases must include a partnership with another government entity as a way to encourage more cooperation. This package earmarks some funding, 1.5 percent of the revenue, for the Railroad Transportation Safety District, a political entity made up of three City Council and three County Board members, with a levy approved by the County Board. Among its projects are improvements in the area of 33rd and Cornhusker.
* Elevated roundabout: City Councilman Roy Christensen, a Republican who will likely be the fifth vote to put the package on the ballot and who was personally active in the negotiations, wanted to delay construction of the elevated roundabout at 14th Street, Old Cheney Road and Warlick Boulevard and use that money for other projects. Christensen gave up that demand.
* Money only for streets: The revenue from the sales tax increase will be used only for streets, not on trails or sidewalks or traffic signals. Some in the business community wanted to make sure the money would not be siphoned away for other transportation issues. 
* Oversight committee: This committee will be appointed to provide guidance on spending, similar to how an oversight committee offered feedback on the emergency radio system and fire station work funded by a previous sales tax increase.
Christensen explained his support for the sales tax increase to fund streets this way: "The best time to plant a tree is 20 years ago. If city leaders had done the right thing years ago, we wouldn't be in this situation. I don't want anyone 20 years from now to look back and say we missed an opportunity."
A public hearing and vote on putting the proposal on the April ballot is expected to take place at the City Council's Feb. 4 meeting. 
There is no guarantee that the package will gain voter approval in April. But the work leading up to a proposal shows that local leaders can still move beyond partisan labels and their own special interests to find agreement on important issues.
"Everyone gave up something they didn't want to give up. There is strong consensus moving forward, which is not easy to do," said Rick Hoppe, chief of staff to Beutler. 
"It is important to get as many people on board as possible because what beats proposals like this is organized opposition." 
An $80,000 race
Campaign finance reports show the two candidates for Lancaster County treasurer combined to raise $80,000.
The winner, Democrat Rachel Garver, raised more than $39,500, and Republican Matt Schulte raised more than $41,400.
Garver replaced former treasurer Andy Stebbing, who lost in the primary.  
Schulte, who also considered a run for City Council, says he won't be a candidate in this year's election.  
Perpendicular parking 
The residents of a north Lincoln neighborhood who had been parking perpendicular around their cul-de-sac, in order to get everyone's vehicles parked near their homes, will not be seeking city permission for angle parking. 
The folks who live on Donald Circle had to stop the decades-long practice of perpendicular parking — with the nose of their vehicle facing their homes — after someone complained and police gave everyone warning tickets in December.
Only parallel parking is allowed, unless the city gives permission and paints stripes for angle parking. And a city employee didn't offer much hope to residents that the city would open up residential areas to angle parking.  
Arnold Radloff, one of the perpendicular parkers, said he was told that the city allows angle parking only in certain commercial areas where there are curb indents or cuts that accommodated it. The city employee also said the Traffic Division doesn't have any money to pay for pavement stripes.
In addition, Radloff learned that a longtime practice of neighbors running extension cords to parked vehicles is not legal. Extension cords that extend over a sidewalk are not allowed in residential areas, according to city staff.
So one of the reasons for the perpendicular parking, getting a cord to a engine block heater in a vehicle, is off the list. 
"There doesn't seem to be much for us to do except park down the block and continue to play musical cars," Radloff said.
Get Election 2020 & Politics updates in your inbox!
Keep up on the latest in national and local politics as Election 2020 comes into focus.