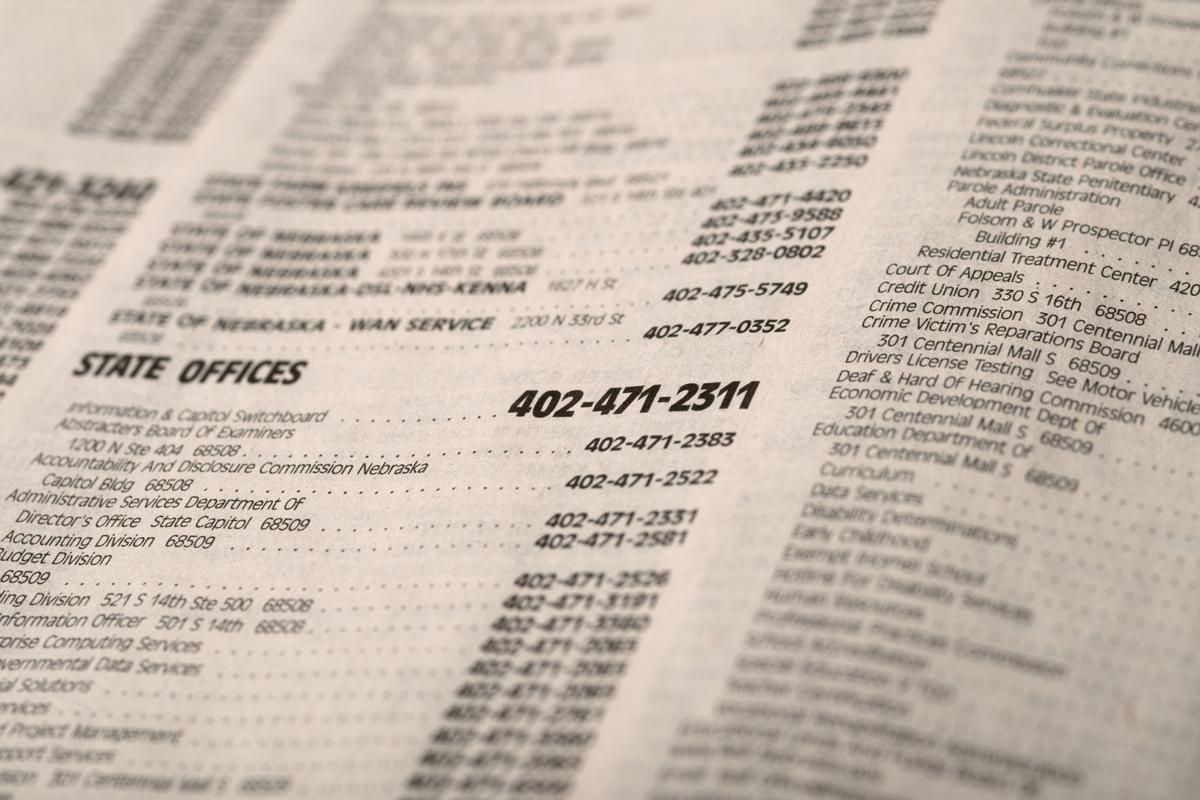 Printed phone books are going the way of phone booths, heading into the boneyard of historical artifacts.
Omahans haven't gotten a residential (white pages only) phone book automatically delivered to their home or business for several years, and less than 1 percent ask to have one delivered.  
Last year Dex Media, the company which publishes phone books for CenturyLink, got permission to stop the automatic delivery of phone books to customers in the smaller towns served by CenturyLink, including Fremont, Grand Island, Norfolk, North Platte, McCook and much of the Panhandle.
Now Frontier Communications of Nebraska, which provides traditional landline telephone service to Kearney and Columbus, is seeking permission from the state Public Service Commission to stop handing out printed directories to every customer automatically. Customers would be able to get numbers through an online directory.
The state PSC requires that an alphabetical directory for landline customers be made available without charge. But that doesn't mean it has to be a paper directory.
The PSC has allowed Dex Media to stop automatically providing a printed directory to every CenturyLink customer, but the company must still provide a printed telephone book upon request.
And in small Nebraska cities served by Dex most people will still be getting a phone book. The company is targeting delivery based on whether their research shows the books will be used. That usually means if you are old, you will likely still get a book. 
People in small towns tend to use the phone book more, said a spokesman for Dex Media. 
In Lincoln everyone will still be automatically receiving a phone book for the time being. 
Windstream has "no current plans to ask the Nebraska Public Service Commission for permission to discontinue distributing phone books to all customers," according to its communications staff.  
Landline companies contend most people get numbers online and don't use a printed phone book.
In addition cellphone numbers are not published and the number of landline customers continues to drop. 
Last year there were about 660,000 landline numbers statewide, but there were more than 1.34 million wireless numbers, based on the PSC annual report. 
Will your LES bill change?
Though electric rates are proposed to change next year, most residential customers will not see much of a difference in their bills.
In fact you can check out what your bill might be next year -- if the City Council approves the proposal -- using an online calculator. 
The generic examples provided by LES indicate "average" customers will see small changes -- from a dollar or two a month higher or lower -- based on the new rates.
You can use the calculator (Google rate calculator, LES) by plugging in your account number.
LES is proposing to raise its monthly "facilities charge," which is a flat fee intended to cover the fixed cost of delivering electricity. But the rate for energy usage itself is dropping.
From the examples provided by LES it appears that many residential customers will see a small increase in their bills.
For example, people who live in a small apartment, using an average 500 kilowatts of electricity each month, will see a $1 increase in their monthly bill. People living in a large all-electric home, using 2,400 kilowatts per month, will see a $2.71 drop in the monthly bill. 
Most businesses, particularly those that use a lot of electricity, will see a drop in their monthly LES bills. 
LES has held public meetings on its proposed budget and rate requests. The last chance to provide your input will be at the City Council's Monday meeting, where the LES budget and proposed rate changes are scheduled for a public hearing.   
Using eminent domain
The Lancaster County Board recently agreed to use its power of eminent domain to obtain an easement on land needed for a box culvert along North 148th Street, between O and Holdrege streets.
The landowners don't want the county to take more of their land for this structure, which is larger than the original bridge, based on reports provided the board. They also were afraid more water would be diverted onto their land. 
So the board recently voted to take the issue to court.
This is one of three small bridges that must be replaced on the heavily traveled county road, which sees close to 6,000 vehicles a day. One of the other two bridges will be finished within the next two weeks, and the contractor hopes to start on the second box culvert on Monday.  
Both the county and the city occasionally need to use the eminent domain process to force reluctant owners to sell property needed for road work.
During her four years in office County Engineer Pam Dingman's staff has worked on 45 to 50 land acquisitions a year. The county has started the condemnation process four times but has only had to go to court once, Dingman said.
The city also uses eminent domain on major street project when negotiations with property owners fail.
In the past five years the city has condemned 11 properties, roughly two per year, according to Michelle Backemeyer, with Public Works and Utilities.
Backemeyer provided these examples of recent major street projects and condemnations necessary: Old Cheney Road (three condemnations out of 71 property owners); Northwest 48th Street (four of 60 property owners); Yankee Hill Road (no condemnations out of 39 properties) and Coddington and West Van Dorn (one of eight properties).