Buried near the end of a proposed annexation agreement between the city of Lincoln and a secretive data center development are two largely blank pages.
Those pages, which are public record, should outline the water and sewer improvements needed so Project Agate, off 56th Street north of Interstate 80, can connect to Lincoln's systems. 
Instead, those improvements were redacted. 
The reason: The developers and city consider them confidential trade secrets, said Assistant City Attorney Tim Sieh.
The company contends disclosure of how much water the data center uses and wastewater it expends would give its competitors an advantage. 
Nebraska public-records laws allow for public bodies to withhold trade secrets. 
Also, Sieh said, the city has previously built out the water and sewer lines to the site, a 590-acre swath of farmland where the developer may build an up to 2 million-square-foot facility.   
The city wouldn't have to build any new utility lines for the project, he said.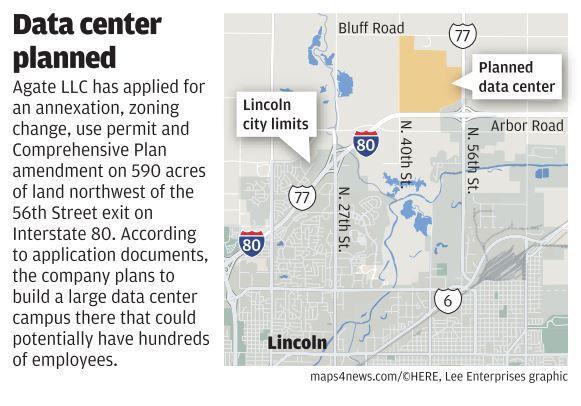 "This is the first one that I've done like this," said Sieh, who handles development projects for the city.
Massive projects such as this aren't common here, city officials have said. 
"This breaks new ground," City Attorney Jeff Kirkpatrick said. 
It's unlikely Monday's public hearing on annexation, zoning changes and development for the project will reveal the company. 
The developer won't seek tax-increment financing, Sieh said. 
City officials declared the site of the proposed data center blighted in 2005, meaning the data center potentially qualified for TIF, a financing tool that allows increased property taxes generated by development to be used to help pay for improvements that have a public benefit.
Company officials have told the state the business may invest as much as $600 million in the data center, which may employ up to 1,000 people within 20 years.
The site would be secure and closed to the public.
You have free articles remaining.
The City Council will be asked to approve the annexation, zoning changes and a change to the city's comprehensive plan next month. 
Stormwater bond a bump
If the City Council adopts the mayor's proposed budget changes Monday, the city's property tax rate would increase ever so slightly. That's because of the $9.9 million stormwater bond issue approved by voters in May.
The bond issue, slated to pay for stormwater system improvements along Dead Man's Run and several smaller projects, passed by a margin of 11 percentage points.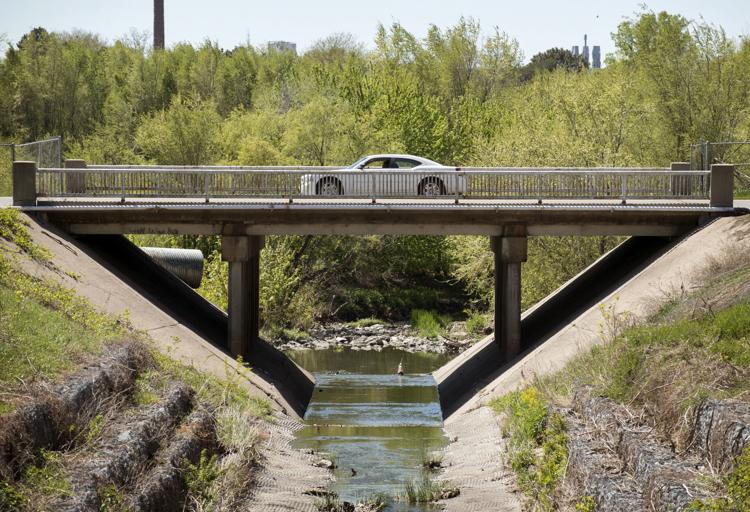 Finance Director Brandon Kauffman said the city's share of the property tax levy would increase by a third of a cent to 31.9 cents per $100 of assessed property value. 
The mayor is not proposing to increase the levy despite a deficit in this year's budget.
That levy will be officially set by a vote of the City Council next month. 
City's 'most tremendous resource'
One of Mayor Leirion Gaylor Baird's chief priorities in tackling the $6.79 million budget shortfall was ensuring the solution met her standard that the city is a good employer. 
Her proposed $1.1 million in department cuts don't equate to layoffs for city workers. 
And that was important to Gaylor Baird, who said motivated city workers deliver the public safety, infrastructure and transportation, library and parks services residents expect. 
"They are the most tremendous resource we have," she said.
Fast takes
* 16,904 — The number of adults, adolescents and children who participated in the Lincoln City Libraries Summer Reading Challenge this year. That's a 5% increase in participants from last year. Participants must read 10 hours during the summer and perform a certain number of reading-related activities such as reading a classic book or reading outside or to a pet. "Our population is growing, and there's a bigger awareness about how important reading is to a child's success in school and in life," said Youth Services Coordinator Vicki Wood of Lincoln City Libraries. 
* $532,245 — The contract for A&J Donner Construction Inc. to build the new Nature Education Building at Pioneers Park. The new building is expected to be finished by next April.
* 57% — The percentage of city tax revenue spent on public safety services, including Lincoln Fire and Rescue and the Lincoln Police Department.