City Hall: Lincoln mayoral candidates quick to say they don't want extra pay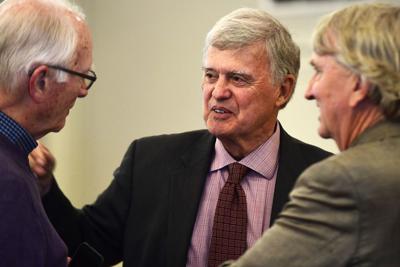 The decision by Mayor Chris Beutler and City Councilman Roy Christensen to change their mayor salary proposal just before a news conference Tuesday left a few candidates in the lurch.
Two candidates sent news releases based on an assumption the Beutler-Christensen proposal was to recommend the council raise the mayor's salary from about $89,000 to $120,000.
However, Beutler and Christensen dropped that plan, at Christensen's insistence. Instead, they suggested the city's Charter Revision Commission take a look at the issue and bring a salary plan to the voters during the 2019 city election.
However, mayoral candidate Jeff Kirkpatrick sent a news release saying he wouldn't accept the raise if elected.
And one council candidate, Colten Zamrzla, said the council should not approve the proposed $120,000 salary.
Both news releases were obviously written before the mayor and councilman decided to change direction. 
The mayor makes about $87,000 and the salary will likely rise to about $89,000 in May when a new mayor takes over, under the current plan that includes a cost-of-living increase.
Under the abandoned plan, Beutler and Christensen were going to ask the City Council to raise the base salary to $120,000, which is at the midpoint of mayoral salaries in four peer cities.
In his news release, Kirkpatrick said he would donate the additional salary to the public library system for a new downtown library.
Kirkpatrick said he took a pay cut when he went to work for the city law department and looks at running for mayor the same way. "It isn't about money, it's about leading Lincoln forward without leaving anyone behind." 
Zamrzla, a candidate for the District 3 council seat, suggested Jane Raybould, who represents that southwest Lincoln district on the council, vote against the increase to $120,000. 
In changing his mind, Christensen apparently decided that sending a charter amendment relating to the mayor's salary to the voters was a better idea than the council simply setting a higher salary.
And his vote was likely needed in order to get a specific salary increase through the City Council.
Here is my vote analysis for any increase in the mayor's salary: Cyndi Lamm and Leirion Gaylor Baird — both candidates for mayor — and Jon Camp would have been no votes. Bennie Shobe, Carl Eskridge and Raybould would likely have been yes votes. Christensen was the necessary swing vote.
Other candidates weigh in
Kirkpatrick and Zamrzla were not the only candidates opposing any proposed hike in the mayor's salary. 
They were just the first.  
Mayoral candidates Lamm and Andrew Ringsmuth, as well as council candidate James Herrold, also sent news releases opposing any salary hike. 
Those news releases were based on the revised plan to send the salary question to the Charter Revision Commission and then on to voters for a final decision.
Beutler and Christensen both support raising the mayoral salary as a way to attract more candidates and to provide pay that reflects the responsibilities of the job. 
Lamm announced her "staunch opposition to any proposal to increase the salary for the next mayor."
Lamm said Beutler has already raised spending rates and more than 100 fees, in part to pay for salary increases to his staff and directors. 
"Public service requires some personal sacrifice, and taxpayers should not be asked to continually foot the bill," she said. 
Ringsmuth said he "strongly opposes any push to raise the mayor's salary" and would return any increase to the city treasury.
"We need a mayor who knows how to get things done and who isn't afraid to make hard choices," Ringsmuth said. "We don't need a professional politician who is in it for the fat paycheck."
Herrold, who is running for the northwest District 4 council seat, said he is opposed to a potential salary increase at this time. 
The salary is at an appropriate compensation level, Herrold said. Good people will step up to serve knowing the job is time-consuming and requires personal sacrifices, he said.
"We should be focusing on areas to reduce spending from the tax-funded portion of the Lincoln city budget," he said. 
Anti-Lamm website and the law
An anonymous website, intended to discourage people from voting for Lamm for mayor, may be breaking the letter of the law and is certainly breaking the intent of state law, which encourages disclosure of those responsible for trying to influence elections.
Any material — print or digital — that supports or opposes a candidate is supposed to carry the name of the group or individual paying for the material.
The website, which describes Lamm's efforts 25 years ago to discourage Lincoln Public Schools from adding a sympathetic view of homosexuality as a part of the multicultural education curriculum, does not provide any information on who is responsible for it.
State law also requires that groups that raise or spend $5,000 or more in a calendar year must report to the state Accountability and Disclosure Commission. That information can help identify the responsible people.
It's unlikely, however, that the cost of a single website would come close to $5,000. So there is likely no way to force those responsible to show their faces.  
What you really hope is that the public will be discerning, said Frank Daley, executive director of the Accountability and Disclosure Commission. People ought to be pretty skeptical if there are no real live human beings associated with a message, he said.