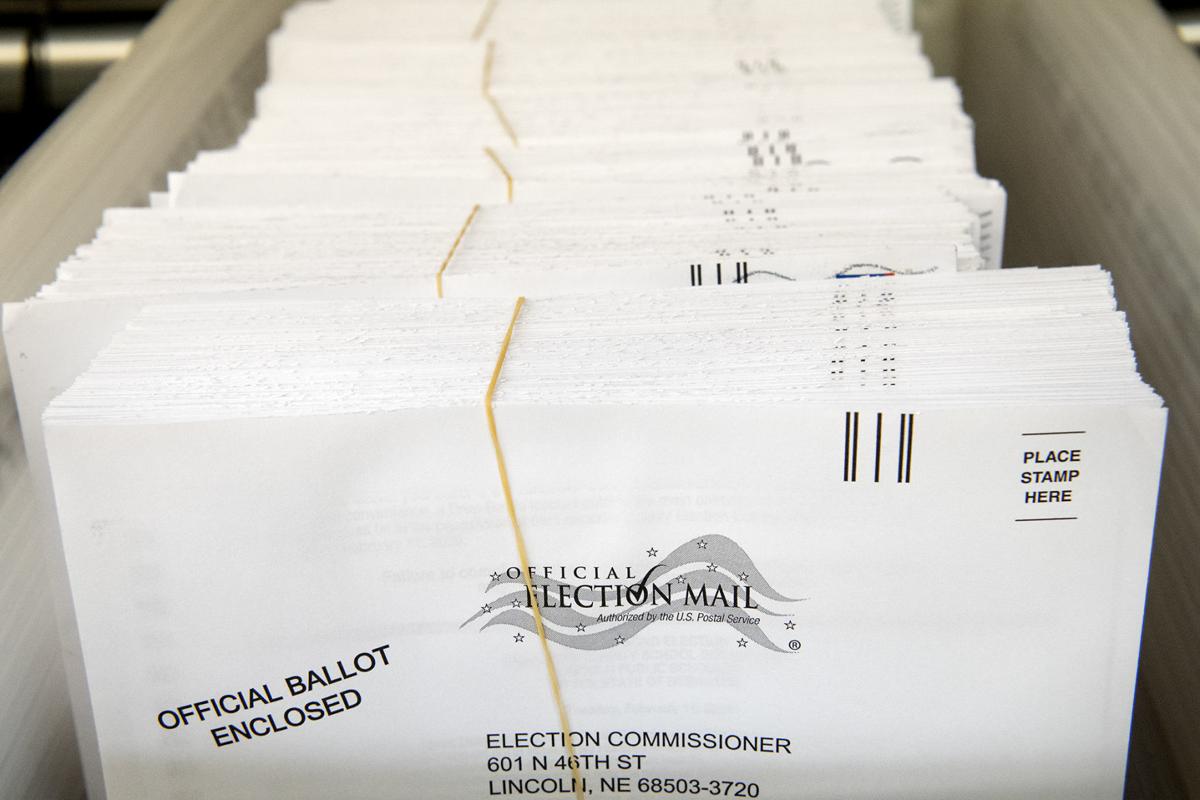 Only amid a pandemic does a measure designed to reduce in-person turnout for an election in America seem justified.
And Lancaster County commissioners Tuesday moved to do just that, voting unanimously to have applications for mail ballots for the May 12 primary sent out to all of the more than 173,000 registered voters in the county.
"Hopefully, this will be reducing the number of people going to the polls on Election Day," County Election Commissioner Dave Shively said. 
But he was unequivocal: The polls will still be open. 
Centers for Disease Control and Prevention officials want to limit the size of gatherings to less than 10 people.
Concerned over the spread of COVID-19, Ohio's governor postponed the state's primary election scheduled for Tuesday.
A spokeswoman for Nebraska Secretary of State Robert Evnen said the state's primary is still on and a postponement isn't being considered at this time.
But Lancaster County, along with Douglas and Sarpy counties, among others, has moved to encourage registered voters to opt for a mail ballot.
Already 31,000 applications have been sent out to voters who are on the permanent early vote list, Shively said. Once they return their applications, they will be sent early ballots, beginning April 6.
Offering early voting to 140,000 more voters will cost between $70,000 and $80,000, and each early ballot runs between $1 and $1.40 to mail, Shively said.
County Board Chair Sean Flowerday said he believes this will make voting easier and the public safer.
Commissioner Rick Vest said unlike his wife, Dawn, he never votes by mail.
"This might be the year I take a run at it," Vest said.
Will local governments still meet?
Nebraska Gov. Pete Ricketts has permitted local and state governing bodies in the state the flexibility to hold video- or teleconference meetings in lieu of in-person meetings. 
By executive order, he extended this permission through May 31, but said the news media and public must also have access to the meeting. 
Meetings and agendas must still be publicized in advance, under the governor's directive that came as he and state health officials urged Nebraskans not to gather in groups larger than 10 as directed by the Centers for Disease Control and Prevention.
Lincoln City Council members began discussing how to carry out their duties amid the call for social distancing Monday.
A typical council meeting hits that cap with seven council members, typically two clerks and City Attorney Jeff Kirkpatrick. 
While the 10-person limit isn't an order enforceable by law enforcement, council members said they felt a duty to follow through with the guidelines. 
"I feel an obligation to walk the walk," Councilwoman Tammy Ward said. 
The Omaha City Council has already agreed to not meet again until April 21. 
Doing so in Lincoln wouldn't be without costs, Kirkpatrick told the council. 
At least two items scheduled for a public hearing and a vote Monday carry a financial penalty if they are not adopted before April 1.
For example, if the city doesn't approve a $2.3 million contract by April 1 to upgrade the computer-assisted dispatch system, the city would lose a $50,000 discount, Assistant City Attorney Chris Connolly said.
Council members talked about limiting the agenda items to only the essential business to keep city work on track.
Tuesday, Kirkpatrick said the council may be able to continue meeting and maintain public access, with public participants spaced out in the gallery, hallway and the adjoining Luxford Studio.
All City Council meetings are streamed live on the city's YouTube page and posted in full afterward.
Residents would be encouraged to call or email the council to express their opinions on items before the council, Kirkpatrick said. 
Lincoln-Lancaster County Health Department Interim Director Pat Lopez told Kirkpatrick she's comfortable with current meetings as long as they stay within the guidelines.
"Just because we've got the guidelines today doesn't mean we will next week," Kirkpatrick said.
Lancaster County commissioners, who declared a state of emergency because of the pandemic Tuesday, plan to discuss the board's meetings and other plans later this week. 
Fast takes
Canceled — The March 31 meeting of the West Haymarket Joint Public Agency meeting, because the board lacked enough agenda items.
Postponed — The food truck pilot program that was set to bring trucks onto downtown streets in April. Councilwoman Tammy Ward, who has championed the pilot, said a new start date is unknown.
Unrelenting — The work of your Journal Star newsroom, which like many workplaces, is pursuing its mission as the pandemic changes everyday life.