Ten bats have tested positive for rabies so far this year, many more than a normal year, when just three to four bats test positive.
No one knows why. Perhaps Lincoln Animal Control is just getting better at catching the right bats, jokes manager Steve Beal. 
But 10 rabid bats prompted the department to remind people what they should and should not do when they find themselves in a room with a bat.
"Do not shoo a bat outside; don't open up the window," said Tim Timmons, communicable disease specialist with the Lincoln-Lancaster County Health Department.
"Do not follow your instinct to get the bat out of the house," he said. Instead, shut the door and contain the bat.
When the bat is shooed out of the house, animal control cannot catch the bat and send it to be tested at the Nebraska Veterinary Diagnostic Center at the University of Nebraska-Lincoln, Timmons said.
And if there is a possibility that someone in the house may have had contact with the bat, then those people need to undergo the rabies vaccine series as a precaution. 
Most of the bats that were chased out of a house would have tested negative, meaning no rabies shots for humans.
So far this year, animal control has had 746 calls on bats. It's captured and sent 288 bats to the lab. About 3.4 percent tested positive for rabies.
About half the bat calls — 355 — came in August, the height of bat activity.
When the weather gets cold, in late October and November, bats aren't as active and will start to hibernate, Beal said.
The old rabies vaccine series — 14 painful shots in the abdomen — is history. Today, people need five to seven shots, most in the arm, perhaps two in the thigh.
But the series, called the rabies post-exposure prophylaxis regimen, is expensive — thousands of dollars, said Timmons.
One of Timmons' favorite rabid animal stories is about a skunk. Several years ago, during a year when there were a higher than normal number of skunks testing positive for rabies, one skunk was caught while walking down 84th Street in the middle of the day. That skunk tested positive for rabies.
The health department lists six criteria used to determine whether someone should undergo the rabies vaccination series:
* An animal has bitten you.
* Material, such as saliva, gets in your eyes, nose, mouth or a wound. Rabies virus is transmitted in saliva.
* You awaken to find a bat in your room.
* A bat is seen in a room of an unattended child.
* A bat is seen near a mentally impaired or intoxicated person.
* You step barefoot on a bat or a bat collides with you.
Switching rather than complaining
Just one person showed up to complain in person about the city's cable TV or internet service at a public hearing Tuesday evening.
Rob Pickel, the lone attendee, complained about problems getting calls answered since the Lincoln's Charter/Spectrum call center was closed. 
At the last public hearing, in 2014, the hearing room was packed, said Arthur Zygielbaum, chair of the city's Telecommunications/ Cable Television Advisory Board. 
At that time, there was no competition to Time Warner for cable TV. Now there are three companies — Charter Communications providing Spectrum services (formerly Time Warner), Windstream and Allo — offering cable and internet service. 
So rather than complain at a public hearing, perhaps customers are switching. 
More than a dozen Charter customers wrote in, with complaints ranging from rising prices, problems getting calls answered at call centers, and losing KETV as part of the Charter Spectrum TV package. 
One Spectrum customer did complain in a letter that Allo had cut the cable for potential Windstream service in his yard, but Windstream had not repaired it yet.  
The public hearing is part of performance evaluation that the advisory board has begun on the three cable/internet providers.
The board will be conducting a telephone survey to find out customer attitudes, will accept written comments through Sept. 30, and hopes to have a report in early in 2019. 
The city has also started negotiations with Charter (formerly Time Warner) on its franchise agreement with the city, which ends at the end of 2020.  
Information from the performance evaluation will also be used in those negotiations, according to Steve Huggenberger, an assistant city attorney. 
The city has hired CBG Communications Inc. to do a needs assessment of Charter Spectrum services, under an almost $107,000 contract.  That assessment of what the community wants, needs and expects, will be part of the negotiations, Huggenberger said. 
Looking eastward
Though Lincoln is expected to grow in all directions in the future, much of the growth over the next 40 years will be eastward.
The city has begun putting sewer lines into the Stevens Creek drainage area, opening up east Lincoln for development.
The city limits could extend out to 134th Street along Van Dorn Street by 2040.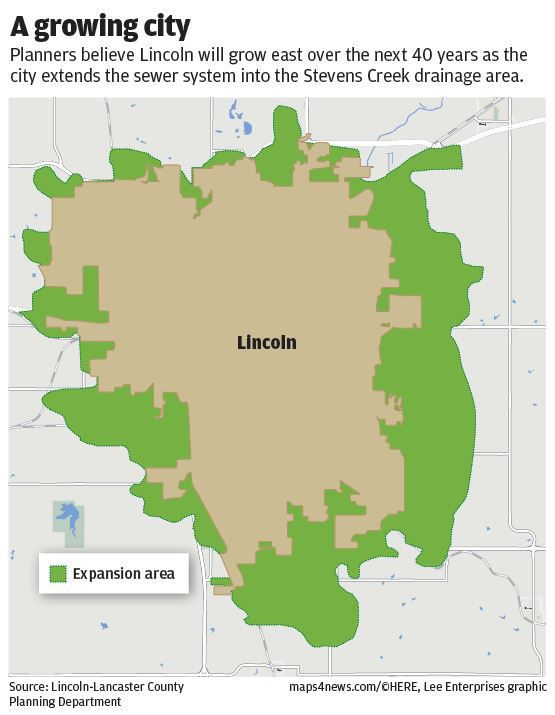 But Lincoln will not bump into Omaha any time soon. Lincoln is not expected to reach the Lancaster County line (190th Street) even by the end of the century, based on city planning documents.
One chance to override veto
Mayor Chris Beutler's veto of an apartment complex development in southwest Lincoln last week is not all that unusual.
Mayors have periodically vetoed development issues over the years, though this is Beutler's first. There wasn't much development during Beutler's early years, as the Great Recession put a damper on housing growth in Lincoln and across the country.
Beutler has vetoed nine resolutions or ordinances covering six issues in his 10 years as mayor.
Last week, Beutler vetoed two issues covering a proposed apartment development after neighbors in the Porter Ridge West Townhome Association complained about the height of the two buildings.
Both proposed apartment buildings would be taller than the 35 feet allowed under current zoning.
The council will have a chance to override those two vetoes covering the apartment complex with a five-vote super majority at next Monday's meeting.
This is a one-time attempt. Councilman Roy Christensen will be out of town at a family reunion, meaning there will likely be six council members at the meeting. The issue will not carry over to another meeting, according to City Attorney Jeff Kirkpatrick.
The council vote approving the development, 4-3, was not purely partisan.
Voting for the development at the Aug. 20 City Council meeting were Jon Camp, Roy Christensen and Cyndi Lamm, all Republicans, and Bennie Shobe, a Democrat. Voting against were Carl Eskridge, Leirion Gaylor Baird and Jane Raybould, all Democrats.