Lincoln's city parking service is getting new cameras, a new command center, a new office and new equipment, and eventually there will be no humans working at any of the parking garage gates.
The new command center is being created in 3,800 square feet of space that was once a day care center in the Center Park Garage at the corner of 11th and N streets.
The command center and office, with a $506,000 contract for demolishing the old space and building out the new, should be open before the first Husker football game in the fall, according to Wayne Mixdorf, Lincoln's parking manager.
The new area replaces the parking office at 850 Q St. in the Haymarket Garage, and the current command center in the Larson Building.
That very small command center, built into an electrical room, was the city's first attempt at getting a command center up and running, "and we didn't know how it was going to work," Mixdorf said.
City parking staff monitor all of the garages from the command center and are available to assist customers having trouble paying or getting in or out of a garage, he said.
The command center staff can see if the person is putting their ticket in upside-down or using a credit card improperly and can talk drivers through the process, or dispatch someone to assist them, he explained.
In situations where a driver doesn't have "a method to pay," the staff can record their license plate and take down some basic contact information, then let them out.
The city also has a $250,000 contract for an upgrade to its camera system, replacing old analog cameras in garages with digital cameras and installing cameras in new locations.
That work should be finished in August.
This is the way technology is moving, Mixdorf said of the elimination of humans working at the garage gates. Younger drivers already pay with their smartphone. "So every month it seems like there is less need for that live cashier's presence," he said.
Several of the city's garages are already credit card-only — Larson, Carriage Park and Lumberworks. And others are credit card-only during parts of the day or on weekends, Mixdorf said.
Eventually, the city will have pay stations in garage elevator lobbies, where people can pay by credit card or cash. So you make your payment before you return to your car, and the ticket issued to you when you drove in is paid for and validated.
You will still be able to pay at a gate, but paying early will make exiting faster, Mixdorf said.
The city's parking system — garages and street parking — is funded by parking fees and other income, generating about $15 million a year in revenue. No tax dollars are involved. 
Hoiberg for mayor
We will apparently never know how many write-in votes for mayor new Husker men's basketball coach Fred Hoiberg got in last week's city election.
Hoiberg, who was born in Lincoln, earned the nickname "The Mayor" during his playing days at Iowa State.
A few Hoiberg for Mayor signs — apparently produced by the Nebraska Athletic Department —  sprouted around town before the April 9 primary election.
And some folks, on Facebook feeds, said they were going to write in Hoiberg's name for mayor.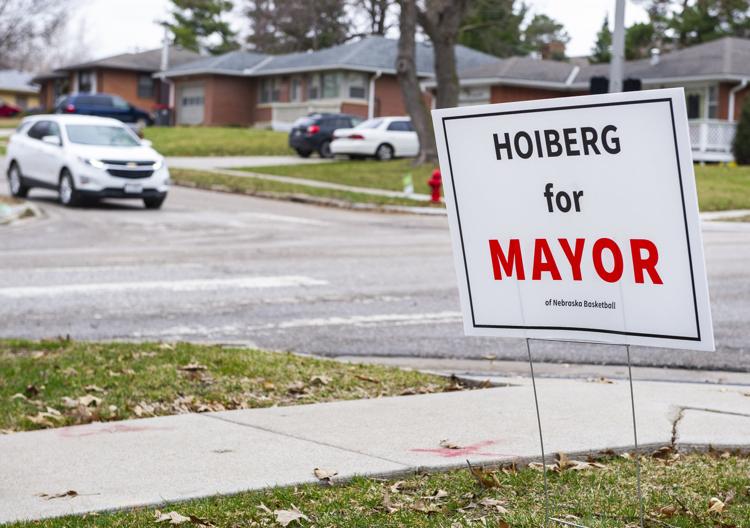 However, the Lancaster County Election Commission Office counts just the total write-in votes — 129 for mayor. It does not record each individual write-in name.
And it's against the law to let private citizens, such as reporters, come to the office to check out the names — without a court order.
So the number of votes Hoiberg received will remain a mystery.
Fixing potholes, double trouble
The city spent about $974,400 last year — fiscal year 2017-18 — on fixing potholes, which was a rather ordinary year, pothole-wise.
This year the cost will likely double, when you account for the $1.2 million in contracts with private companies that helped put asphalt in thousands of holes that appeared after a very bad winter.
So far the city has made 60,300 pothole repairs using more than 2.5 million pounds of material.
Tax will end in six years
Voters last week narrowly approved a quarter-cent increase in the city sales tax for streets for six years.
But will it really end in six years? Some Lincoln residents have said they don't believe it will. No tax ever ends. And some candidates have promised, in news releases, to make sure it ends in six years.
But that promise isn't really necessary. State law requires that it end in six years, as stated on the ballot issue itself.
The city is supposed to let the state know at least 180 days before it is to end on Sept. 30, 2025. But state Revenue Department staff don't think it would slip through the cracks if city officials forget to set a reminder.
Lab prefers Discovery Drive
The Nebraska Cattlemen's Association recently got the street in front of its new building renamed — from Discovery Drive to Cattle Drive.
Now the association's neighbor, NCEE Labs, wants the block returned to its former name so it can keep its longstanding address, 4740 Discovery Drive.
The street name change will create an abundance of paperwork for NCEE Labs and its customers, according to a letter to the city-county Planning Department.
NCEE provides specialized testing for electronics compliance, and the change would require customers and the company to change the address on documents with government agencies in an area where a simple address error can create problems, including having applications rejected.
In addition to the bureaucratic problems, NCEE doesn't like the new street name, Cattle Drive. It doesn't fit with the company's mission.
"The center was established in a technology park with 4740 Discovery Drive as its address. The location of the center, including its street name, was consistent with the scientific nature of its purpose.
"The new name of Cattle Drive is not consistent with the mission and purpose of the center," says the letter to the planning department.
NCEE suggests returning to Discovery Drive on one block.