The city has beefed up its parking enforcement around the Capitol this spring with the help of new equipment that can spot a violator in the blink of a camera. 
The city's parking enforcement crew uses pictures and computer software to determine whether a vehicle has overstayed the one-hour or two-hour limit on parking around the Capitol.
Staff take pictures of a car, its license plate and tire. That picture of the tire includes detail of the location of the valve stem. 
If a ticket is written, those pictures are stored until the parking ticket is paid, said Wayne Mixdorf, city parking manager.
The parking staff started the increased enforcement effort April 30, after learning how to use the new equipment over the winter.
Previously, staff had to manually chalk tires and input license numbers into a database. (Think of the valve stem picture as the modern-day technology chalk mark.) 
The equipment, mounted on a car, takes pictures while the parking ambassador drives around the block. 
Two hours later, the ambassador drives the block again and the equipment signals when it passes a vehicle that has been parked longer than the posted time, Mixdorf said. 
During the recent Legislative session, city parking enforcement staff intermittently wrote parking tickets, generally based on complaints or because of public safety concerns — blocking driveways, cars too close to intersections or fire hydrants, he said.
The city collected some data last winter, as staff tested the new equipment, to see how often vehicles were moving from parking spots in those blocks around the Capitol.
"Vehicles don't move very often," Mixdorf said.
Elementary school neighbors
Trabert Hall, which CenterPointe hopes to convert into offices for staff and housing for its clients, is just several hundred feet from Saratoga Elementary School.
County commissioners should consider that proximity between a school and an agency that provides services and apartments to folks who use drugs and drink excessively and to registered sex offenders, says at least one Lincoln resident.
Commissioners last week agreed to negotiate with CenterPointe to buy the county-owned Trabert Hall, 2202 S. 11th St. 
CenterPointe officials told commissioners they hope to convert several floors of the building into housing for clients. The rest would be used for offices, counseling space and other CenterPointe programs.
The nonprofit agency provides counseling, housing and other programs for people with mental illness and/or drug and alcohol problems. And under the agency's housing-first program, clients are not required to abstain from drugs or alcohol. So they can be drinking or using drugs in those apartments.
The philosophy is to meet basic needs of people who are homeless, then encourage them to get help for mental health and substance-abuse issues. 
State law provides additional penalties for drug sales that take place within 1,000 feet of a school, but there is no law covering using drugs in proximity to a school.
"The idea that people are using drugs within a couple hundred feet of a school is just obscene to me," said Brad Johnson, who raised the issue with county commissioners.
Johnson also pointed out that some CenterPointe clients who use the agency's subsidized housing program are registered sex offenders.
Under city ordinance, registered sex offenders identified as sexual predators cannot live within 500 feet of an elementary school.
The school, which faces 13th Street, backs onto the Trabert Hall parking lot. 
CenterPointe would never establish a program that would violate the law or endanger other people, said Topher Hansen, CenterPointe CEO.
The agency has more than 260 apartments, some it owns and some it operates through subsidy arrangements with owners, Hansen said. So the agency can make sure a client who is a registered sex offender is not offered an apartment near a school.
CenterPointe is a good neighbor, Hansen says.
CenterPointe has apartments all over town, and 13 facilities that offer programs, including outpatient and residential programs, he said. CenterPointe has been doing this for 45 years in Lincoln, he said. "We are good neighbors to everyone. If ever a problem comes up, we deal with it; we rectify it."
Oftentimes it's the other way around. "CenterPointe clients are often the victims of crime, not the perpetrators of crime," he pointed out.
Several county commissioners, unaware until last week that CenterPointe allowed clients to use drugs or alcohol in subsidized apartments, have said they will take a look at the issue.
"It raises a concern, but I don't know if it is a deal-breaker," said Commissioner Bill Avery, who supported the sale when commissioners voted 3-2 to negotiate with CenterPointe.
Commissioner Todd Wiltgen said he had concerns about individuals who would be using illegal drugs and alcohol living that close to a school. "I think we need to take a second look at it and consult with law enforcement officials and the schools," said Wiltgen, who voted against negotiating with CenterPointe.
Wiltgen and Commissioner Deb Schorr wanted to sell the building, at a higher price, to a private developer who planned to convert the building to apartments.
$5 million more

Lancaster County Engineer Pam Dingman will need another $5 million in property tax revenue to do the work she thinks is important next fiscal year.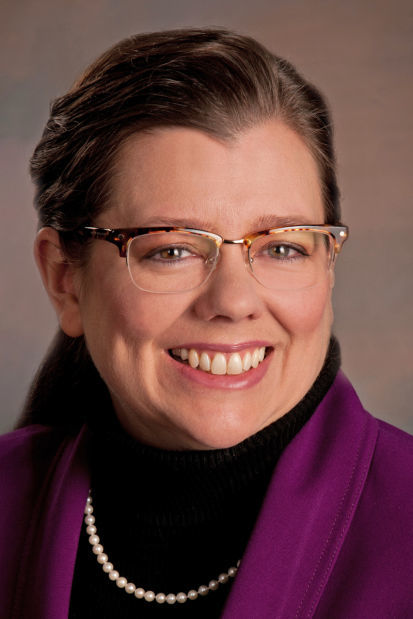 That involves paving eight miles, including 98th Street from Old Cheney Road to Van Dorn Street, and 162nd Street from U.S. 6 to Davey Road. It involves design work on seven projects, including Saltillo Road (27th to 68th streets), 68th Street (Hickman to Roca roads) and 98th Street (Holdrege to Adams streets), Dingman said as she laid out her proposed budget for the 2018-19 fiscal year. 
That $5 million would mean an additional 2 cents per $100 assessed valuation in property taxes, Wiltgen pointed out.
Property tax dollars currently make up about 59 percent of Dingman's annual $24.5 million operating budget.
Dingman's breathtaking request to the county board has become an annual event. Last year, the county board gave the engineer an addition $1 million in property tax revenue. Dingman had asked for $5.4 million more to keep up with county road and bridge needs.
The engineer has put together a task force to look at county road and bridge needs, the financing, and provide recommendations. But that task force report will not be available until after this year's budget decisions are made.