Critics of Chris Beutler contend the mayor used city staff and tax money to create a video about the budget, so his campaign could use it to raise money for his re-election bid.
City staff did create a video, in which Beutler explains the city's budget, using The Bay, a meeting place for young skateboarders, artists and musicians, as a backdrop. The city spent about $100 for rights to the music used in the video, said Rick Hoppe, the mayor's chief of staff.
And city staff posted the video on YouTube, making it public and available to anyone, including staff for Beutler's campaign, Hoppe noted. The campaign then posted the video on Beutler's re-election Facebook page.
The seven-minute video includes dozens of numbers and very little action. It's not exactly thrilling, except to budget nerds.
The video includes Beutler putting on a helmet for a skateboard ride. The video then ends with someone skating away.
But it's not the mayor.  Beutler said he didn't actually ride the skateboard.  
When I first watched that video at a budget conference for news reporters, I didn't immediately think, "Gosh, this would be a wonderful campaign video."
I did think, "This needs a little work if they want ordinary citizens to pay any attention to it."
But it is getting close to a city election season, and the mayor has announced he'll run for a fourth term, so everything becomes suspect.
Elected politicians heading into a re-election cycle will often schedule more news conferences, will promote themselves more rigorously on social media, and will begin looking at many potential proposals in light of how it might play in an election.
So it's fair to begin judging Beutler's public actions through an election campaign lens. But if Beutler wants to attract voters or contributions, he'll need a better video than this one.
Will parking garages become obsolete?
At the same time Lincoln is experimenting with a driverless shuttle this summer, the city is also talking about building two new downtown garages.
David Landis, Urban Development Department director, said a move to autonomous vehicles could make parking garages far less important in the future than they are today. In 10, 20 or 30 years, cities will be tearing down their downtown garages and building 15-story buildings, he predicted.
But today, Lincoln needs two downtown garages, he said. The city is considering a location across the street (kitty-corner) from the State Office Building and another at 17th and 18th, L and K streets.
City sales tax revenue could grow 
The recent U.S. Supreme Court decision authorizing states to collect sales tax on online purchases made by local residents could benefit Lincoln city government, which has a 1.5 percent city sales tax.
Lincoln could see an additional $938,000 to $2.4 million each year in sales tax revenue if the state requires all online retailers to collect state and city sales taxes for residents buying online. 
That's about a 1 to 2 percent increase in sales tax revenue — not an enormous increase, but still real money.  
The city has no special plans for that potential revenue growth.
The city's top priority is to make sure its services can be responsibly sustained to meet the needs of a growing city, is the official response from Hoppe, the mayor's chief of staff.
Budget adds money for recycling sites 
Cardboard recycling has doubled at city recycling sites since the landfill stopped accepting corrugated cardboard in April, putting pressure on those sites.
So the mayor's proposed budget includes $300,000 in additional funding for recycling, increasing the budget for recycling sites by about 50 percent, not counting the effect of state grants.
The additional money will be used to grow the drop-off program, perhaps by adding bins at existing sites or by creating additional recycling drop-off sites.
The city's eight super-busy recycling sites are at University Place, Russ's Market in Havelock, Fire Station 14 in the Highlands, Leon's Food Mart, Union College, East High School, Russ's Market at 33rd Street and Nebraska 2, and Super Saver at 27th Street and Pine Lake Road.
Council OKs Kindler Hotel expansion 
The Lincoln City Council unanimously approved an expanded hotel project at 11th and P streets, which includes the Kindler Hotel and the Commercial Club building next door.
The project costs have grown from less than $12 million, including about $1.6 million in tax-increment financing, to about $19 million, including nearly $2.6 million in TIF.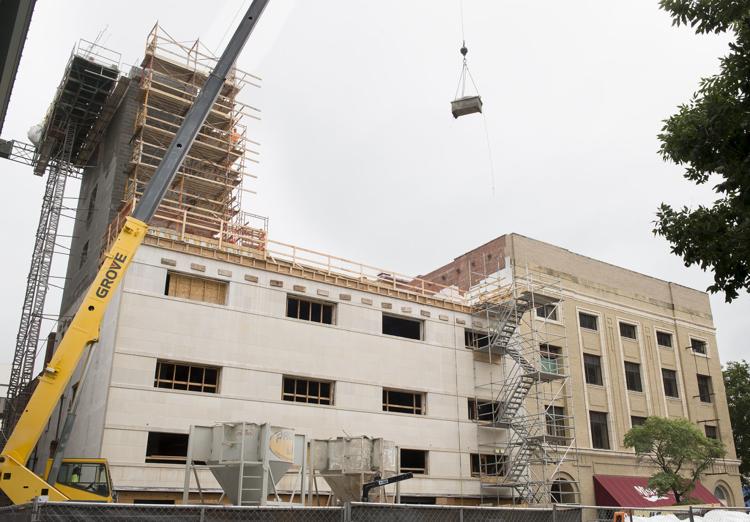 The updated project now includes an additional 11 hotel rooms, a fitness center and business center for the Kindler on the second floor of the Commercial Club, as well as the addition of two floors to that building.