The West Haymarket Joint Public Agency remains on good financial footing to make its ballooning Pinnacle Bank Arena-related debt payments in the coming years, Lincoln's Finance Director Brandon Kauffman said.
"We have enough funds to date and will continue to in the future," Kauffman said last week at a meeting where the three members passed the agency's budget for next year.
The JPA's annual bond payments will increase $7.7 million over the next three years, Kauffman said, a gradual rise from $16.7 million in the next year to $24.5 million in 2021-2022.  
The JPA, a partnership between the city and the University of Nebraska, built the arena, parking garages and related street system and is paying off the more than $353 million in bonds that come due in 2046.
Kauffman projected the agency — which is primarily funded by the occupation tax on restaurant and bar food and beverages, hotel rooms and rental vehicles — will have a $5 million surplus in the next year. 
At the end of July, the JPA had a surplus of $2.9 million and more than $42 million in its reserves.
Factored into the $29.5 million in spending for next year are two arena equipment upgrades, the $236,000 replacement of outdated videoboard controls and the $850,000 installation of LED lighting in the arena bowl.
As it stands, operations of Pinnacle Bank Arena were poised to finish the fiscal year in the black, Kauffman said. 
But that comes with an asterisk. 
The JPA continues to send about $1.8 million back to the arena, a subsidy no one tied to the arena, its management or its governing authority wants to call a subsidy. 
That financial aid consists of about $1.2 million of long-term advertising revenue the JPA sends back to the arena and a so-called "operating increment" of $600,000. 
Arena operations were originally supposed to be self-supporting and City Council members approved the initial contract with SMG to run the arena after being told it wouldn't need a subsidy.
Arena and JPA officials have defended those annual transfers, saying the JPA was initially set up to receive more arena revenues than governing bodies with arenas in other communities receive. 
Structuring the flow of money that way helped protect city property tax and sales tax dollars and kept the bond interest rate low, they argued. 
Last year, the arena had a $224,000 surplus. 
The arena's bottom line at the end of June stood at more than $933,000, including the holdover of last year's surplus, according to documents released this month. 
It operates on the same fiscal year as the city, which begins a new budget year Sept. 1.
Longtime commissioner leads charge
Larry Hudkins cast a vote in 2005 that doomed an effort to enact a Lancaster County wheel tax for road improvements. 
Tuesday, the former Lancaster County commissioner led the charge against a new effort for a county wheel tax during a special presentation before the County Board.
The creation of a joint public agency involving Hickman, Waverly and Lancaster County to levy the tax "deeply troubles" Hudkins because wheel taxes are inequitable, he said.
Supporters see the proposal as a solution to the wheel tax inequality between Lincoln and Lancaster County residents, whereby city dwellers pay the wheel tax for their own street repairs and pay property taxes to the county that fund county roads.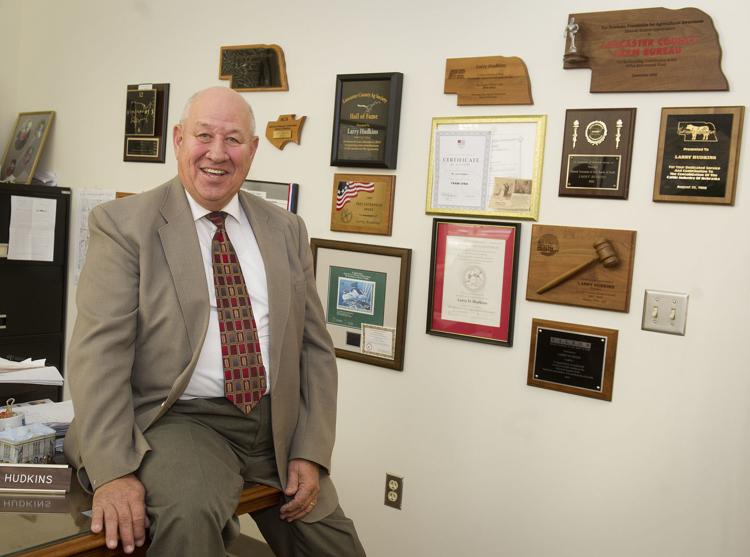 County residents may not pay a wheel tax like Lincoln residents do, Hudkins said, but they often need to come to Lincoln for commerce and their purchases support Lincoln road improvements.
"Virtually everything we buy we're paying city sales tax on," said Hudkins, who lives and farms near Malcolm.
This is an extension of property taxes, he said, and it doesn't capture any tax contributions from Wahoo, Seward or Beatrice residents that commute to Lincoln for work and drive on country roads to get there.
You have free articles remaining.
Like Hudkins, a series of farmers voiced concerns about a new tax, with some saying they own and register more vehicles than most city folks. 
And it's coming at a time when farmers are seeking property tax relief at the state level, several said.
Many said they recognize the need for funding to address closed bridges and roads in ill repair, but a wheel tax isn't the answer.
So far, attorneys from the county, Hickman and Waverly have not drawn up a JPA agreement needed to formally adopt the wheel tax. 
In total, nine farmers hailing from all areas of the county raised concerns.
About two dozen sat for that portion of the day's meeting, but they didn't stick around for a budget hearing that followed. 
The County Board in that hearing voted to adopt a budget that raises the property tax levy.
Little Free Library launched
Judicial assistant Kathy Phillip has worked in Lancaster County's courthouse for 28 years and seen how people dread coming there. 
So after she collected donated books for a fundraiser earlier this year, she got an idea to bring kindness and gentleness to 575 S. 10th St. in the form of a Little Free Library.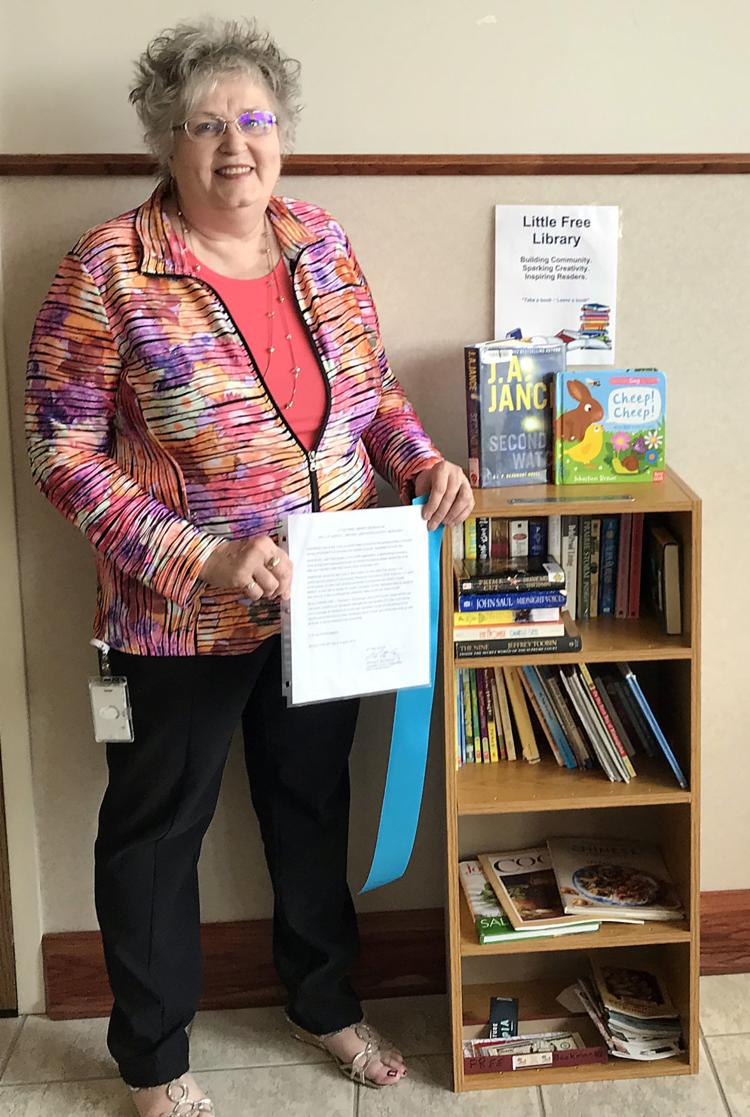 She pitched the idea to the Public Building Commission, the joint-government agency that oversees local government buildings such as the Hall of Justice.
"It was 'yes' right away," Phillip said.
So she got an unused county bookcase out of storage and collected book donations, and on Friday, Lancaster County Judge Thomas Zimmerman read a proclamation dedicating Little Free Library No. 90807 on the second floor of the courthouse. 
There's cookbooks and children's books, a book on the U.S. Supreme Court, a Danielle Steel novel, magazines and free bookmarks.  
Courthouse visitors are invited to take a book and share a book at the bookcase, which is off the elevator bay under the monitor people use to find their courtroom and the ATM. 
She hopes to see other courthouses follow Lancaster County's lead. 
At the very least, she hopes to make the courthouse a little brighter, she said.
"Well, maybe this makes it a little nicer, makes it a little friendlier, more accessible," Phillip said. 
Fast takes
100% — The city's share of transports for people with disabilities in the Handi-Van program after its contract with Transport Plus ends in January. City officials say program customers will not notice any difference in service after the city takes over all the transports in a cost-saving measure to help balance the budget.
$796,207 — The projected expenses for the Handi-Van program in 2019-2020 following the end of the Transport Plus contract. Salary costs for the transportation program would rise 312% with the planned hiring of seven new drivers to expand the service, but the city would get rid of about $1 million in contractor expenses. 
27 of 2,200 — The number of snow removal complaints last winter that resulted in the hiring of a contractor to clear icy, snow-covered residential sidewalks. A woman won't have to pay the $304.70 bill the city sent her after she protested it Monday night. 
Quotable — "Regardless of who the applicant is, we've gone through the necessary steps, the review process, for all the different parts of this approval that we would do for any applicant." — City-County Planning Director David Cary on the still unnamed, massive data center project being considered for just north of Interstate 80 off North 56th Street.