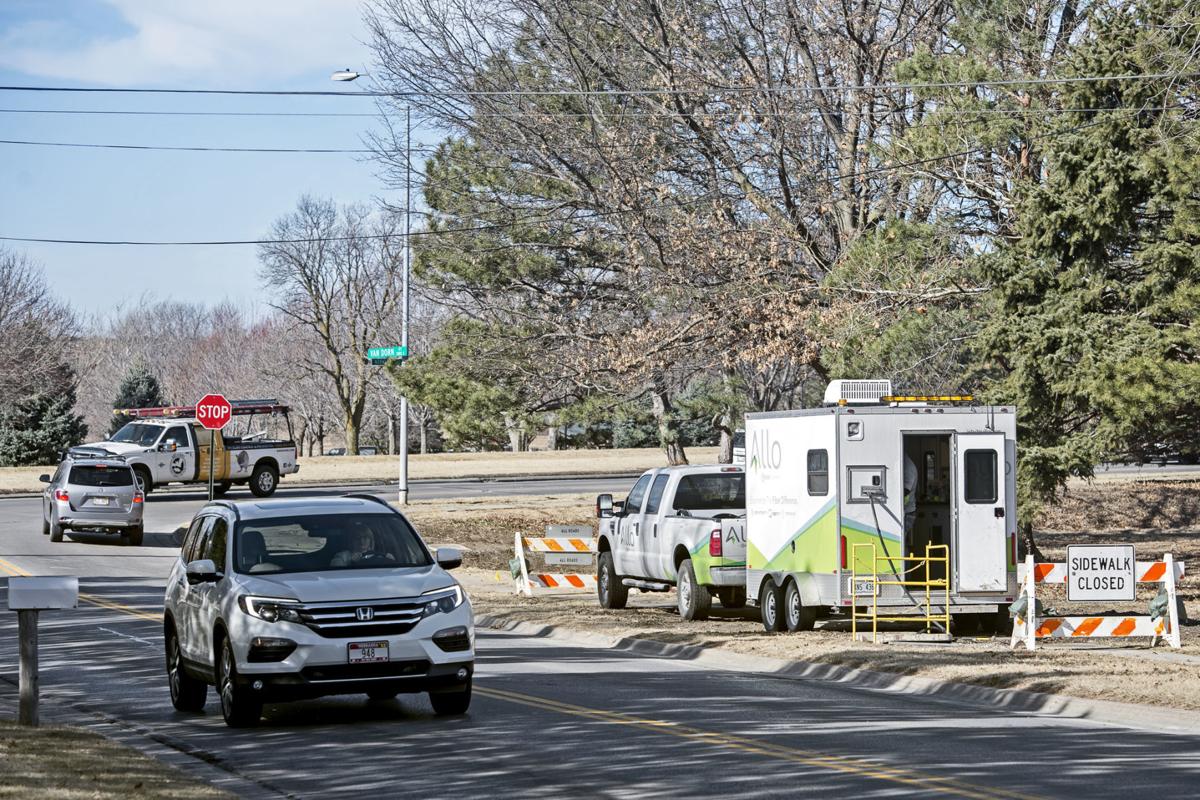 Allo Communications is nearing the end of its three-year trek through Lincoln's backyards, laying fiber that brings customers internet, television and telephone services.
One clear sign is found in the Lincoln Electric System budget for 2019. Staff has budgeted $2.2 million less for line-location services, anticipating LES won't have to locate underground electric lines for Allo next year.
Allo will be substantially done with boring and conduit placement by mid- or late December, said Brad Moline, president of Allo Communications. 
That means the disruptive part of the company's construction will be done, he said. There are still about 3,000 to 4,000 homes where the company will have to go back and find a way to get fiber to them, he said. 
In the past three years, the company has put in enough fiber in Lincoln that, laid end to end, would stretch from Seattle to Miami. 
Moline believes the Lincoln project, connecting homes and businesses in a city of 280,000 in a competitive environment, is the largest fiber project of its kind in the country.
And he's glad the hassle part of the job — going behind people's homes, slowing down their drive home — is done.  
Moline said he likes the next part of his job — the 35 years the company gets to serve the community as part of a franchise agreement. 
Allo competes with Spectrum and Windstream to provide internet, telephone and television service in Lincoln. 
Gun violence talk resumes
Women who believe Lincoln should have a safe gun storage law showed up to speak during the Lincoln City Council open-microphone period Monday night for the fourth time.
During the time set aside for public comments, five women laid out the basic arguments for requiring all gun owners to lock up their guns in their homes. 
They pointed out the recent theft of guns from cars in Lincoln and incidents across the state where teens and younger children shot others.
And they castigated Councilman Jon Camp, who, at a previous meeting, asked each of the women testifying if she were a member of Betsy Riot, a radical group that uses satire, theatrical protests, graffiti and profanity to make philosophical and political points. 
At an earlier meeting, Camp suggested the women's time would be better spent educating others about safe storage than trying to convince the council to pass a law.  
Monday, the women called Camp a bully and referred to him as "Mr. McCarthy" because of his Betsy Riot membership question and the fact that the dais, where council members sit, is higher than where speakers stand. 
This is "about women with words you don't want to hear. We are not going to sit silently in the face of that bullying," said Sarah Zuckerman.   
One teenager pointed out she was not born when Camp was first elected to his council seat 19 years ago and promised to run against him and beat him if he is still on the council when she is a young adult. 
Before the public-comment session began, Councilman Bennie Shobe, chair of the council, asked everyone to be respectful and suggested council members refrain from questions.
So far no one on the council has stepped forward to offer a safe gun storage ordinance. 
You have free articles remaining.
Nebraskans Against Gun Violence, the group organizing the speakers who talk at the meetings, say it will continue bringing the issue to the council. 
On its Facebook page, the group says, "We aren't going away until gun violence and the politicians who enable gun violence do."
Who voted in Lancaster County?
Though Democratic candidates did well in Lancaster County during the recent election — getting the most votes in every contested race, from county through state offices — more Republicans actually voted.
And some of my Republican friends want everyone to know that more Republicans voted than Democrats in Lancaster County.
So here are the numbers from the Lancaster County Election Commissioner.
So it wasn't the voters who are registered as Democrats in Lancaster County who carried the day. Many Republicans, independents and Libertarians also voted for Democratic candidates.
Yard signs to the landfill?
The names of some of your favorite candidates may end up in the dump. 
There seems to be a little confusion about whether or not those election yard signs can be recycled.  
There are two kinds of signs: those made of a corrugated plastic and those made of a plastic-coated material, like milk cartons. 
There is confusion about both.
The signs made of corrugated plastic can be recycled, according to Frank Roark, production manager at Goldenrod Printing, whose company prints those signs for candidates. They are a number 5 plastic, he said.
Donna Garden, assistant director of city Public Works and Utilities, thought the plastic signs might not be recyclable, depending on what number they are. 
City sites recycle plastic 1 through 5, so it may be safe to put them in the containers for plastic at city recycling sites.  
Roark believes the plastic-coated signs may not be recyclable. 
Garden believes they can be recycled and suggests putting them in the cardboard containers, along with cereal boxes, at city sites.  
County Engineer Pam Dingman has some novel ideas for recycling the plastic candidate signs. 
"They make great high chair mats, holiday shoe mats, under the litter box mats.  I even had a supporter tell me he used them to insulate his attic," Dingman said in a Facebook post.