City crews aim to rehab 300 blocks of Lincoln's residential streets annually once the new sales tax revenues earmarked for street repairs begin rolling in, Mayor Leirion Gaylor Baird and city transportation officials said Thursday.
Public meetings in each quadrant of the city over the next two months will help an oversight committee and transportation officials prioritize first-year projects, expected to be announced in October, Gaylor Baird told reporters at her first news conference.
"During the first two years, the majority of resources will be directed to residential areas, and we will make street improvements in every quadrant of the city," she said. 
The quarter-cent sales tax collections begin in October and are projected to generate $13 million annually that city transportation officials say will help the department tackle three times as many projects as the current budget allows. 
Nearly two of every three city streets need repair work, like patching and street sealing.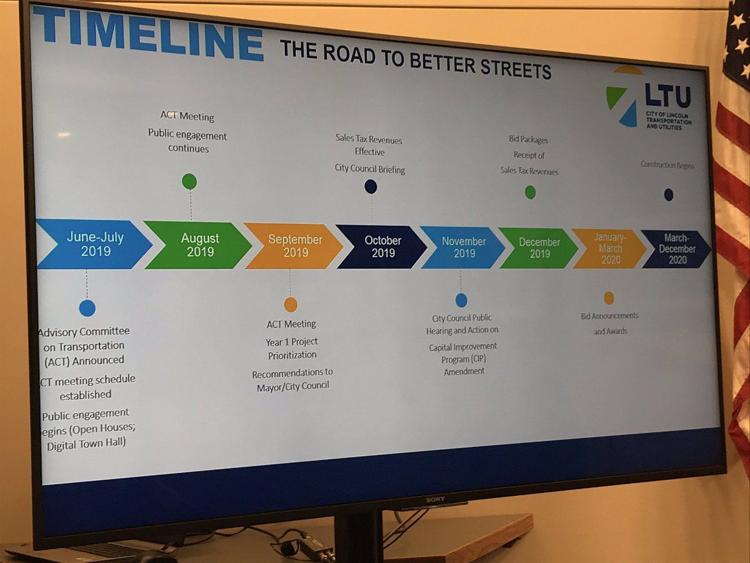 About three of every 10 need rehabilitation work, where crews grind down the street and add new pavement on top. And just over one in every 10 streets needs replacing. 
"One (challenge) is just making sure people can move through our city with ease and comfort in the midst of construction, and we know that that's a challenge any time we're doing road repairs," the mayor said.
Because of the ballot language, at least a quarter of all the sales tax money must be put toward new, nonresidential street construction, and at least 1.5% must be set aside for planned improvements at 33rd Street and Cornhusker Highway. 
The first bids on street projects tied to the sales tax revenue will be in December, with the first work starting in the spring of 2020, according to a timeline released Thursday.
The new mayor said she's already reached out to some residents and groups about members serving on the Advisory Committee on Transportation. She hopes to announce members of the oversight committee, which could be around a dozen people, next month.
You have free articles remaining.
Keep reading for FREE!
Enjoy more articles by signing up or logging in. No credit card required.
She wants to have neighborhoods well represented on the committee and also have input from public school representatives.
Anyone interested in serving on the committee should email LTU@lincoln.ne.gov or write to Lincoln Transportation and Utilities, 555 S. 10th St., Lincoln, 68508.
The committee's input will go a long way in determining projects for the sales tax revenues. Lincoln Transportation and Utilities will have an eye on picking and pairing projects to stretch the funds as far as possible and complete the work efficiently, Transportation and Utilities Director Miki Esposito said. 
In the first two years, the focus will be on residential street projects that can be bundled so the work doesn't leapfrog across the city and minimizes disruptions to neighborhoods, Esposito said. 
In later years, the city hopes to pick street rehab projects that can also pair with other infrastructure improvements, like work on water mains or the stormwater system. The sales tax is in place for six years.
One of the first pieces of constructive feedback the late Coby Mach of the Lincoln Independent Business Association gave Gaylor Baird focused on a sidewalk Mach saw that had been torn up weeks after it was paved, she said. 
"This kind of bundling is addressing those kinds of concerns," Gaylor Baird said. 
Already this spring, the city has slated or started repair work on 96 blocks of residential streets funded through wheel tax money in the existing budget, she said.
That includes concrete repairs in the Pine Lake neighborhood and rehabilitation work on streets in the West A and West Cornhusker neighborhoods, according to the city.