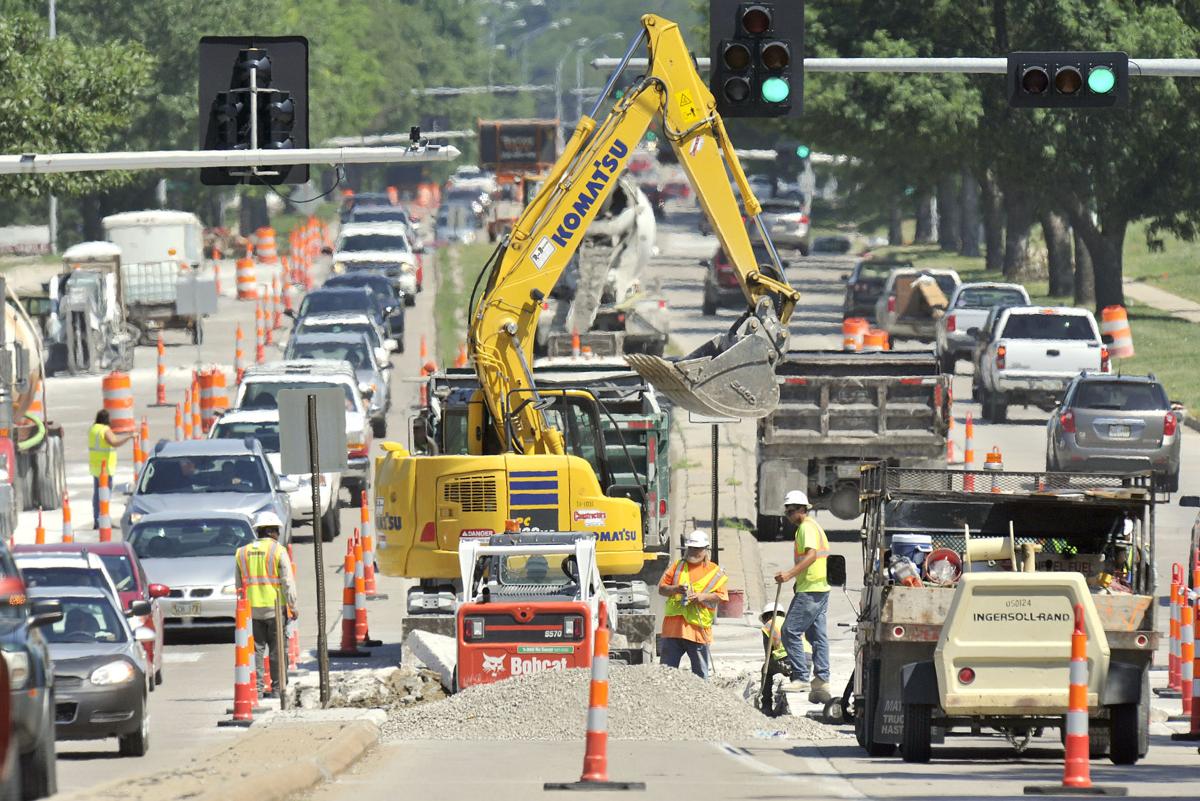 Mayor Chris Beutler says his two-year budget plan will continue aggressive street construction, expand bus service and speed up the replacement of water mains. 
"A growing community is a community that invests in infrastructure," he said Wednesday at the first of two news conferences set for this week.
The mayor offered details on the transportation, water and wastewater infrastructure portions of the budget Wednesday. On Thursday, he'll discuss public safety.
"The budget offered this week devotes more resources than ever before to transportation and water infrastructure," Beutler said. "It is the right investment at the right time to continue Lincoln's amazing record of economic success and strong, revitalized neighborhoods."
He did not address what the proposals will cost property taxpayers and water ratepayers. Those details will come this weekend, when his office will release its entire two-year budget plan, said Budget Director Steve Hubka.
City Council members were quick to point out what's missing.
Councilman Roy Christensen said he likes what he has seen so far, including a boost for the water main replacement program, which the council recommended, and a year-earlier start to widening West A Street. But he's reserving judgment until he sees the entire plan, including the cost and any tax or fee increases.
"We can all get along together until we talk about the money," he said Wednesday afternoon.
Those comments were echoed by other Republican council members, whose complaints about the lack of information began in spring.
"(The) mayor is showing only part of the elephant," said Jon Camp. "And we cannot really tell what kind of animal we have."
Councilwoman Cyndi Lamm said she liked the ideas being presented, but she wants to know how they fit within the full context of the budget.
"It would be much more transparent to release the entire budget at one time," said Councilman Trent Fellers.
The four Republicans represent a majority of the seven-member council and could make changes to Beutler's plan.
Democrats also said they would reserve judgment until the full proposal is unveiled.
But Councilwoman Leirion Gaylor Baird said she was pleased with the mayor's focus Wednesday.
"This reflects a lot on what we heard people say they want."
Beutler said his two-year budget proposal focuses on keeping Lincoln safe, providing transportation and infrastructure that support growth and taking care of what the city already has.
He proposes spending $56.2 million and $58.2 million on street construction over the next two fiscal years, slightly more than was earmarked during the current two-year budget cycle. That includes saving money for the city's share of the South Beltway, with construction set to begin in 2020.
Beutler acknowledged motorists' frustration with summer roadwork but indicated the pace will continue.
"I recognize that moving so aggressively on street construction requires patience. But we have to keep our eyes on the prize: smoother streets for better traffic flow and increased safety."
His budget proposal includes $15.5 million for arterial street construction and improvements over the next two years, and $5.4 million for residential improvements.
Although Beutler mentioned road projects across the city, he made special note that construction on West A would begin in 2019, a year earlier than planned.
"West A was built as a county standard road, but with west Lincoln's development, the street now serves a rapidly growing traffic load. West A needs to be able to accommodate that progress as quickly as possible."
In addition, drivers in north Lincoln would see repairs begin sooner than expected on North 33rd and North 48th streets. And work will quicken on North 63rd Street between Judson and Fremont streets, a key route past Pershing Elementary.
In south Lincoln, Yankee Hill Road, Pine Lake Road, Rokeby Road and the intersection of 14th Street, Warlick Boulevard and Old Cheney Road will all be improved as part of the city's six-year capital improvement plan, Beutler said.
The increased roads spending included in his proposal is due in part to new state legislation that will add $3.9 million over the two-year budget period.
Beutler's budget also would add five new StarTran bus drivers, allowing later service on seven city routes: South 13th, North 27th, Havelock, Star Shuttle, O Street, Arnold Heights and SouthPointe. South 13th and North 27th also would see more frequent bus arrivals.
The proposal also calls for adding three more StarTran employees by using savings in overtime pay, the mayor said.
"The changes will help us provide a more complete bus system that better meets the needs of a growing community," he said. "It will bolster employment for those who do not work 8-to-5 and need later bus hours to hold a job. Waits for buses will be shorter, encouraging more people to use StarTran for shopping, medical appointments and school."
Beutler's budget plan also calls for replacing 7 miles worth of water mains each year instead of 5½, a 27 percent increase, by adding three city workers. The mayor didn't say whether the change would affect city water rates.
The City Council will examine the budget and determine changes over the next weeks. It is expected to approve a tentative budget for the two-year period on July 25.
A public hearing on that plan is set for Aug. 8 at 2:30 p.m.