Kyle Clouston started running the tree-lined trails of Wilderness Park with his Lincoln East High School cross country team 20 years ago, and he never really left.
The ultra-marathoner trains there three or four times a week, sometimes logging 50 miles in a single session.
"It's secluded, in a good way. You don't have to worry about road crossings and other traffic. I see more deer out there than I do people."
But he's been running into closed bridges lately, making it difficult to piece together longer loops from the park's trail system.
"My route has had to alter," he said. "It's forced me to shorten the route or explore alternatives."
The 1,470-acre park on Lincoln's southwest side hugs Salt Creek and its tributaries, creating a 7-mile ribbon of trees and trails stretching from Saltillo Road to Van Dorn Street. The winding waterways keep the park wild — nurturing the woods, attracting animals and making straight lines impractical. But they also require a series of bridges to keep the park connected.
"The park is pretty big but the stream cuts right through it," said Kena Ludemann, who runs, bikes and walks in Wilderness Park with her chocolate lab mix, Barley, and has adopted a 4-mile stretch of trail. "Being able to get from one side to the other side is very vital to enjoy the park."
That's been a challenge for the city, which is on the verge of replacing one bridge, repairing a second and removing a third.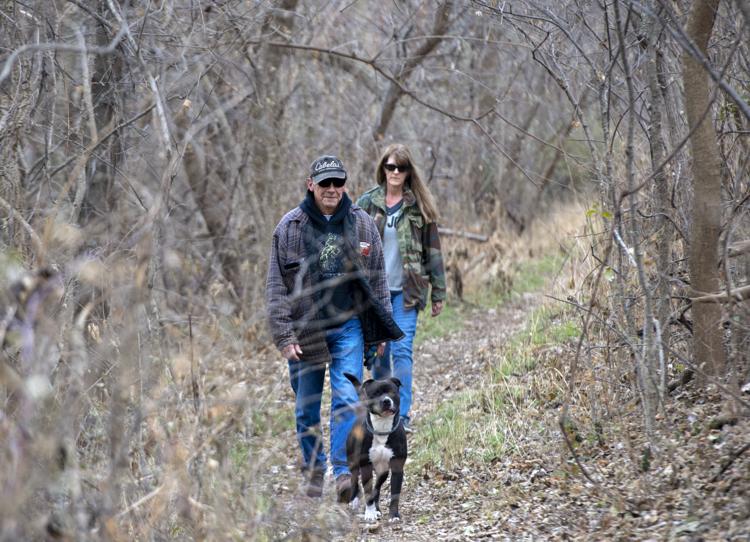 And in the middle of that, it's launching a long-term look at the future of the park — and the bridges, low-water crossings and reroutes needed for users to move from one side to the other.
"The main goal is to try to keep north-south connectivity through the entire park," said Sara Hartzell, a planner with the Lincoln Parks and Recreation Department. "We'd like to be able to start at the north end and go way down to the south end and not be disconnected."
But because of broken pilings, missing rails and higher-than-expected bids on bridges, that's not possible right now.
Bridges out
The city had planned to be finished with the southernmost bridge, a 120-foot span over Salt Creek near Saltillo Road, this year. But it hasn't even started construction: Bids came in higher than the $430,000 cost the city had budgeted.
So the city increased its budget and rebid the project last month. It now plans to award a contract and begin work this winter, Hartzell said.
The original Wilderness South Bridge collapsed nine years ago after a group of children jumped on it in unison, trying to make it sway.
Northwest of the 14th Street trailhead, the Yankee Hill Horse Bridge has been closed since 2017, after the railings disappeared and an inspector found too much bounce.
"That one is one where there is no way to reroute — you either have to go over the tributary or through it with a low-water crossing," Hartzell said. "We have to do something there."
The city was set to fix the bridge earlier this year — and had the engineering and permits in hand — but those bids also came in too high. It will try again this winter, with an estimated cost of $57,500.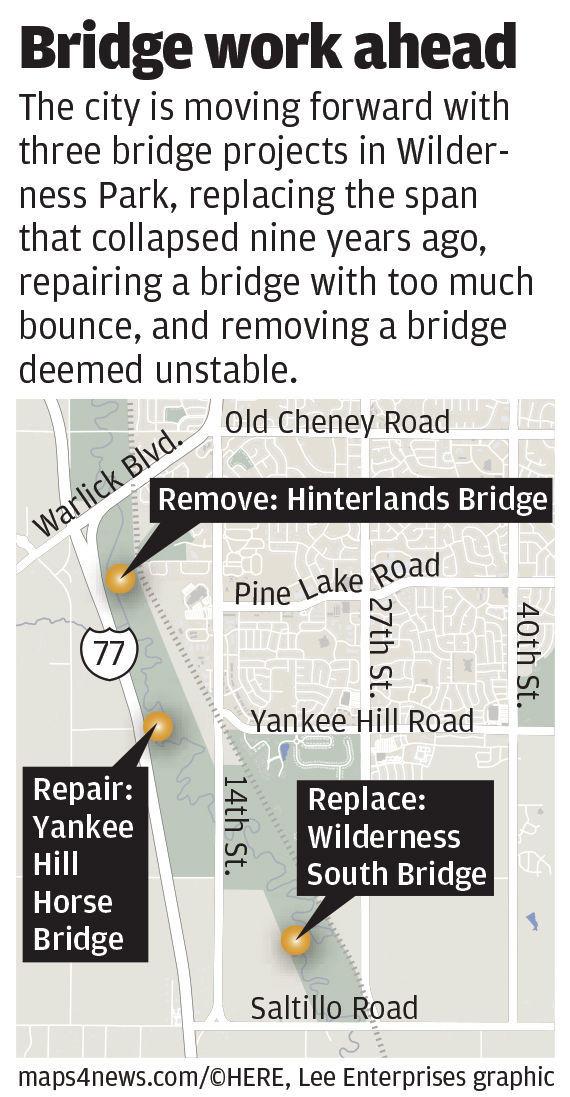 But the bridge causing the most concern for users is the Hinterlands Bridge, a 65-foot narrow walkway over a Salt Creek tributary near the old Rock Island railroad trestle. The bridge connects the Old Cheney Road and South 14th Street trailheads on the park's east side, one of the most popular stretches of single-track.
Earlier this fall, an inspector was looking for rot in one of its pilings, hitting it with his hammer to listen for hollow sounds.
"And it snapped and displaced immediately," Hartzell said. "Not only was the piling rotting, it was under enough stress that when it snapped, it shifted a good eight or 10 inches."
You have free articles remaining.
The city closed the bridge, determined it couldn't be repaired and hired a contractor to haul it away.
And it has no immediate plans to replace it, she said. Officials haven't taken a hard look at the site yet, but it does have a couple of strikes against it: The stream is shifting, and erosion already required the city to extend the bridge nine years ago, and its location makes it difficult to get construction equipment to the area.
For now, the city will blaze a detour to a tributary bridge on the Jamaica North Trail — a former rail bed paralleling the park — and another tying back into the single-track.
Crossing the park in the future
The immediate bridge problems are playing out against a bigger backdrop — a rewrite of the park's master plan.
When the plan was last updated in 2000, the city didn't have the adjacent Jamaica North Trail, and there were plans to extend Yankee Hill Road through the park. "There were lots of things going on then that have changed," Hartzell said.
The new update will focus on user experience, trailheads, trails, signs and stream crossings — either bridges or low-water crossings, paths that take users down the bank and back up.
It will begin that part of the discussion with some give and take at a public meeting Thursday.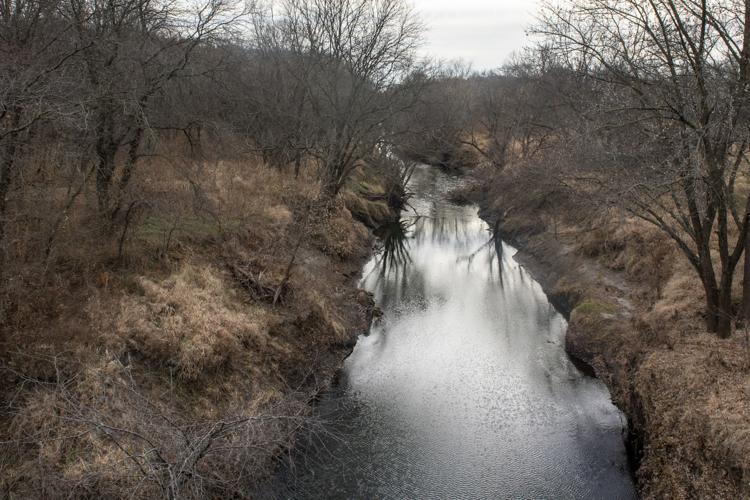 "We want to have this conversation with folks, give them information so they understand what we've got to do and think about when we're planning maintenance and construction of our bridges."
But it also wants to hear from the park's users, she said. "So we can get input from them on what they think is important."
And park users have opinions. Clouston called the nearby Jamaica North Trail one of Wilderness Park's best friends — and enemies.
It makes it too easy for the city to lean on it, like a crutch, rerouting trails out of the park instead of addressing problem bridges.
"That takes away from the continuity of the trails," he said. "My preference is to get on the Jamaica as little as possible."
And Ludemann is concerned the city thinks too big when it replaces bridges — making them wide enough for maintenance vehicles — when it could just replace a foot bridge with a foot bridge.
Not quite true, Hartzell said. The city isn't going to build every new bridge with a 10-foot-wide deck. But gone are the days of parks employees building bridges with simple plans.
Even a smaller bridge needs the engineering behind it to make it safe. The basic rule? Imagine a person standing on every square foot of a bridge. Now imagine them jumping at once. A new bridge must withstand that, she said.
"So if we do replace a 3-foot bridge with a 3-foot bridge, it might still be heavier to meet that requirement."
She expects those concerns, and more, to surface at Thursday's meeting. The city will gather feedback, draft guidelines and present them to the public in January. Then, based on what it hears at that meeting, it will redraft the guidelines, which will ultimately land on the desk of the consultant working on the master plan.
It's too soon to say when that work will make its way into the park, she said. "But it will give us a prioritized list of where we can make the biggest changes the fastest."
Come to the meeting on Thursday:
The Parks and Recreation Department is hosting a meeting Thursday to develop guidelines for bridges and other stream crossing structures in Wilderness Park. All park users are welcome to contribute.
Woods Park Place, 3131 O St., lower-level training center.
A follow-up meeting will be in January.