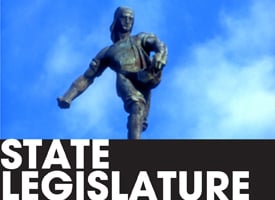 In a session in which money matters, a debate by the Legislature on a proposal for dealing with Whiteclay alcohol sales came down ultimately to that question.
Senators advanced a bill (LB1002) Monday to second-round debate, but suggested taking out the $250,000 that would have been promised from the general fund to begin solving alcohol-related problems in the Whiteclay area.
The bill, introduced by Sen. LeRoy Louden of Ellsworth, would allow for counties, villages or towns near Whiteclay to apply for state assistance for economic development, health care and law enforcement programs to battle those problems.
Originally, the bill would have diverted liquor sales tax money. But senators accepted an amendment that would transfer $250,000 from the general fund each year to a grant fund, and allow for seeking other grant money, donations and gifts from private and public sources.
The state Commission on Indian Affairs would administer the use of the money in such communities as Chadron, Gordon, Hay Springs and Rushville.
A number of senators talked about the need to do something, even if it's not enough, even if it's just a start.
And even if the state of South Dakota and the Oglala Sioux nation itself aren't contributing at this point.
There is a benefit to the state of Nebraska in those alcohol sales, said Omaha Sen. Steve Lathrop.
"We're complicit in this," he said. "The reality is we're the suppliers and we have a hand in what's going on there."
Sen. John Harms of Scottsbluff said Whiteclay requires a long-term solution.
"I don't think we can continue to tolerate this. It has to be some of the worst conditions of any place in this great state," he said. "We would not tolerate this if it was not close to the reservation."
Sen. Dennis Utter of Hastings said the bill offers no plan to solve a problem that is decades old.
"Right at the moment I think we're throwing money at the problem and it's kind of feel-good money," he said. "We're doing this at a time when, frankly, we don't have the money. ... It seems to me it's the wrong time. It's the wrong thing."
Sen. Lavon Heidemann, chairman of the Legislature's Appropriations Committee, said there is a need, without a doubt, to do something about Whiteclay. But there's the issue of making up another $30.5 million in budget deficit this year and then looking at a potential $632 million shortfall in the next two-year budget.
"I will say right now when you look at the challenges that we have before us in the out years, we're not going to be starting new program; we're going to be cutting them, unfortunately," he said.
At the same time, $250,000 annually wouldn't be enough to be effective in the Whiteclay area, he said.
"When you're looking at that kind of commitment," he said, "excuse me, but you'd better start throwing out $1 million or $2 million to have any kind of dent."
The way to address the significant underlying problem on the Pine Ridge reservation and Whiteclay area, to make a difference, is through education, said Sen. Kate Sullivan of Cedar Rapids.
Passing this bill, even if there is no money attached, would send a message, she said, that Nebraska is not going to overlook Whiteclay any longer.
Sen. Galen Hadley of Kearney read a response to a Journal Star article on the subject from David Rooks, a Rapid City Journal columnist and tribal member.
For every tribal member who thinks the tribe should just legalize the sale and consumption of alcohol on the dry reservation, he said, there are 10 who want the status quo. Rooks spent two years himself "staring bleary-eyed over the counter of a beer cooler onto Whiteclay's benighted street," he said.
"It should be a source of shame for every self-respecting tribal member to be standing by expecting some, however well- intentioned, half-baked solution for Whiteclay from the federal government or state legislatures," he said.