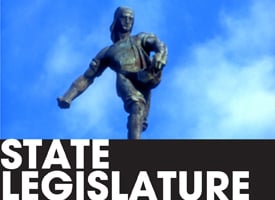 A committee of the Nebraska Legislature heard from experts on constitutional law and pain management Thursday as it sifted through the question of whether the state should ban abortions as early as the 20th week of pregnancy.
Supporters and opponents of the bill (LB1103) introduced by Speaker Mike Flood filled the hearing room. For the first time, those attending had to pass through a metal detector at the door.
The bill focused on a belief that fetuses can feel pain. It would prohibit abortion unless a physician determines the probable gestational age of the fetus. If that age were 20 weeks or older, an abortion would not be allowed except in the case of a medical emergency of the mother.
Any physician violating the law could be charged with unprofessional conduct and with a Class IV felony, punishable by as many as five years in prison and/or a $10,000 fine. The woman would not be penalized.
The state has an interest in reducing or preventing actions that inflict pain, Flood told the Judiciary Committee.
But opponents said the bill fails to state a constitutionally recognized state interest, which is preserving potential life and protecting the health of the woman.
If the bill passes, Nebraska would be the first to outlaw most abortions past 20 weeks of gestation based on the pain of the fetus. Now, it does not allow abortion after the time a physician determines a fetus has reached viability, unless it is to save the mother's life or preserve her health.
Nationally, about 1 percent of abortions are performed in or after the 21st week of gestation and 3.5 percent between the 16th and 20th weeks, according to the Guttmacher Institute.
Dr. Ferdinand Salvacion, an anesthesiologist and pain management specialist of Springfield, Ill., said that although no one can know the pain experience of a fetus, the physical structures are in place for a fetus to feel pain. Some studies show that to be the case as early as 12 to 16 weeks.
They show normal pain responses such as hormone release, electrical activity, behavior and an increase in heart rate and blood pressure.
Teresa Collett, law professor at St. Thomas School of Law in Minneapolis who has assisted in defense of state abortion laws, said much has changed in fetal medicine since the 1973 Roe v. Wade decision that legalized abortion. Development of unborn babies can be shown in detail, surgery can be done in the womb and studies have pointed to the existence of fetal pain.
This bill, she said, would have a strong chance of prevailing in any constitutional challenge.
Caitlin Borgmann, constitutional law professor at the City University of New York, said she thinks the court would have an easy time striking down the bill without even getting to the question of fetal pain because it is so clearly unconstitutional.
It bans abortions before viability, and the U.S. Supreme Court has said you can't do that, she said.
The health exception in the bill is too narrow in its restrictions, she said. The U.S. Supreme Court has never put limits on circumstances that qualify as health exceptions.
"This one is very, very narrowly drafted and would put a lot of women at great medical risk," Borgmann said.
Lincoln obstetrician Darla Eisenhauer said decisions women make on ending pregnancies after five months are "extremely difficult."
If a pregnant woman is diagnosed with cervical cancer, for example, it could be 20 weeks before she has enough information to make a decision on the pregnancy. There are also life-threatening conditions found in some fetuses after that time.
Tim Mosher, a St. Louis-area firefighter and emergency medical technician, testified that when his wife was pregnant in 2004 with a baby girl, an ultrasound showed at least four months into the pregnancy that the baby suffered from the most severe level of spina bifida.
Convinced, after extensive counseling and research, that their daughter would have much too pain and suffering and ultimately die prematurely, they decided to end the pregnancy. It caused them much pain, and they shed many tears, he said.
"Though much of my life represents pro-life, I understand the personal power and freedom of choice, and I will always be in support of this freedom," Mosher told the committee.
Get local news delivered to your inbox!
Subscribe to our Daily Headlines newsletter.