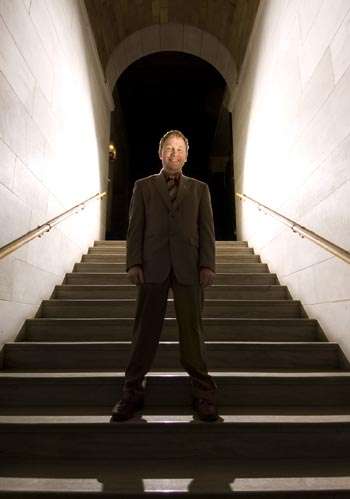 I'm quite at home in church. I'm very active in the church (Crossroads Wesleyan Church). I have a personal relationship with Christ and like to serve him. Like this weekend, I get to fill the pulpit.
I am very comfortable in a lot of settings. I'm a sports fanatic, so I like to watch NU football, baseball. I participate in football and basketball, different sports that way.
I've been coaching baseball the last few summers, in the town league with my son. Now he's moving up. I probably won't be coaching.
The one rule in my house: "Let's let our talk be edifying to the Lord. It's the same thing as saying, "If you can't say anything good, don't say anything at all. If it's not a positive thing, let's try not to say it, unless we are discussing something that has occurred that we need to correct.  Otherwise let's see if we can say edifying things."
I have a saying: If Mom's not happy, nobody's happy. I've got a beautiful wife.
We had a whirlwind relationship. We met in the middle of December. 1994. Went out in January, got engaged February 14 and married April 15. The same day … we got the ring, went to eat, I introduced her to my family.
Part of it was age. I was 32 ready to turn 33.
I actually had a prayer list that I wanted a tall blonde, thin Godly woman, able to have kids. I don't remember the whole list. But I had a number of things that I prayed for. And she met everything. So it didn't take long.
I believe I prayed her in.
(I wish I could) read and comprehend … faaast. It would be very handy down here. Those who can really read and comprehend fast have an advantage down here.
Best present last Christmas:  Probably getting to go skiing with my family this year. We left on Christmas Day. We really had to have some family time before the Legislature started. I've skied since 1980. It was our senior sneak. We went out the last day they were open in April, skiing in shorts.
Favorite cliche:  I'm a tightwad. … Or I'm cheap.  My kids agree when I say that. Now the vacation, I like to have a budget. That's a planned expense in the budget. If it's already planned and budgeted that's fine.
Most people think budgets restrain you, but it gives me total freedom. I had money left over, once I started telling my money where it was going, instead of it dictating what I was doing.
We don't watch TV. We own some TVs, but we have videos and things that way.
I listen to Christian music. I can't even say my favorite group or anything that way.
I think we need to have work permits with a separate ID that allows people (immigrants) to come in and easily get certificates. Then they need to learn the language, have a job, prove they've paid their taxes, prove they are healthy coming in and at the time they apply for citizenship.
We should have a timeline. It doesn't matter to me — three, five, seven or 10 years — before they can get citizenship. They'd have to prove they've paid their taxes, haven't been arrested and would be a benefit to society, then it's easy to get the citizenship.
I've got constituents that have been working on their citizenship for 20 to 40 years and still haven't got it finished. They own homes, own businesses, have driver's licenses, and they can't get citizenship because of the bureaucracy.
(We) would have a central data base. Type in their name, their ID, their work permit, and if it doesn't match, you can't hire them. If it matches, you hire them.
You wouldn't have to worry about illegals. If employers hire them without that match in the national data base, then you start out with $100,000 fine, then a million- dollar fine.
If you need the workers you increase the number of permits.
It's a very simple system. It doesn't require fences. It doesn't require additional border patrol.
One of the biggest things that is killing America is that everyone is sue happy. I think that comes from the mentality of the microwave society. Let's play the lottery. Let's get rich. Let's gamble. Let's do it quick. That mentality is killing America.
Instead of building wealth slowly and working hard and saving, we want to just have it now.
The lottery is a legal tax. I've chosen a tax rate of zero. I have never wasted a dollar and I don't plan on wasting a dollar, because it is legal taxation and I think taxes are too high.
I'm an extrovert. It serves me well in the Legislature because I get along with a lot of people and communicate with them.
I've never even think about it that direction – how it might work against me. Maybe sometimes I don't listen long enough before I speak. Or I'm quick to speak.
I'm probably a nonconformist. I have my values, what I believe is right and I don't let anybody talk me into something I don't believe in. Generally I stand up for what I believe. Just like the bills I introduced. Controversial bills don't bother me at all.
I try to read the Word every day. Pray every day. That is part of my daily routine.
I'm a wild and crazy guy. I like to go out and have a good time. I don't think there should be an automobile run under 140. I just love speed. Whooosh. When those dashed lines are solid and you can't tell you are driving between the lines because it is so narrow with speed, it's fun.
We're in the process of building our next home. I do a lot of my own work, save a lot of money. And put my personal touch on it.