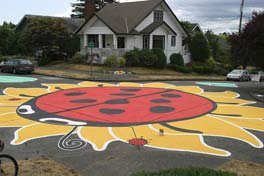 Some intersections in Lincoln could get a lot more colorful once the streets thaw out.
The Lincoln City Council considered an ordinance Monday that would allow neighborhoods to paint residential street intersections if enough neighbors agree.
Councilman Jonathan Cook proposed the legislation, modeled after a Portland, Ore., ordinance.
The idea was percolating in the 40th and A Neighborhood Association and simultaneously bubbled up in a meeting of city department heads, where Mayor Chris Beutler encourages his cabinet to bring ideas.
When Urban Development Director David Landis showed a Powerpoint about artsy intersections, he said the mayor said, "Ooh, I want one of those."
Next week, the City Council votes on the ordinance, which attracted about a dozen supporters to its public hearing.
Tracy Corr of the 40th and A Neighborhood Association said mobilizing neighbors to design, paint and maintain artsy intersections is a good community-builder.
"It's kind of like a block party with a beautification element," Cook said.
Corr's association is considering painting the intersection of 37th and F streets, which is near two schools.
No public funds would be used; the neighbors would supply the paint and labor.
Landis said the artwork has a calming effect on traffic and is usually colorful and abstract -- the kind of art that makes sense to vehicles coming from any direction so as not to be a distraction. No words or gang symbols allowed.
"We're looking for a quiet neighborhood street that the neighbors want to celebrate," he said. "I'm not sure we want people hitting their brakes to try to read the street."
He said in the 15 years intersections have been painted in Portland, they've had no problem with the art causing car accidents or attracting vandalism. Three murals painted on buildings in Lincoln (two on 27th Street, one on 13th) in recent years have been similarly untouched, Landis said.
For the intersection artwork, the four adjacent property owners and 60 percent of property owners within 300 feet would have to sign off on the idea, although exceptions could be made for absentee or unreachable owners. Interested neighborhoods would submit a proposed design (and $50 application fee) to the Public Works Department and possibly run it by other city committees, if relevant.
The neighbors also would be responsible for maintenance.
"They do wear out," Landis said of the murals. "They need to be revamped or in time they'll just be worn away."
Which is another opportunity for neighbors to get together, he said. The proposal was supported by NeighborWorks, the Lincoln Arts Council and the director of the Stronger, Safer Neighborhoods program.