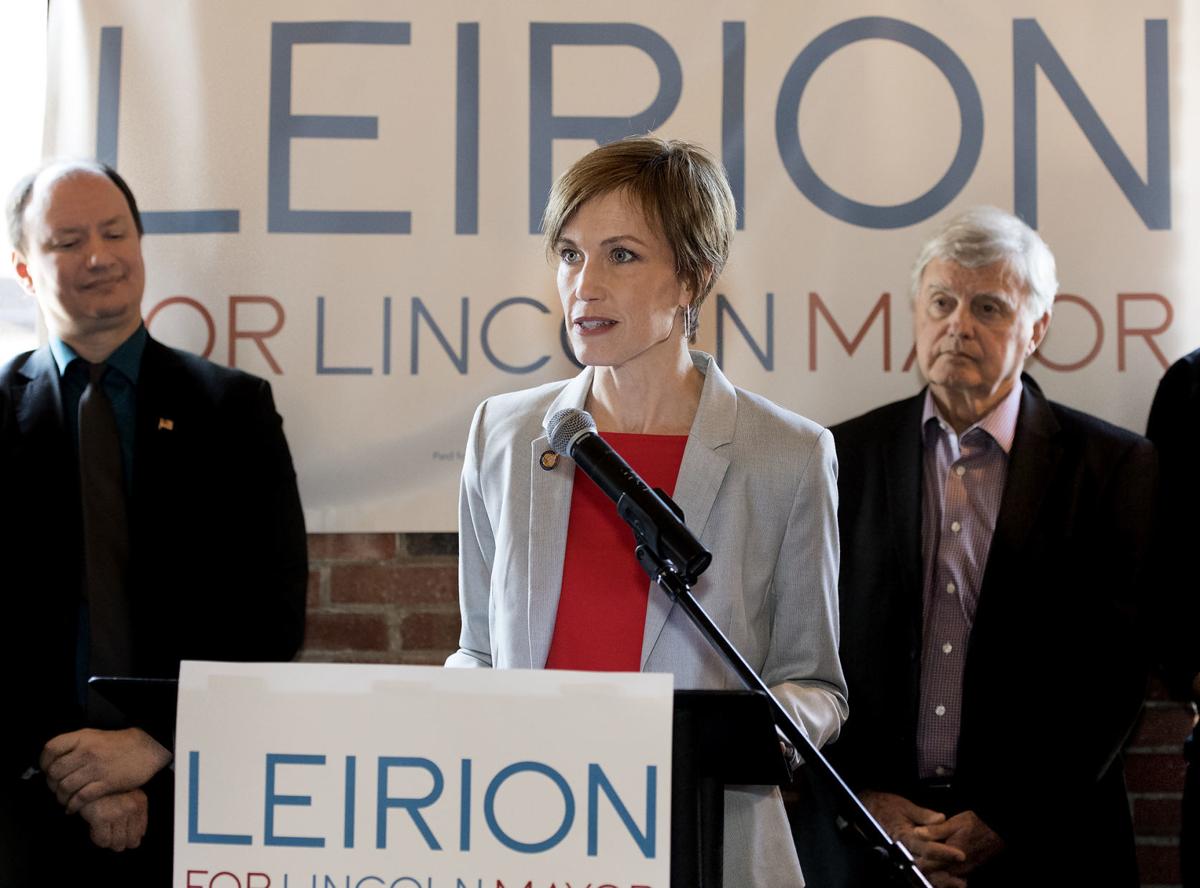 Mayor Chris Beutler endorsed mayoral candidate Leirion Gaylor Baird at a news conference Tuesday, saying she has the vision, heart and experience that will keep Lincoln on the right track.
Beutler was among more than a dozen community leaders, most of them Democrats, who stood beside Gaylor Baird at the news conference where she officially announced her bid for mayor.
"She has my full support and I know that citizens will recognize her strength and commitment," Beutler said.
Other Democrats at the news conference were City Council members Bennie Shobe and Jane Raybould, former council members Dan Marvin and Doug Emery, state Sens. Adam Morfeld and Patty Pansing Brooks and local business owners Paul and Stephanie Jarrett. 
Lincoln Board of Education member Lanny Boswell, a Republican who helped introduce Gaylor Baird, said she showed her ability to work across party lines and build consensus during development of the Safe and Successful Kids interlocal agreement this year that led to having more school resource officers in middle schools.
Gaylor Baird said her parents, both public school teachers, taught her to always do her homework and that a career can be dedicated to improving the lives of others.
Gaylor Baird said public safety has been the No. 1 priority for several years, and the council and mayor have made investments in new equipment and in staffing. She said she will continue to address the needs of men and women in uniform, and will also pay attention to quality-of-life issues, such as libraries and public transportation, parks and affordable housing.
"We need leaders who will listen to all perspectives, and build coalitions. We need leaders who will, as my mom and dad taught me, do their homework and keep our amazing city moving forward into a very great future."
Beutler, who had hoped to run for a fourth term, cannot run for re-election because city voters approved a three-term limit for the Lincoln mayor's office.
Beutler said Gaylor Baird will keep, protect and treasure the policies and projects of the near past but will refine and enhance those policies and work to eliminate the imperfections of those policies. She will also find new solutions to problems the city has not yet addressed, he said.
"At the end of her term or terms she may well be the very best mayor Lincoln has had in the 21st century," Beutler said.
Another mainstream Democrat, City Attorney Jeff Kirkpatrick, has also announced he will run for mayor in next year's city elections.
City Councilwoman Cyndi Lamm, a Republican, is also running.
Two candidates who are registered nonpartisan, Krystal Gabel and Andy Ringsmuth, are also running for mayor.
City offices are elected on a nonpartisan basis, but the local Republican and Democratic parties do recruit and help support candidates.