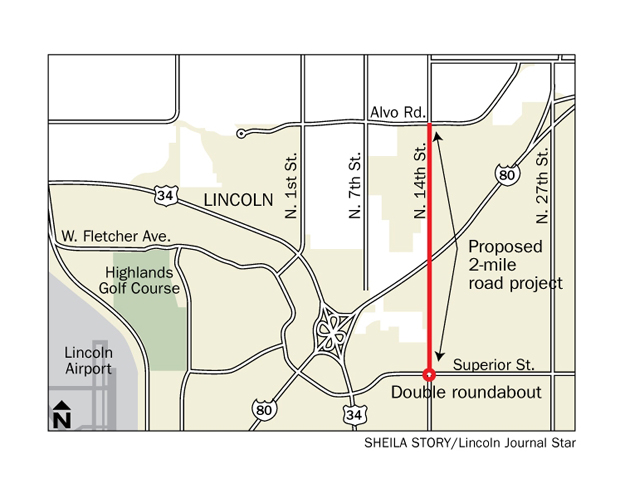 The city will begin construction on Lincoln's largest roundabout, a multi-lane roundabout at Superior and 14th streets, next year.
The roundabout is part of a $10.8 million two-mile street widening project on North 14th Street.
The project also includes two underpasses for bikes and pedestrians near the 14th and Superior intersection, expected to cost around $200,000 each.
The project, widening North 14th Street from Superior Street north for two miles, is a much needed improvement for an area with a number of new homes, said Roger Figard, city engineer.
The city gets a lot of calls and complaints about that intersection, he said.
Currently, cars are often backed up along 14th Street north of the Superior intersection for a half-mile or more during the morning rush hour, according to Figard.
The 14th Street widening project has been part of the city's long-range plan for a number of years and will be built using city wheel tax revenue and street bonds.
The city is currently buying property for the intersection improvements and widening and expects construction to begin in the spring of 2012.
Roundabout proposals tend to be controversial in communities where there are few of them, Figard said.
But modern, well-designed roundabouts are often the safest and best option for an intersection, based on years of testing and experience in other communities.
Figard defended the proposed multi-lane roundabout in an interview after a local Internet blogger pointed to a survey taken last year showing concerns of people who live and drive in that area.
This roundabout will be safer and will better handle more traffic than a traditional intersection with a traffic signal, Figard said.
Modern roundabouts are not your old traffic circle, Figard said.
Modern roundabouts were designed specifically to improve safety and efficiency, he said.
In fact, accidents at the roundabout at 33rd and Sheridan Boulevard dropped from 54 to 9, comparing the three years before it was built to the three years after it opened, based on a city report.
"We really owe it to the community to maximize our use of roundabouts," he said.
In general, roundabouts cost about the same as a traditional intersection with a signal. In the case of the Superior intersection, the roundabout is less expensive, Figard said.
At least two states now require communities to look first at putting in a roundabout and show why a traditional intersection is better, Figard said.
Studies also show that roundabouts are greener, said Devin Biesecker, a city engineer.
They require less pavement and produce less carbon monoxide because there is less stop-and-go traffic, said Biesecker.
However, people attending an open house on the 14th Street widening project a year ago were leery of the roundabout.
About 62 percent of those taking a survey, online and at the public meeting, were opposed or strongly opposed to the proposed roundabout.
That survey was not intended as a vote on the project, but as an educational tool for staff, Figard said.
Since then, the city has set up a focus group and provided more education on how roundabouts work and how multi-lane roundabouts are driven.
"We feel we have resolved a lot of these concerns and issues," Figard said.
"We're all creatures of habit," he said. "But after drivers get used to roundabouts, there are usually few complaints," he said.
The construction project will include a new multi-use path on the west side of North 14th Street, north to Humphrey Street, which is north of Interstate 80.
This new trail will connect with an existing bike trail on the south side of Superior, which connects west to the Highlands trail and continues east to Highway 6 or North 56th Street.
The two underpasses connect the trails. One will go under Superior to the west of the intersection and one under 14th Street to the south of the new intersection.
Bikers and pedestrians, including students from nearby Goodrich Middle School, will use the underpass.
Because trails are a part of the transportation system and the long-range plan, the trail system is part of this construction project, according to Figard.
The city tries to coordinate trail and street projects to reduce costs in the long run, he said.