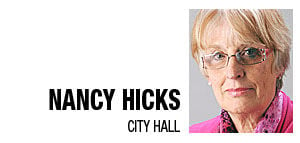 The company hauling dirt into the West Haymarket for arena construction is asking for special permission from the City Council to keep its trucks moving 24 hours a day, seven days a week.
Under city rules, Land Construction Inc. can haul from the excavation site at Northwest 56th and O streets for 24 hours a day during the week, but on weekends, hauling is allowed only during daylight hours.
That may not give the company enough time to get a sufficient amount of dirt to the arena site by the Aug. 1 deadline.
A surcharge, or 17-foot pile of dirt, will sit on the arena site for a month to compress the dirt underneath.
A hearing and decision on the special hauling permit is scheduled for the City Council's July 11 meeting.
Today, if I buy a computer at a local store, I pay state and Lincoln sales taxes. But if I buy it online, I don't. (Sure, I am supposed to report it to the state Revenue Department and pay the tax, but few people do.)
Nearly half of the city's expected $9 million to $10 million budget shortfall would be eliminated if the federal government required companies to collect sales taxes on products sold online and send that money back to states and local governments.
Nebraska will lose an estimated $118 million in sales tax next fiscal year to online purchases, according to an analysis by the National Conference of State Legislatures.
That means Lincoln is likely to lose close to $4 million in sales tax. (This math problem was too difficult for me, so I asked the city's finance officer and its budget director to give me an estimate.)
Requiring companies that sell products online to collect and return sales taxes is not just a revenue issue for state and local government. It's a fairness issue for local businesses, who must collect the taxes on purchases made in local stores.
Last Friday, Lincoln Fire and Rescue began using four of its six new ambulances.
Perhaps you saw or heard them. That's one of the expectations for the new rigs, said LFR's Nancy Engelbrecht.
LED lights on the ambulances are more visible than the lights on the old ambulances, purchased 10 years ago when LFR began providing ambulance services.
The sirens sound different from the old units and should do a better job of drawing the attention of Lincoln drivers, she said.
"It literally shook the ground," she said after trying them out.
The first fleet of ambulances have been driven about 160,000 miles apiece. "They're tired," she said.
Fire trucks at grocery stores
Tom Casady, the city's new public safety director, confirmed he is having discussions with top brass and union officials about no longer using fire trucks to go grocery shopping.
Currently, firefighters buy groceries during their 24-hour shifts. Just in case they are called to a fire, the firefighters drive the fire trucks to the grocery store.
Firefighters pay for their own food.
Casady said the issue is still under discussion. It is not a done deal.
The practice does create a bad impression with a significant number of people, Casady said.
And when would firefighters buy the food they cook during their 24-hour shifts?
"There are several ways for people to take care of their meals," Casady said.
But nothing has been decided. "We are just in the talking stage," he said.
Fire takes West Haymarket shed
The West Haymarket arena project got a little help from a fire Thursday night, which destroyed a shed about 100 feet from the Amtrak station.
The storage shed was part of the city's land purchase and was in the process of being torn down, according to Randy Swanson, deputy arena program manager.
Swanson said Tuesday morning there still was no report on the cause of the fire.
"It's still a mystery," he said.